https://hkmb.hktdc.com/en/1X09SISQ
Making the most of Colombia's Asian expedition
Positioned to become Latin America's third-largest economy after Brazil and Mexico, Colombia has attached great importance to trade diversification. President Juan Manuel Santos's recent visit to China and the subsequent feasibility study of a Colombia-China free trade agreement serve as good signals of the country's ever-growing aspiration to forge closer links with Asian economies, not to mention the trade accord recently concluded with South Korea and a similar negotiation which it is about to start with Japan. Colombia's Asian expedition is becoming increasingly a class act that Hong Kong traders could use to their benefit.
Think bilateral
For quite some years, the tyranny of protectionism and the nagging concerns about security have hindered the development of economic cooperation between Colombia and Asia. Not only have those problems been reflected in the trade flow, but also the bilateral investment. In light of the slowing momentum of the developed economies, both Colombians and Asians have nowadays much greater incentive to explore the somewhat uncharted territory of trade and investment with each other.
Since the trade liberalisation programme of the early 1990s which resulted in considerably lower trade barriers, Colombia has become increasingly open to trade, while business confidence has also quickly been re-established following the policy of "democratic security" pursued during 2002-2010, which significantly reduced crime and violence. These together brought Colombia up to third ranking in the region in terms of personal safety and private property rights protection in 2012.
By looking at the latest figures, one can easily realise that Hong Kong's trade with Colombia has already seen quite encouraging expansion since the recession year 2009, with exports and total trade reaching new heights in 2012, doubling the levels of 2009. Having said that Hong Kong's imports from Colombia are growing far slower than the overall trade flow, accounting for less than 10% of Hong Kong-Colombian trade last year when Hong Kong imported only US$36-million-worth of Colombian goods.
On the one hand, this can reflect the popularity of Hong Kong-type products in the Colombian market, but on the other hand, this also shows the untapped potential of Hong Kong's trading platform for Colombian imports going to Asia. Aside from the trade volume, Hong Kong's imports from Colombia are also very concentrated in terms of product category, with pearls, precious and semi-precious stones, leather and crude animal materials for pharmaceutical uses representing more than half of the total imports from Colombia in 2012.
Riding on the gravity shift to Asia in recent years, Colombian companies have become more eager to seek opportunities in Asia to cash in on the growing demand for products that the country can supply, and the investment opportunities that it can offer. As a world-famous exporter of coffee and exotic tropical fruits, for example, there is actually much room for Colombian businesses to collaborate with Hong Kong traders to explore the thriving Asian market, while the nation's highly-praised friendliness to do business in Latin America also draws the interest of Asian investors that Hong Kong intermediaries, in one way or another, can serve as facilitators.
Roasting Colombian coffee in Hong Kong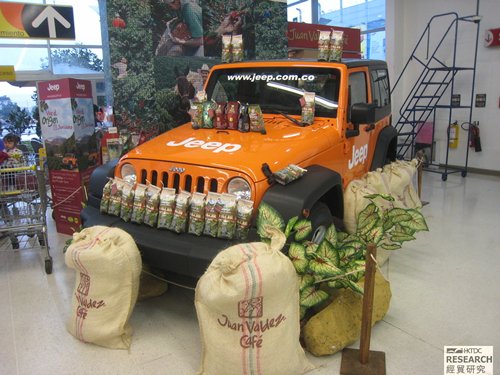 Juan Valdez® is one of, if not the most famous Colombian coffee brands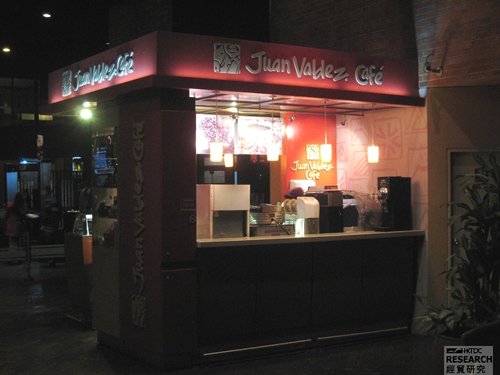 Excluding supermarkets and other retail channels, Juan Valdez® runs more than 150 cafés in Colombia
Colombia remains largely something of an enigma to Hong Kong traders, with many knowing the country only by its reputation for excellent coffee. In fact, Colombia was the world's fourth-largest coffee exporter after Brazil, Vietnam and Indonesia in 2012, according to the International Coffee Organization. But even with the world-class icon, Colombian coffee does not have a very high profile in Hong Kong's coffee shops or supermarkets. Most of the "Colombian coffee" sold in Hong Kong, according to coffee traders, is not 100% Colombian, but blends containing coffees of various origins.
As per the Colombian Coffee Growers Federation (FNC), Colombia produced mainly, if not only 100% mild washed Arabica, making it a leading producer of high quality coffee. The reputation of Colombian coffee is not limited to the species, post-harvest processing or the favourable soil and climatic conditions, but the quality control and support systems that the 563,000 small, independent Colombian coffee growers observe. Coffee growers in Colombia have organised themselves through the FNC and agreed to a collective commitment to quality, rendering their output reasonable protection with a Denomination of Origin, a certification mark or Protected Geographical Indication in several countries.
As a lifestyle trendsetter in Asia, Hong Kong, for at least two reasons, is an ideal platform for Colombian coffee growers to introduce the unique aroma of their premium Colombian coffee to Asia, especially the Chinese mainland which is historically a nation of tea drinkers. First, Hong Kong has a far more mature culture of coffee drinking than China. Second, Hong Kong has a conducive institutional framework under the Closer Economic Partnership Arrangement (CEPA) that allows the city to serve as a tariff-effective processing platform for Colombian coffee targeting the Chinese mainland market, provided that their respective rules of origin and relevant conditions are met.
According to several industry sources, China's average coffee consumption per capita is currently less than 10 cups per year, compared to Hong Kong's average of some 60 cups and a world-average of 240 cups. Having seen the room to grow, Pacific Coffee, a Hong Kong-based company has started operations across China in a partnership with China Resources Enterprise, Limited since June 2010, with now 100 stores scattered across most of the major cities on the Chinese mainland.
Moreover, Colombian coffee growers can have their coffee roasted, ground and mixed in Hong Kong (or by fulfilling the value-added content requirement) to enjoy the duty free entry to the Chinese mainland market under CEPA to save up to 15% on tariffs, which has long been a hindrance for coffee shops or restaurants on the Chinese mainland to source quality coffee at reasonable prices to cultivate a coffee culture.
Tucking into Colombian exotic fruits
With strict quality and safety controls in place, Colombian fruits, having no pesticide residues, are widely accepted in developed economies such as the US, Canada and Europe. In Asia, Colombia has identified growing demand for its exotic fruits in such markets as Hong Kong, Japan, South Korea and several other Middle Eastern countries. But to jockey for market share in face of fierce competition from numerous Southeast Asian fruit growers, Colombian fruits not only have to leverage on their enticing species, colours, taste and size, but also reliable distributors and logistics companies in the region.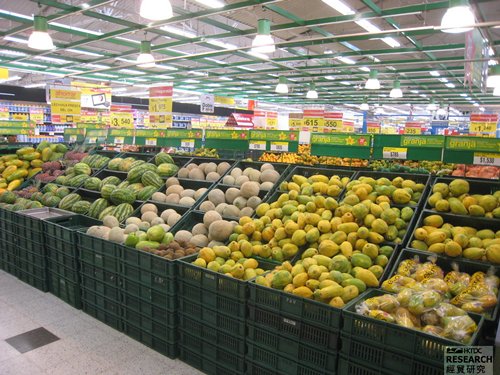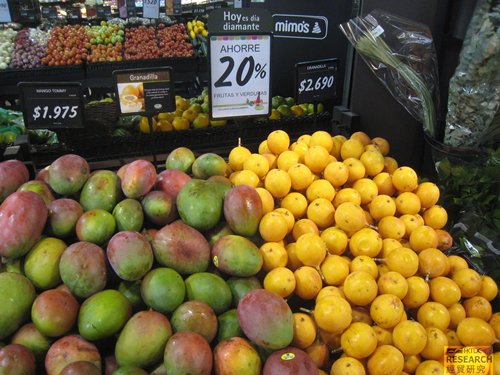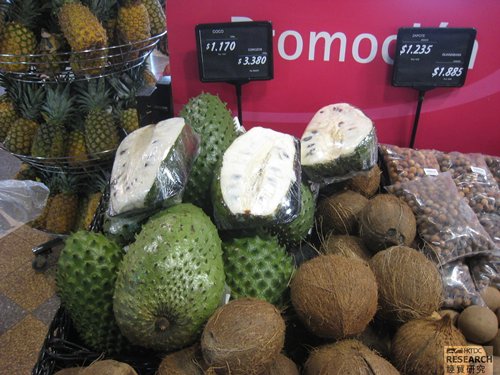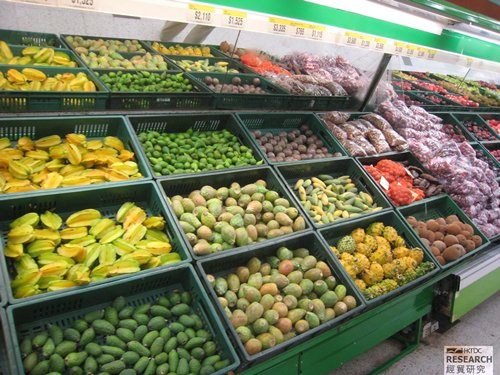 Colombia is a leading tropical fruit supplier in Latin America. Such exotic items as granadilla, guanábana, yellow dragon fruit, zapote, passion fruit and cape gooseberry (Uchuva ) are gaining in popularity in Hong Kong
Few will disagree that Hong Kong can provide the best logistics support to international suppliers sending goods to the Chinese mainland, especially when the goods are perishable and in need of swift handling. Hong Kong is therefore of crucial importance to the success of Colombian suppliers who want to have their exotic fruit placed in the right place, at the right time across the gigantic mainland market. Sharing the same palate of consumers on the Chinese mainland, Hong Kong traders can also advise on the marketing strategies including packaging and pricing to increase the sales and/or brand exposure to the better-off consumers on the Chinese mainland.
Aside from fresh or dried fruit for consumption, the expansion of the food industry on the Chinese mainland also calls for supplies of higher-quality ingredients such as fruit pulp and juices. Similar to the case of coffee, Colombian fruit suppliers can consider using Hong Kong as a processing hub for their fruit to enjoy CEPA privileges when going to the Chinese mainland. For example, fruit such as pineapples, grapefruit, persimmons and other items classified under the tariff code of 08109090 can apply for CEPA zero tariff preference, as long as their principal processes such as sterilisation, slicing or dicing and preservation are carried out in Hong Kong and the value-added content requirement is fulfilled.
Related to gourmet foods, Colombia, with coastlines on both the Caribbean Sea and Pacific Ocean, is also prolific in terms of seafood including tuna, shrimp, lobster, snapper and conch. Meanwhile, Colombian cocoa is also famous for its flavour and aroma, boasting a distinction of only 5% of the world's grain, according to the International Cocoa Organization. All these are potential product categories to which Hong Kong traders could manoeuvre to their benefit when helping Colombian suppliers to go east.
Other than items for the stomach, Colombia, to many's surprise, is the world's second-largest flower exporter, after only the Netherlands. Thanks to their scent and hues, Colombian flowers are widely recognised throughout the world, including winning 20 of the 50 gold medals awarded at the closing ceremony of the Flowers Expo 2012 in Moscow. The most sought-after flowers include red roses, carnations, Peruvian lilies, chrysanthemums and heliconias. Hong Kong companies should take heed of the increasingly popular practice of flower-giving and flower decoration in Asian countries such as India and the Philippines to explore how it can help the fresh scent of Colombian flowers to permeate Asian air.
Paying attention to the investment front
Intriguingly, Hong Kong is not a complete stranger to the Colombian market, but a long-time supporter of and investor in the Colombian economy. According to foreign direct investment (FDI) statistics published by the Central Bank of Colombia, Hong Kong was the country's fifth-largest FDI source in Asia during the decade ending in 2010.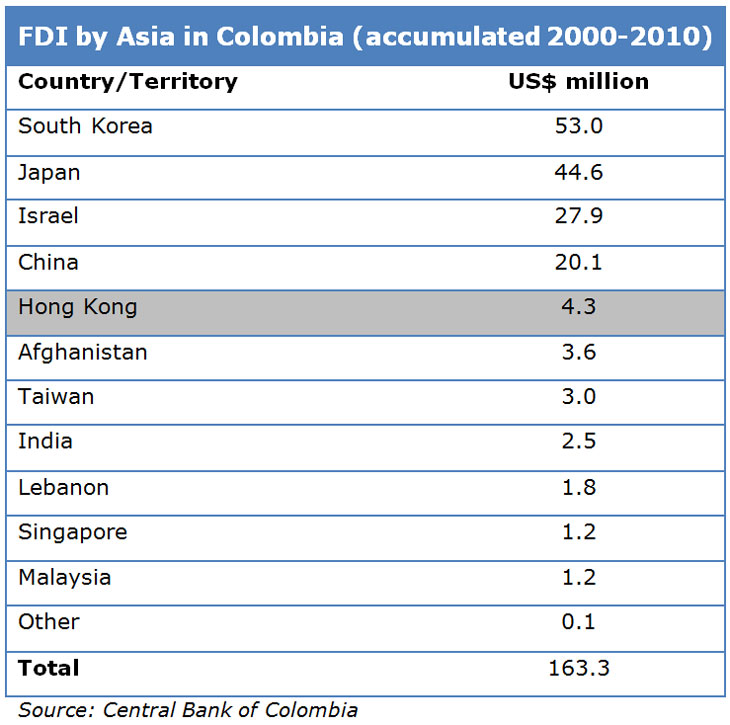 Other than opportunities in mega projects such as the construction and operation of container terminals and cruise ship facilities for big conglomerates, small- and medium-sized Hong Kong companies in such sectors as textiles and clothing can take advantage of Colombia's strategic location (less than four hours away from the US) and preferential market access to more than 1.5 billion consumers (including the US and EU) due to its wide array of free trade agreements, as well as incentives like free trade zones with a 15% income tax and exemption of customs duties (valued-added taxes and tariffs).
Given the continuous improvement in the country's business environment and international integration, Colombia is set to be a darling to Hong Kong and Asian enterprises who are running out of cost-effective alternatives amid rising production costs in Asia and profitable investment options in mature markets in times of economic woe.
Having delivered a stunning performance of an annual average growth rate of 26% in the last seven years, Colombia's stock market (Bolsa de Valores de Colombia, or BVC) or the fourth-largest stock market in Latin America keen on internationalisation. Since May 2011, the BVC has united itself with the Peruvian (Bolsa de Valores de Lima, or BVL) and Chilean counterparts (Bolsa Comercio Santiago, or BCS) and become part of the Latin American Integrated Market (Mercado Integrado Latinoamericano, or MILA). Within MILA, Colombians can buy stocks from Peru and Chile through local brokers who have counterparts in Peru and Chile, while Peruvian and Chilean investors can also have greater and simpler access to the Colombian market.
Buoyed by the expansion in its oil and coal production, the burgeoning Colombian market is poised to draw the attention of international investors, especially the cash-rich ones in Asia. In the past, investors, because of the limited market scale and trade volume, have not shown much interest in stock markets in Latin America, except for bourses in Brazil and Mexico. With integrated stock exchanges like MILA, Latin America will become not just an attractive, but more convenient and transparent, investment option for distant investors in Asia.
Last but not least, Hong Kong can serve as an ideal launch pad for Colombian businesses, especially those in the mining, energy and food and beverage sectors, to go international and raise their profiles in the eyes of Asian investors. As a major international financial centre, Hong Kong has an integrated network of institutions and markets, providing a wide range of investment products and services with a high degree of liquidity and transparency to Colombian entrepreneurs who are looking for good buys or investment partners in Asia.
Colombia
Central & South America
Hong Kong