https://hkmb.hktdc.com/en/1X09SF0R
A Promising Niche Market for Babies' and Children's Products
Parental care is an essential part of human nature. Parents, regardless of the level of wealth, always want to give the best to their children. In developed economies, although birth rates are generally in a downtrend, parents are spending more on their children, offering a wealth of opportunities for babies' and children's products. The industry also has great potential in the BRIC countries, given the sheer size of the population of babies and children and the burgeoning middle class.
Spending on babies and children set to boom
The market for babies' and children's products depends on two major factors – the number of babies and children, and the purchasing power of parents. According to the United Nations, the population under the age of five in developed economies including the United States, European Union and Japan totalled 54 million in 2010. The average household disposable income in these developed economies reached US$50,000 or above.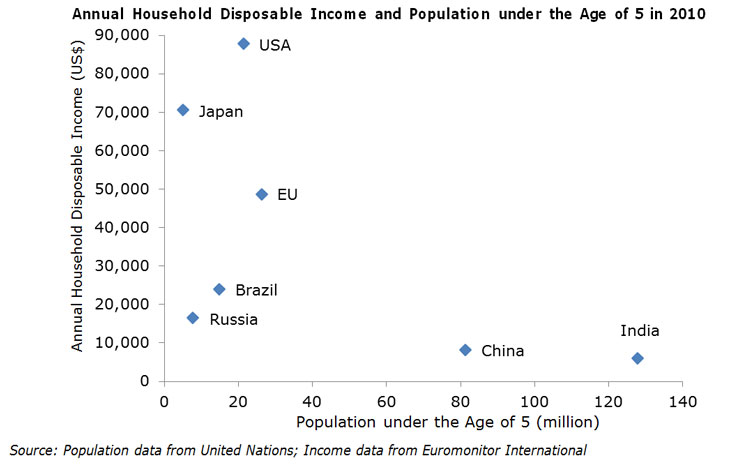 In developed economies, although the birth rates are generally in a downtrend, parents are more affluent and can afford to spend more on their children. Even in an economic downturn, parents are willing to buy for their babies and children. According to Euromonitor International, for instance, spending per child aged 0-3 exceeded US$1,500 in 2009 in major developed economies. Apparently, parents in Western Europe spent more than those in the United States and Japan.
For emerging economies, the large customer base is a major attraction despite their lower household disposable incomes. In particular, the BRIC countries (especially for China and India with large populations) have experienced both baby and economic booms in the past decades, offering promise for business targeting babies and children. According to the United Nations, the four countries together had some 233 million babies and children under the age of five in 2010, with China and India being the main contributors, equalling some 75% of the total population in the United States.
While a sustainable increase in household incomes is positive to spending on babies and children, higher labour force participation of women and trends of urbanisation in these emerging markets also stimulate the demand for relevant products. For example, when breastfeeding is not always possible for working mothers, they will need milk formula and baby food as supplements to meet the nutritional needs of their babies. In addition, working parents tend to buy more toys for their children as sort of compensation, especially when the parents have grown up without many material goods.
Small size, big needs
Raising a child, from newborn to kindergarten-age, requires a long list of items. Items specified for babies and children can be broadly classified into six categories, namely 1) baby food, 2) apparel, footwear and accessories, 3) toys, 4) health and personal care products, 5) furniture, and 6) nursery, monitoring and other accessories. According to Euromonitor International, the value of global retail sales of the first four categories was estimated at US$275 billion in 2012 and expected to expand by some 30% in the next four years. On the other hand, there is also high growth potential in babies and children's furniture, and nursery, monitoring and other accessories.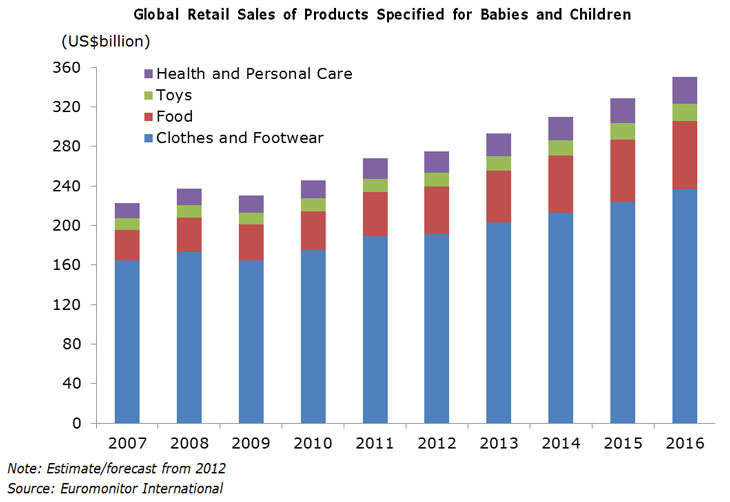 Although mothers increasingly recognise the benefits of breastfeeding, those who need to resume working quickly still rely on infant formula, which is a major driver of the baby food market. Packaged or canned baby food, such as baby rice and fruit puree, is a convenient substitute or supplement for home-made baby food when infants are weaned. For baby food, a strong emphasis is placed on the functionality and, more importantly, the safety of the product. In this context, nutritional science plays a vital role in building up brand image and health credentials as well as setting apart from other products.
Meanwhile, comfort, safety and ease are the most important considerations when parents buy clothes and footwear for their babies and children. One-piece outfits are popular as they are easy to get on and off, while clothing that has dangling strings, tassels and ribbons are basically avoided. Natural fabrics like cotton are mostly sought. Some fashion-minded parents may look for cute, stylish designs of apparel for their babies and children.
Toys are another major category. Toys for infants and toddlers should be bright in colour, washable, non-breakable, not having sharp edges or points, and big enough not to be swallowed or cause suffocation. As infants and toddlers love to put things in their mouth, it is particularly important that the playthings are made of non-toxic materials. For preschoolers, parents may start to look for simple toys or reading materials that can help the development of their children.
Health and personal care products for babies and children, for their part, cover a wide range of needs including hygiene, skin and hair care, wound care, oral health care and so on. As these products have direct contact with infants' skin, which can be prone to rashes and allergies, parents are more willing to pay a premium price for products of established brands or with a doctor's recommendation. Interestingly enough, the demand for these products, to a certain extent, is market specific. In most European countries where parents love to spend the weekend on the beach sunbathing and swimming with their babies and children, chemical-free sunscreens have a bigger demand. For countries with a dry climate, there is a greater need for baby lotion. Over-the-counter medicines such as pain relievers, anti-diarrheal medicines and nasal decongestants also belong to this category.
Other essential baby and children's products include furniture, nursery, monitoring and other equipment. Safety is perhaps the number one concern for children's furniture. According to data from the US Consumer Product Safety Commission, toppling furniture has injured tens of thousands of children and killed scores in recent years. Manufacturers should focus on the design regarding the corners, size and stability. It is also important to limit the level of toxic and harmful substances contained in children's furniture. On the other hand, baby monitors have become increasingly popular, as parents can easily check the status of their babies and children.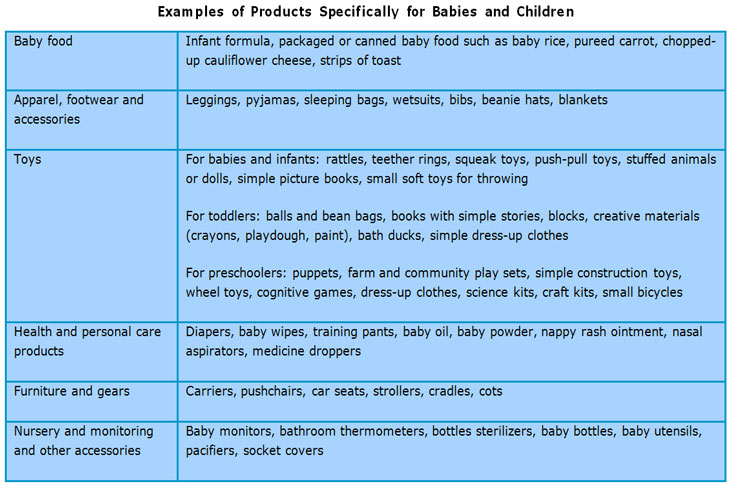 Recipe for success
Since safety is a top concern, most countries have stringent requirements on products relating to babies and children, which exporters should be aware of. As far as regulations are concerned, there are usually specific nutritional, packaging and labelling requirements on baby food, including infant formula. For example, in the United States, infant formula is regulated by the Food and Drug Administration. All formulas marketed in the United States must meet federal nutrient requirements. Infant formula manufacturers are required to register with the FDA and provide the agency with notification prior to marketing a new formula.
For toys and children's products, there are usually regulations regarding the physical and mechanical elements, chemical properties, flammability and hygiene standards as well as labelling requirements. For instance, Europe refuses toy imports exceeding a certain amount of harmful chemical substances. Exporters may employ accredited testing laboratories to carry out pre-shipment inspections and testing, and obtain the necessary certificates of conformity, in order to comply with the importing country's requirements. Besides regulations, exporters should also be aware of any voluntary standards that parents will take into consideration when making their purchasing decisions.
After safety, functionality is the second most important aspect of babies' and children's products. While nutritional science plays a vital role in baby food production, many other products, in recent years, have undergone dramatic design shifts. Manufacturers compete by adding features or using new materials to lure customers. For example, one-handed folding mechanisms have been introduced to strollers. Such a design is brilliant as in a lot of cases mothers have to hold the baby, leaving only one hand to take care of other things. Also, 4-in-1 cribs that can be converted to toddler beds, loveseats, rockers or twin or double beds, are popular due to the flexibility it can provide.
Today, the internet is a valuable resource for mothers. More and more parents research, discuss, shop, compare, relax and find emotional support from each other online. Manufacturers and traders may gather information and understand the needs of mothers from the relevant channels in their targeted countries. Besides, many new-generation mothers visit popular mum's websites to read articles or post enquiries before making purchases. They may also join discussion groups for mums. There is a large community of mothers in this virtual world exchanging information, including their views on specific products that are a valuable source of information to suppliers too.
With safe and good products to market, manufacturers and traders may consider exploring business opportunities around the world by taking part in major exhibitions. Compared to other industries, it is more important for babies' and children's products suppliers to interact directly with wholesalers, distributors, brand marketers and even retailers of specialty stores to build relationships, as well as to understand market characteristics and import requirements.