https://hkmb.hktdc.com/en/1X09S9WD
Hong Kong: Asia's hub for IP trading
Hong Kong as Asia's thriving CBD and flourishing IP hub
One may not have a strong impression that Hong Kong is a flourishing intellectual property (IP) hub in the region, but the perception improves if IP is understood to comprise copyright, trademarks, registered designs and patents, which are legal intangible assets that are being transacted in Hong Kong every day. Many sectors in Hong Kong, such as the creative and cultural industries, research centres and laboratories, and the myriad of design and manufacturing companies with their research and development units, churn out IP in one form or another. Grouping these transactions under the banner of IP trading is a more recent invention.
For many years, Hong Kong has been an attractive business location for overseas companies to gain access to the Chinese Mainland and the wider regional market, while offering a convenient platform for Mainland companies to realise their international aspirations. As of June 2012, there were 7,250 overseas and Mainland companies operating in Hong Kong, an increasing of more than 50% over the past decade. To gain insight into how Hong Kong fares as a thriving business hub or Central Business District (CBD) in Asia, HKTDC Research conducted a survey in 2012 to identify the strengths of Hong Kong's CBD functions, interviewing more than 500 senior business executives from companies with regional business in 10 Asia-Pacific cities,[i] and covering six sectors which include IP trade. The main part of the survey was answered by more than 500 respondents and will be briefly covered, with this article primarily focusing on the section of the IP Trade Survey specifically responded by concerned respondents, supplemented by subsequent industry consultation and analysis.
Business executives' perceptions of Hong Kong as an IP trading hub
Hong Kong is an ideal international platform for IP trading, given its legal system and financial resources, robust IP protection, and presence of a pool of IP specialists able to provide comprehensive services to IP related industries. This notion is well validated by the views of 81 respondents to the IP Trade Survey, comprising IP trading and related services users and providers.
More than half of the respondents put Hong Kong ahead of Singapore or Shanghai as the IP management hub serving Asia, and the views were reinforced if Greater China was the underlying market. In fact, Hong Kong leads not only as an IP trading hub, but also in other CBD areas according to the 500 plus respondents of the main survey, with the edge over regional competitors improving if the markets shifted from Asia to Greater China.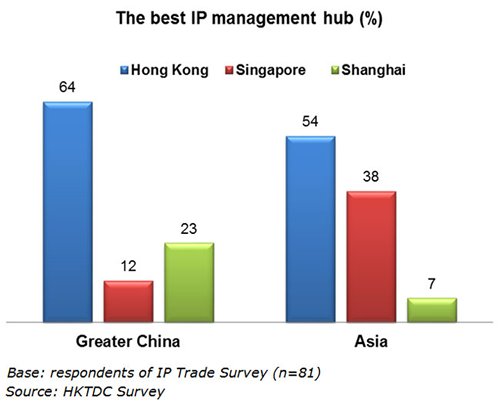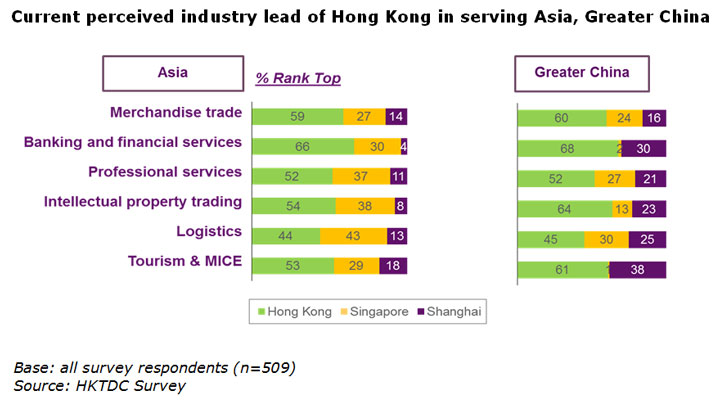 Hong Kong's strengths as a CBD for IP trading companies
In the main survey, all respondents were asked to rate the relative importance of a range of business functions which underpin a city to be a CBD in Asia. For companies engaging in IP trading, key CBD functions include marketing and sourcing, professional services and business integration.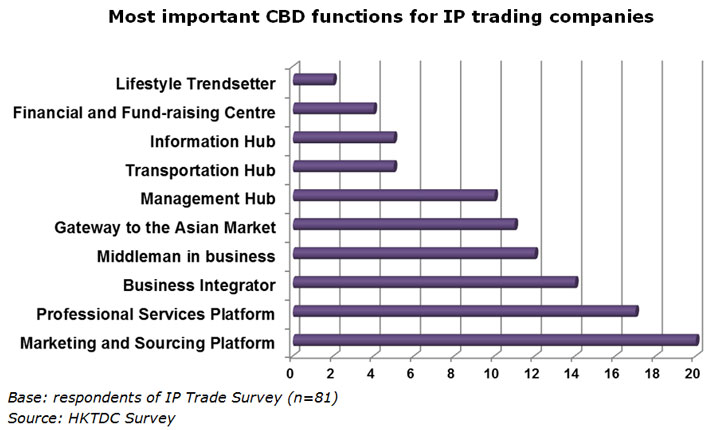 Aside from the business functions as stated above, the IP Trading Survey tried to identify factors that set Hong Kong apart from Singapore and Shanghai as Asia's leading CBD from the viewpoint of IP trading companies. From the survey results, companies with IP-related businesses regarded Hong Kong's geographical location and its strong institutional structure (e.g. finance, legal and IP enforcement) as crucial in putting it ahead of either Singapore or Shanghai as Asia's CBD. On the other hand, Hong Kong is relatively weak in terms of its cost-effectiveness and human capital, suggesting a greater need to improve the pricing and professional training for IP specialists in Hong Kong.
Hong Kong as an IP trading hub – opportunities and challenges
Currently Hong Kong is playing an important role in IP trading activities in the region, as overseas firms utilise the IP services provided by Hong Kong professionals to tap the Chinese Mainland market. In recent years, Mainland companies have striven to upgrade their production techniques, resulting in a growing demand for overseas IP. In this regard, Hong Kong is well positioned as the springboard for overseas and Mainland companies aiming to either develop their business in Asia or expand into the global market.
As IP trading is one of the major CBD functions of Hong Kong, the IP Trade Survey was conducted to assess Hong Kong's performance in various IP trading functions compared with major Asian cities, particularly Singapore and Shanghai, while shedding light on the prospects of Hong Kong's position as Asia's IP trading hub.
As other Asian cities are accelerating their IP trading capabilities, Hong Kong needs to strengthen its competitive edge, based on a good understanding of the current competitive landscape, and factors that may affect future development. In the process, views from survey respondents and subsequent industry consultation are helpful in depicting the competitive landscape and likely future development.
Conducted in 2012, the IP Trade Survey was conducted in 10 Asia Pacific cities including Hong Kong, Shanghai, Seoul, Taipei and Singapore. Among those respondents, 44% were engaged in licensing or franchising business, 41% in copyright trading, and others in areas related to technology transfer and design services.
The majority of survey respondents were IP acquirers and sellers, representing the bulk of participants in IP trading, with the rest being service providers. It should be noted that an IP company may be involved in more than one IP business area. For instance, an IP intermediary providing integrated services spans the value chain, from IP acquisition to commercialisation, while dealing with patents, trademarks and designs.
Among the respondents involved in IP trading, 48% of them were multinational corporations (MNCs), with a strong preference to establish their global and regional headquarters in Asia-Pacific locations like Tokyo, Hong Kong and Taipei.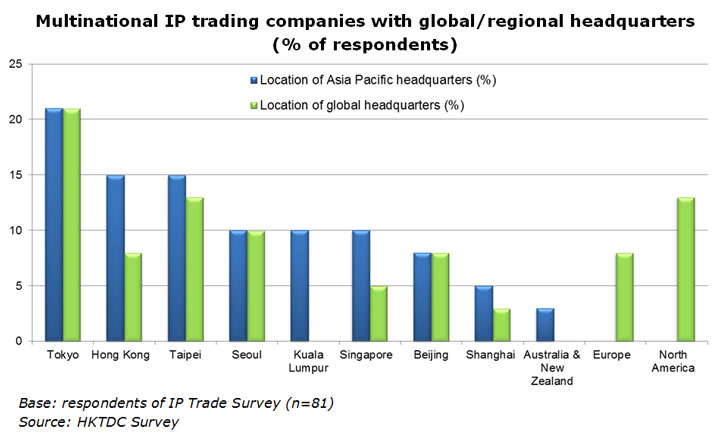 Hong Kong as most preferred IP services hub
Naturally, IP owners and acquirers tend to flock to places where IP trading can be well supported by the presence of quality providers of IP-related services. In this connection, Hong Kong professional services are frequently used by IP traders. From the IP Trade Survey, the highest percentage of respondents indicated that they were using IP-related services provided in Hong Kong. Meanwhile, other Asian cities like Shanghai, Beijing and Singapore are also popular. It should be noted that respondents had to seek IP trading services from multiple places in light of the specific needs and market considerations, including places like Vietnam and India.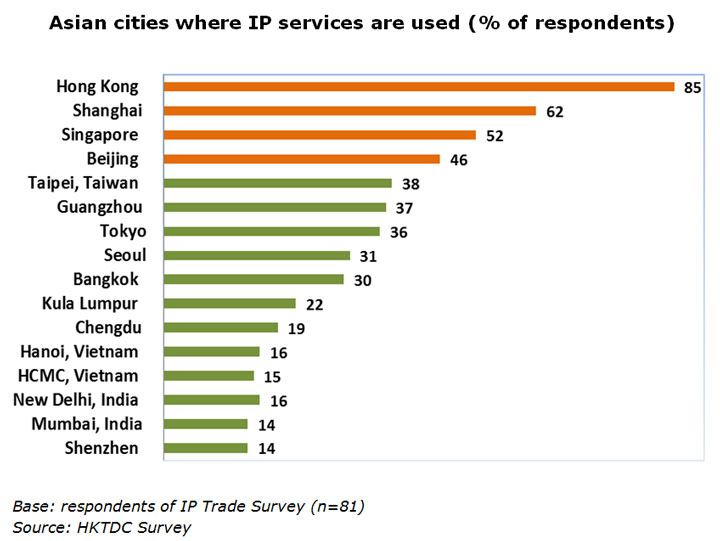 Hong Kong's current performance as an IP trading hub
Regarding the general performance of IP trading, Hong Kong is well rated for its professionalism and efficiency. As shown in the survey results, nearly 70% of respondents gave good ratings for Hong Kong's staff efficiency and professionalism (i.e. comprising both "very good" and "good" responses). Besides, the general quality and variety of IP trading services were considered well by over half of the responding IP industry players. Additionally, industry consultations revealed that Hong Kong IP specialists are distinguished from other regional counterparts due to their combined strengthens of bilingual proficiency, IP knowledge, good business sense and international exposure.
Strengths aside, Hong Kong is relatively weaker in the cost and IP supply aspects. In particularly, Hong Kong is rated low in its cost effectiveness by survey respondents. Moreover, respondents saw the need to improve the quality and variety of the IP supply in Hong Kong, as well as expanding the business network in a bid to cater to the increasing demand from both overseas and Chinese companies.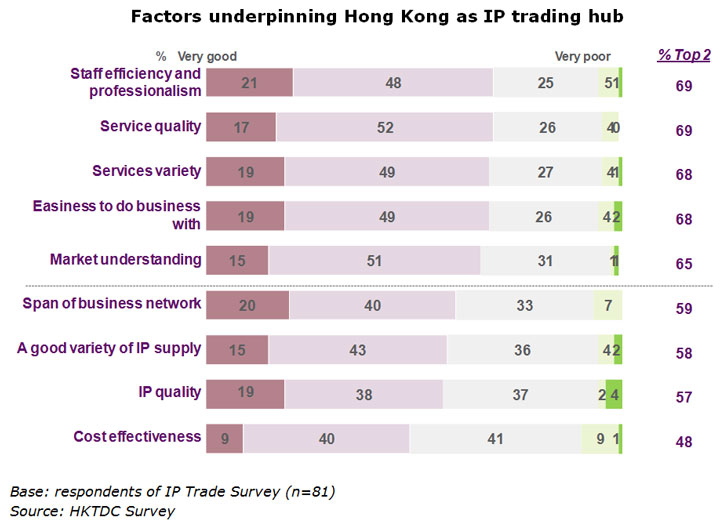 How well does Hong Kong measure up as Asia's IP trading hub?
From an industry perspective, Hong Kong outperforms both Singapore and Shanghai in both general and specific functions for being an IP trading hub in Asia.
In the cobweb figure below, Hong Kong ranks top in all of the general business functions. In particular, Hong Kong is outstanding in marketing IP, financing and accounting. According to the IP Trade Survey, 56% of interviewees ranked Hong Kong as the most important city in IP marketing and business negotiation. As an aviation hub and exhibition-cum-conference centre well visited by business travellers, Hong Kong provides a good platform for business negotiations and IP marketing, as recognised by more than half of the respondents. However, the corresponding gap over Singapore, an active IP hub contender, is not particularly wide compared to the financing aspect, given the strengths of Hong Kong as an international financial centre and fundraising hub.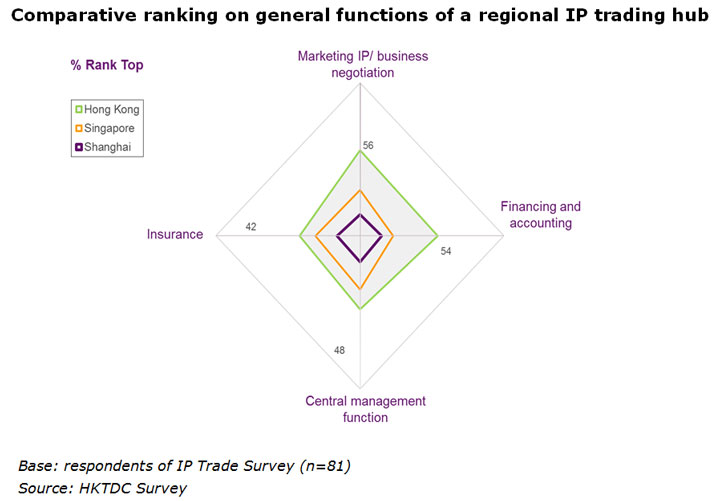 Turning to the specific IP functions, Hong Kong's lead is still impressive, despite keen competition from Singapore in IP sourcing and IP-related services (e.g. IP consultancy and training). Hong Kong is particularly strong at IP creation, and this can be supported by the latest IP registration statistics from the World Intellectual Property Organisation (WIPO). Judging from the combined WIPO filings of the main types of IP, Hong Kong was ahead of Singapore in 2011 (whether registration by office or by origin), with a significantly larger number of resident-filed trademarks and industrial designs.
Even without an original patent grant (OPG) system in place as yet, Hong Kong provides a simple, cost-effective registration system through re-registration of patents approved in recognised regimes consisting of the UK, EU and the Chinese Mainland. This, coupled with the vast numbers of registered designs and trademarks, in part lends support to Hong Kong's strength in the area of IP registration.
On the other hand, there is keen competition from Singapore in IP sourcing and IP-related services, and Hong Kong is out-competed by Singapore in the latter function. Similar to findings in the Professional Services Survey (conducted alongside the main survey and IP Trade Survey), Hong Kong faces intense competition from Singapore in the area of legal services related to IP litigation and registration.
The Chinese Mainland is both a big IP supplier and user. In 2011, the Chinese Mainland had the world's largest number of patent applications, having grown at a compound annual growth rate of 21% over the five years to 2011. Although there is no WIPO data on city-level filings, Shanghai is believed to be a main IP player on the Mainland as it is the country's largest commercial city, which is also armed with strong manufacturing, research and cultural industry capabilities. That may help offer an explanation on the strengths of Shanghai compared to Singapore in a few areas, typically, IP creation, registration and modification.
Conducive environment for IP transactions
With a simple system and low taxation, Hong Kong has the most preferred tax regime compared to Singapore and Shanghai. In the World Bank's Doing Business 2012, Hong Kong ranked 4th among 185 economies and was the top in Asia in terms of tax burden and ease of paying taxes.

In addition, more than half of respondents ranked Hong Kong as the top in terms of variety and quality of IP professional services, such as IP valuation and portfolio management. Besides, the presence of abundant IP financing resources also makes Hong Kong an attractive location for IP trading.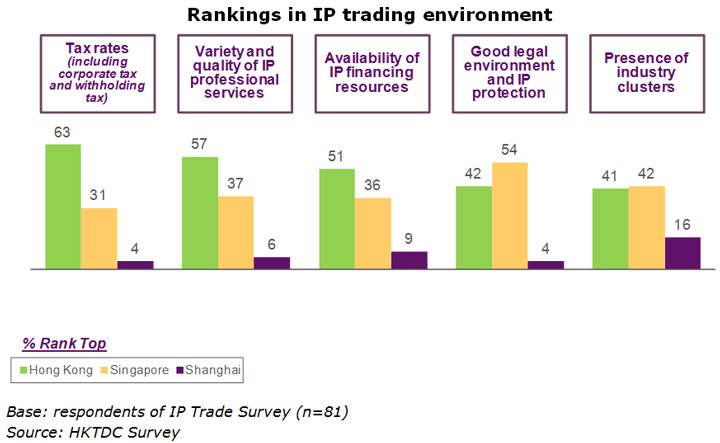 Nevertheless, Singapore is perceived to have a better legal environment and to have the presence of industry clusters than Hong Kong and Shanghai. Among other things, Singapore has recently passed the Patents (Amendment) Bill to replace the self assessment patent grant system with a new positive grant system (see the figure below). This shift is expected to contribute to the quality of Singapore-granted patents and enhance its overall IP industry, with its IP regime to become increasingly aligned with other established patent offices, such as the European and Japan Patent Offices, which have their own OPG systems.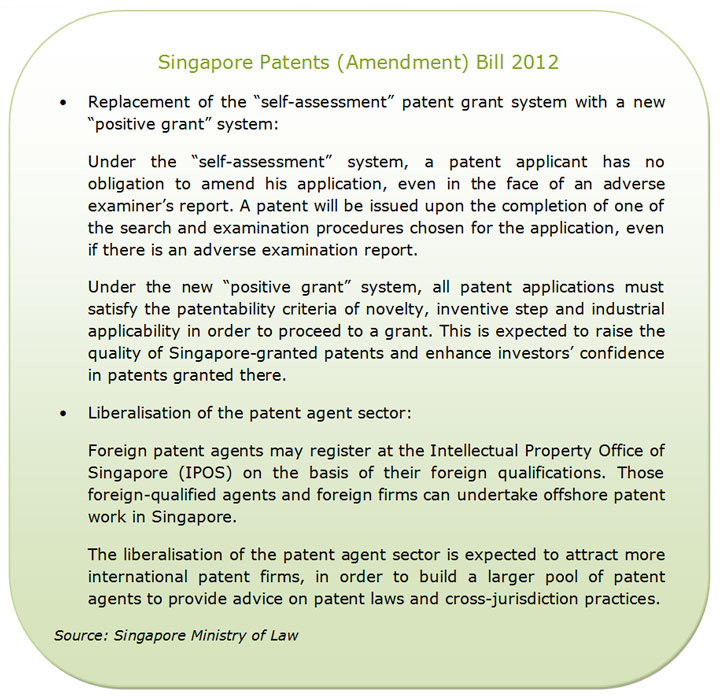 Given an attractive IP trading environment, Hong Kong outperforms Singapore and Shanghai in trading across all areas of IP categories. More than half of the respondents viewed Hong Kong as the best location for licensing, copyright trading and technology transfer. Hong Kong's leading position will be sustained in the next five years, yet it will fall slightly, as the respondents perceived that Shanghai will emerge to become more competitive. In particular, Shanghai will out-perform Singapore and closely rival Hong Kong in franchising and design services.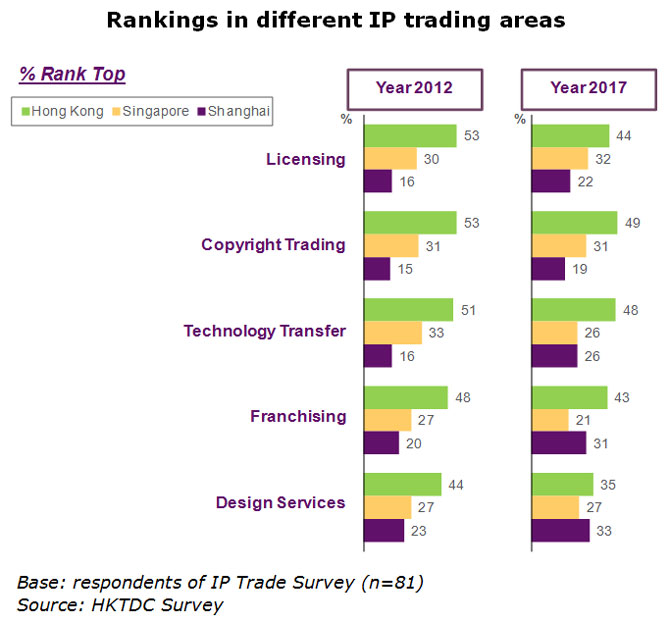 Competitiveness of Hong Kong as regional IP hub over next five years
The Chinese Mainland will continue to be a major supplier of various types of IP in future. In particular, more Chinese patents will be registered along with the country's continued economic growth and technology upgrade, and this may give rise to more IP intermediaries on the Chinese Mainland and in the rest of Asia. Thanks in part to increasing Chinese IP supply, Hong Kong's role will probably be enhanced as more IP trade will go through IP intermediaries in Hong Kong. In the IP Trade Survey, the majority of respondents agreed that more companies will purchase IP from Hong Kong. Due to rising IP creation from the Chinese Mainland, more than half of the respondents also believed that the trading capability of either Shanghai or Singapore will likely strengthen, and this could pose an increasing challenge to Hong Kong's position as a leading IP hub in the region.
In further developing Hong Kong's role as a premier IP marketplace in Asia, the industry's perspective is essential in evaluating the current picture of IP trading in the region. Based on the IP Trade Survey, half of the respondents expected that Hong Kong will be more competitive in next five to ten years. Yet, the rest views that Hong Kong's competitiveness will drop or be unchanged in the coming years, implying a potential threat to Hong Kong's leading role.
Hong Kong has long been a service and market platform for various types of IP. From our survey, the prospects of Hong Kong's IP-related services looks bright. Most of the respondents expect that in the next five years, they will conduct more IP-related activities in Hong Kong. In particular, the majority of respondents will utilise Hong Kong's central management, IP creation and registration services more intensively.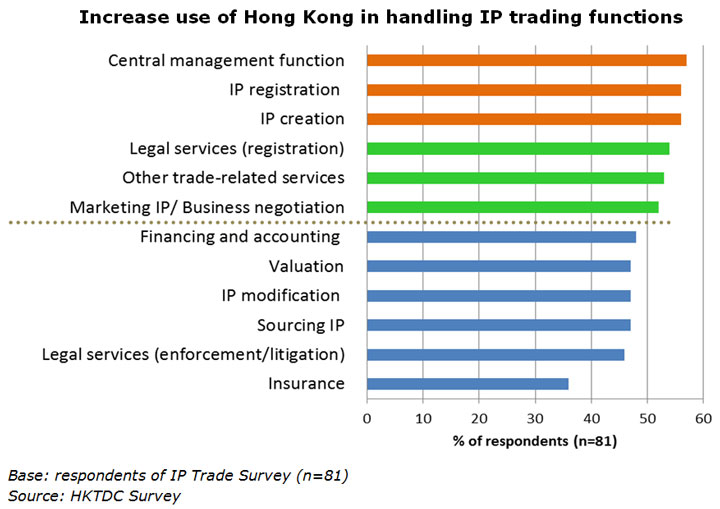 Tips to further advance Hong Kong's IP trading hub
To strengthen and maintain Hong Kong's leading IP trading position, respondents to the IP Trade Survey suggested that Hong Kong should tackle a few areas. They viewed positively the use of tax initiatives like securing more comprehensive double taxation avoidance agreements (DTAA) and the establishment of specialised entities in promoting IP trade and enriching the IP industry cluster in Hong Kong. Further, they noted that setting up an IP business matching database is useful to strengthen Hong Kong's role as an IP intermediary.
Signing more comprehensive DTAA with other countries is seen as helpful in drawing more overseas firms to conduct IP-related activities in the city[ii] . As of January 2013, Hong Kong had signed 27 comprehensive DTAA with counterparts including the Chinese Mainland, Japan and the UK. In comparison, Singapore has concluded 69 DTAAs with counterparts such as South Korea, Germany and Russia, which have significant IP supplies, but Hong Kong has yet to reach DTAA with those countries. This is one area in which Hong Kong may further strengthen itself as the IP trading hub of Asia.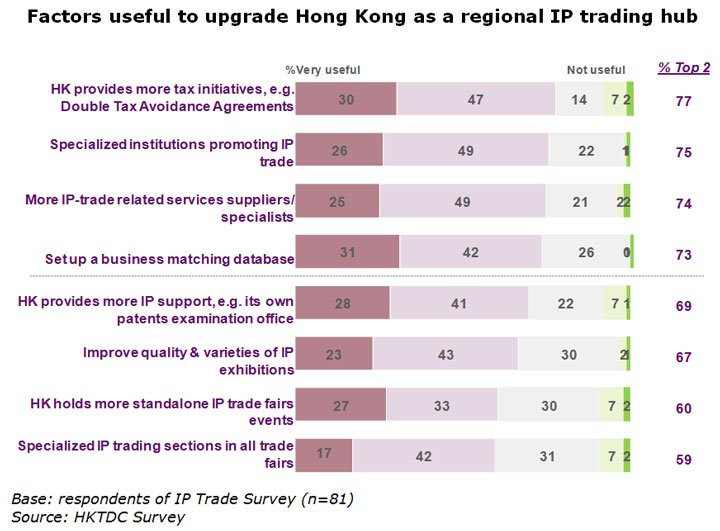 Although Hong Kong was positively rated by respondents in comparison with regional competitors in various types of IP trading, it should be noted that IP trading in Hong Kong has continued in the traditional form of direct negotiations, without the benefit of any centralised electronic trading platform. Industry consultations also found that many innovations generated in Hong Kong are not being effectively commercialised due to insufficient knowledge of IP trading among the start-up companies.
In recent years many countries have been active in pursuing Patent Prosecution Highways (PPH)[iii] agreements, which applicants can use to request a speedier processing of their patent applications. As of December 2012, China's State Intellectual Property Office (SIPO) had entered into PPH with seven countries including the US, Japan and Russia. Meanwhile, Hong Kong is yet to become part of the PPH network. Industry professionals observed that joining the PPH could help Hong Kong better gear up for the opportunities on the Chinese Mainland, making it faster and thereby more cost-effective in patent applications.
Broadly speaking, Chinese enterprises are becoming more eager to venture out and many of them may want to file IP internationally. In this context, Hong Kong can reinforce its leading role in IP trading, capitalising on the surge in IP supply and demand on the Chinese Mainland.
In view of the emerging competition from other Asian cities, Hong Kong will gain further by accelerating the expansion of its IP services cluster and integrating the IP industry chain if the suggestions of respondents to the IP Trade Survey were to be adopted. This could further reinforce Hong Kong's advantages as an ideal IP trading hub. In short, to preserve its lead as an IP trading hub in Asia, especially for the Chinese Mainland, however, Hong Kong needs to enhance its core strengths.
In his 2013 Policy Address, Hong Kong's Chief Executive unveiled a plan to study the strategy for promoting Hong Kong as an IP trading hub, through setting up a working group which comprises government representatives, industry stakeholders and experts from different fields.
The Hong Kong government has also announced a new move in the future positioning of Hong Kong's patent system. Major measures include the introduction of an OPG system, while retaining the current re-registration system, along with the development of a full-fledged regulatory regime on patent agency services in the long term.
By developing a patent system on a par with those of the advanced economies, Hong Kong's commitment to IP protection would be further ensured. In turn, a well-established regulatory environment will also support growth of the patent agency sector, through attracting and retaining IP specialists such as IP managers, searchers and appraisers.
---
[i] The 10 Asia-Pacific cities covered in the CBD Survey include the following: Beijing, Ho Chi Minh City, Kuala Lumpur, Hong Kong, Seoul, Shanghai, Singapore, Sydney, Taipei and Tokyo.
[ii] DTAA concessions provide tax relief to IP owners and acquirers. With more DTAAs signed, a country/ city could provide IP trading parties with higher potential profitability.
[iii] PPH is a bilateral agreement between the patent offices in two countries. Under a PPH agreement, patent applicants can request an accelerated processing of their patent application at the patent office of second filing (OSF), when the patent office of first filing (OFF) has approved the corresponding patent claims. The use of the PPH could enhance the efficiency and quality of the search and examination at the OSF; meanwhile, it can save the applicants' time and resources.
Business Management & Consultancy
Legal Services
intellectual property