https://hkmb.hktdc.com/en/1X09RYRF
Changing times for Mainland watch demand – survey of eight cities (Executive Summary)
The spending power of consumers in the Chinese mainland has been rising continuously. This is particularly so for consumers at the middle-income level and above who are now more ready to splurge on mid- to high-end personal items such as watches. Though there is no lack of well-known local and foreign brands in the mainland watch market and competition is intense, consumers have the impression that Hong Kong watch brands are trendy in style and design and meet their requirements for fashion and personal tastes, particularly on the part of the younger generation.
In similar previous surveys of mainland cities conducted by the Hong Kong Trade Development Council (HKTDC) in 2002 and 2007, it was found that consumers are increasingly buying higher-end watches. In order to understand the latest development of the mainland watch market, the HKTDC once again conducted a survey of watch consumption in eight first- and second-tier mainland cities from July to September 2012. A total of 2,468 middle-class consumers who had bought watches in the last three years were successfully interviewed in Beijing, Shanghai, Guangzhou, Hangzhou, Harbin, Dalian, Wuhan and Chengdu. Major findings of the survey are summarised as follows:
Surge in middle-class watch consumption

The overall average price of watches most recently bought by consumers is Rmb4,159, which is a marked increase from about Rmb1,000 found in the survey five years ago, indicating that there has been increased consumer demand for mid- to high-end watches. Among consumers who have plans to buy watches, the overall average planned spending for the next 12 months is even as high as Rmb6,019. In the northeastern cities of Harbin and Dalian in particular, consumers are planning to spend more than Rmb7,000 in the next year to buy mainly business style, casual/fashion style or mechanical watches.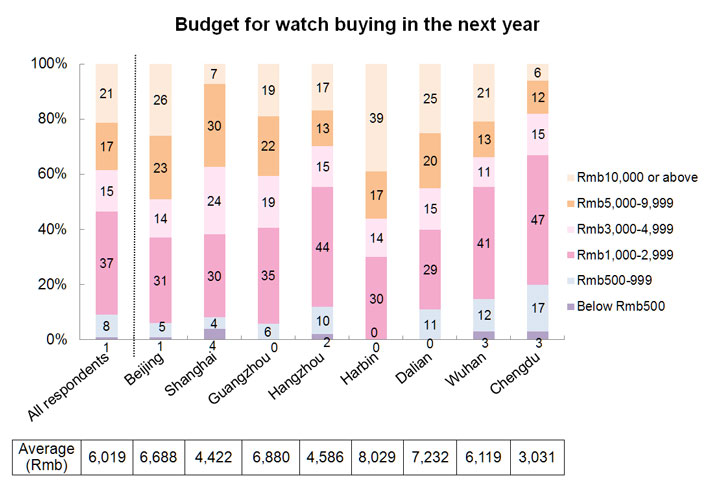 Trend chasing

In buying watches, the primary considerations of consumers have changed from durability and price in the past to trendy designs and styles. The survey reveals that, other than for time-telling (69%) or for habit reasons (60%), 53% of the respondents said they wear watches because they like watches, which is a hefty increase from 20% found in the previous survey. Many respondents said they have impulse to buy if they find a watch they like when browsing a watch shop. Though nowadays many time-telling functions are already available in electronic gadgets, the effect of this phenomenon on consumer watch buying is only limited.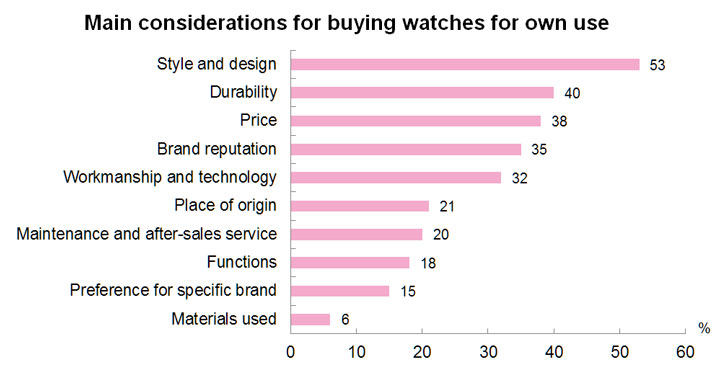 Market opportunities for Hong Kong companies

Watches from Hong Kong are considered by most middle-class consumers as products of trendy brands. They command a price premium of 43% over mainland brands and are perceived as not much different from products of Japanese brands. Apart from Swiss brands, Hong Kong brands are the preference of many consumers, especially for business style, casual/fashion style or elegant jewellery watches. Moreover, consumers interested to go to Hong Kong to buy watches now comprise 21% of all consumers planning to buy watches, whereas the last time they bought a watch, only 12% chose to buy in Hong Kong.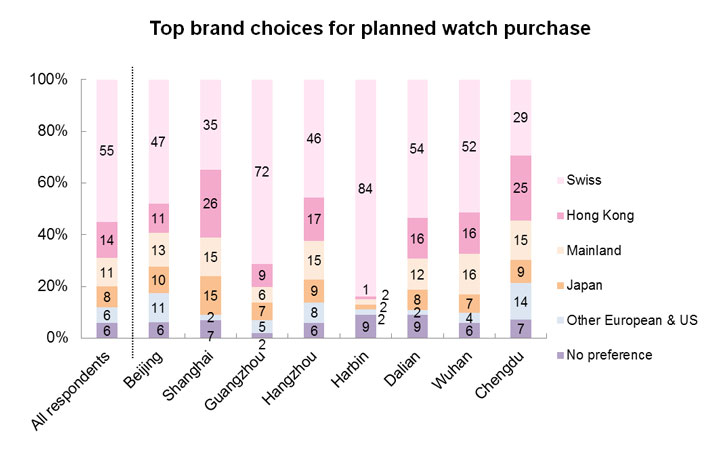 Increasing opportunities for e-tailing

Though currently only 5% of the consumers have the experience of buying watches online, they are increasingly aware of the advantages of online purchase, such as lower prices and more product choices. Hence, 18% of the respondents said they will consider buying watches online in future. Overall, the respondents said they spent an average of Rmb1,032 on buying a watch online in the last three years. In future the average online buying price they can accept may rise to Rmb1,902, mainly for the buying of casual/fashion watches, thus providing business opportunities for Hong Kong companies that have an edge in such business.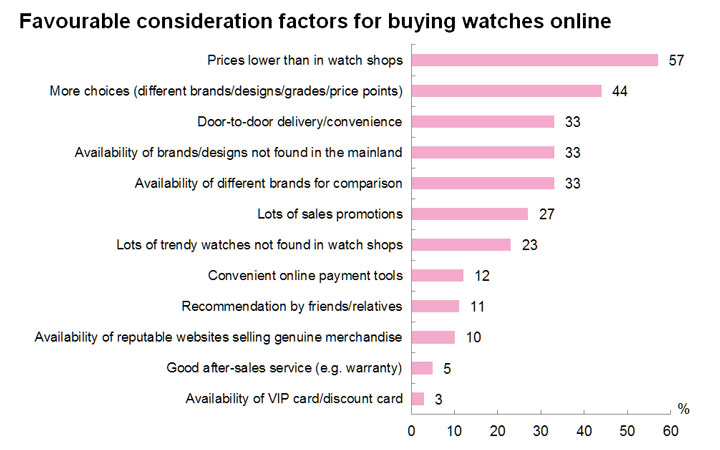 From these survey results, the following recommendations can be summarised for reference by Hong Kong companies:
Mainland consumers regard Hong Kong brands as mid-range trendy brands. Added the fact that style and design are now primary considerations of consumers when they buy watches, Hong Kong companies can focus on using watches of trendy designs in expanding their markets. They should, however, take care in choosing reputable and suitably positioned retail outlets or distribution channels to sell their products, and should also offer different styles and price levels to attract consumers.



In shopping for watches, unlike their counterparts in mature markets such as Europe and the US, mainland consumers would not only consider styles and prices, but also durability. They would buy primarily trendy watches with basic functions. Therefore, in expanding into the mainland market, Hong Kong companies should rely on style and quality as their main selling themes and should understand that too many fancy features may not add value to a product. What is more, not only do consumers like to buy watches of business styles and casual/fashion styles, they have also a special liking for mechanical watches. So Hong Kong companies should pay more attention to relevant market demands.



Mainland consumers are more easily lured by sales promotions at watch shops/concession counters into buying watches impulsively. So Hong Kong companies can focus on carrying out sales promotions during holidays and festivals to draw the attention and impulse buying of consumers. Also, compared to expensive TV commercials, salespersons in shops play a bigger role in influencing consumer purchases. Hong Kong companies should therefore pay more attention to and allocate more resources in training salespersons and carrying out sales promotions in retail outlets in order to attract more consumers to buy.



Consumers are increasingly buying higher-end watches, which is a significant departure from their buying mainly Rmb1,000 watches some years back. Hong Kong companies can focus their efforts at building up brand images of fashionable designs and excellent workmanship and use mid-market pricing as a way to enter the market. In particular, in some second-tier cities such as Dalian and Hangzhou where Hong Kong brands enjoy higher price premiums, Hong Kong companies can consider using more aggressive pricing strategies.



Mainland consumers buy watches mainly from watch counters in local department stores or from independent watch shops in shopping malls. In cities with spending potentials, therefore, Hong Kong companies can consider entering into cooperation with suitable department stores and shopping malls for setting up their own sales outlets or partnering with the right retailers. Meanwhile, the percentage of consumers buying watches when travelling outside the mainland has been increasing continuously and Hong Kong is their preferred location. Hong Kong companies can therefore capitalise on Hong Kong's reputation as a shopping paradise and attract mainland consumers in coming to Hong Kong to buy watches while building up their brand images.



With the proportion of consumers considering buying watches online rising exponentially and with online shopping getting increasingly safer, consumers are more keen to buy watches online, especially casual/fashion watches. To tap into such opportunities, Hong Kong companies can offer through online shops more varieties of watches that are cheaper and trendier than are available from brick-and-mortar watch shops.

Mainland China
Mainland China