https://hkmb.hktdc.com/en/1X09QLWD
China's new "value added"
China has been a global manufacturing winner for the past three decades, thanks to its low-cost advantages. But times have changed, courtesy mainly of China's soaring labour costs.
The big question is whether it means China has any more to offer than price competitiveness.
The answer turns out to be a resounding "yes", because the country has been steadily replacing older industrial models with higher value offerings, particularly in the IT and consumer electronics sectors.
All this is a far cry from government support policies for low-cost industries, when the country attracted thousands of multinational companies to produce for consumption in the West.
Astounding in retrospect, China's share of global manufacturing exports soared from 1.8% to 15.4% in just 21 years from 1990 to 2011.
But China's rapidly rising wage levels forced multinational companies to change their tune and review their sourcing strategies.
With rising transport costs, increasing business uncertainties and supply chain complexities, a number of companies have started to "re-shore" some manufacturing capacity back home and move additional capacity from China to other low-cost countries.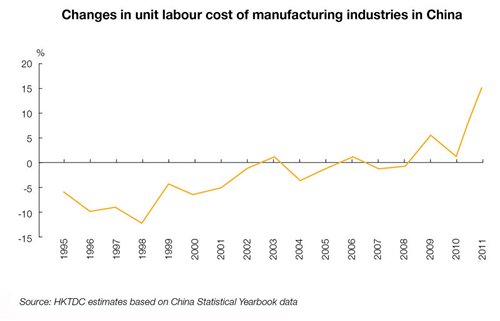 Between 1995 and 2005, China's unit labour costs for manufacturing industries, measuring wage costs per unit of production, declined by close to 40% cumulatively.
This was due to a much faster growth in labour productivity than manufacturing wages.
But from 2005 onwards, due to a more rapid rate of increase in wages, China's unit labour costs have started to rise and some labour-intensive manufacturers have moved to countries with lower wages such as Bangladesh, Indonesia and Vietnam.
For example, Vietnam surpassed China to become the largest source for footwear giant Nike in 2010.
China's share of US and EU imports for a number of labour-intensive and price-sensitive products such as clothes, footwear and toys actually started to decline in 2011.
By contrast, industries in Bangladesh, Indonesia and Vietnam have been replacing China factories.
The garment trade is a good example. Bangladesh's share of US imports rose from 3.8% in 2006 to 6.1% from January to July 2012, and its share of EU imports increased from 7.7% in 2006 to 13.7% in the first four months of 2012.
For Vietnam, its share of US garment imports rose from 4.3% in 2006 to 9.1% in the same period, while its share of EU garment imports rose from 1.7% in 2006 to 2.4% in the first four months of this year.
Sourcing strategies
According to the Hackett Group's 2012 Supply Chain Optimization Study, the most important decision driver in the development of a manufacturing sourcing strategy is "total landed cost".
That's defined as the full end-to-end supply chain costs that include manufacturing, transportation and logistics, inventory carrying cost, taxes and duties.
Rising unit labour costs in China have resulted in a narrowing wage gap with the West.
Also, rising environmental related charges in China and higher transportation costs have served to close the total landed cost gap between China and the West from 31% in 2005 to 23% in 2010.
A further decrease in the total landed cost gap between China and the West will encourage more multinational companies to consider production re-shoring, or returning to their "home base".
But few low-skilled Chinese manufacturing jobs will be able to return to advanced economies, due to lack of capacity and scalability.
For industries with a high labour-cost component in the total landed cost, financial advantages of offshore manufacturing will continue to be compelling and sustainable.
For sure, it's difficult for Hong Kong manufacturers that moved to the Chinese mainland to return.
Rather, they have been using more machinery and increasing the "value added" in their products to keep down unit labour costs.
Also, with well-developed industry clusters in China, many production functions and services can be sourced locally.
This will not only empower China to take up a broader role in the overall supply chain, but also lower total landed costs with higher efficiencies, lower transportation costs and smaller investment in inventories.
Global consumption, global production
Ironically, companies that moved to other parts of Asia a few years ago with the hope of escaping wage inflation in China now find wages at their new destinations rising quickly on the back of investment growth.
In fact, the same dynamics as in China are starting to play out in other Asian countries. Some see rises at an even faster pace than China due to capacity and resources constraints.
A few global companies have moved towards local hubs and are evaluating alternative options for sourcing and manufacturing.
Apparel manufacturer and retailer, JoS. A. Bank, which has been producing goods in Sri Lanka and Malaysia, is adding capacity in Central America and Jordan.
Electronics giant Siemens has chosen Mexico recently as the location for a new investment project, instead of expanding production in China.
The idea behind this regionalisation is to respond more quickly to individual markets.
In fact, the "local hub" is becoming a critical cost consideration for many industries, in an attempt to shorten supply chains.
Also, consumers have become more aware of the environmental impact of their purchases and companies' social, cultural, ethical and health rating (SECH); shorter supply chains are expected to reduce a company's carbon footprint.
In the circumstances, Mexico (for example) has become a preferred manufacturing centre for companies looking to supply the Americas, and increasingly Latin America.
In Asia, China is definitely the most attractive market for many industries. Since China relaxed restrictions on domestic sales by foreign companies in 2000, foreign manufacturers have increasingly targeted the Chinese domestic market as well as producing goods for export.
Some companies have even splintered their supply chains into smaller, nimbler units that can serve regional customers better and hedge uncertainties and risks derived from protectionist sentiment and natural disasters.
But without doubt, China remains the core location for production and sourcing of high-volume products, and the hub for Asia and other emerging markets.
The new era
As multinationals change their supply chain models, China's processing trade industries, particularly those exporting OEM and ODM for foreign companies, are going to be the most affected.
To stay competitive, China has been transforming and modernising its manufacturing sector. Now, there are more industries with short product cycles and higher value-added components.
China's Ministry of Commerce says electrical and electronics products now account for more than 78% share of the country's processing trade exports, up from 65% in 2002.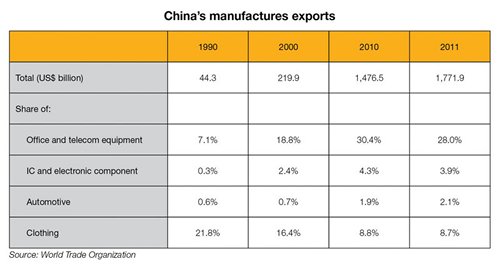 The attraction of China as a competitive location for IT, telecom and consumer electronics products is its versatility.
New, competitive industry clusters provide for upstream supplies such as parts and components.
Ancillary items such as metal, plastic, electrical and packaging items can easily be sourced locally.
Besides, essential supporting services such as freight forwarding and lab testing are all increasingly well-developed, enabling manufacturers and exporters to enhance their efficiency and supply chain reliability.
As a result, China's share in the world's office and telecom equipment export sector grew from 1% in 1990 to 29.6% in 2011.
Even for the garment industry, Mainland manufacturers have applied technology and invested in R&D to increase their productivity and value-added ability.
As one garment merchandiser in Hong Kong pointed out, sourcing from Southeast Asian countries can offer lower costs when supplying simple items in bulk.
But for fashion items with sophisticated design and delivery in smaller batches on a fast turnaround, China is still the choice.
Exporters in China have also been taking a more proactive stance to explore new markets.
While international retailers who are expanding actively in emerging markets will create business for OEM/ODM exporters, consumers in emerging markets are increasingly receptive to good quality, design and inexpensive products from China's domestic companies.