https://hkmb.hktdc.com/en/1X06BVRO
Sichuan: Market Profile
Major Economic Indicators
Economic Indicators
2017
2018
Value
Growth
(%, y-o-y)
Value
Growth
(%, y-o-y)
Gross Domestic Product (RMB bn)
3,998.0
8.11
4,067.8
8.01
Per Capita GDP (RMB)
44,651
7.51
48,883
7.41
Added Value Output
Primary industry (RMB bn)
428.3
3.81
442.7
3.61
Secondary industry (RMB bn)
1,429.4
7.51
1,532.3
7.51
Tertiary industry (RMB bn)
1,840.3
9.81
2,092.9
9.41
Value-added Industrial Output2 (RMB bn)
—
8.51
—
8.31
Fixed-assets Investment (RMB bn)
3,209.7
10.2
2,806.5
10.2
Retail Sales (RMB bn)
1,748.1
12.0
1,825.5
11.1
Inflation (Consumer Price Index, %)
—
1.4
—
1.7
Exports (US$ bn)
37.6
34.4
50.4
34.2
By foreign-invested enterprises (US$ bn)
24.2
52.4
32.6
34.6
Imports (US$ bn)
30.6
43.1
39.5
29.4
By foreign-invested enterprises (US$ bn)
22.2
44.5
26.3
18.5
Utilised Foreign Direct Investment (US$ bn)
7.9
13.1
—
—
Notes:
1 In Renminbi real term 2 For all state-owned and other forms of enterprises with annual sales over RMB20 million
Sources: Sichuan Statistical Yearbook 2018, Sichuan Statistical Bureau; China Customs
General Background
Sichuan is located at the upper reaches of the Yangtze River in southwestern China. It has a total area of 486,052 sq km. Total resident population stood at 83.02 million by end-2017. Chengdu, the capital of Sichuan, is the western hub for business and trade.
Sichuan is rich in natural resources and has the most well developed industrial sector in the region. Sichuan is also one of the major agricultural production bases in China, its output of rice, wheat, rapeseed, citrus fruit, peach, sugar cane, sweet potato and Chinese herbs all account for a significant share of China's total.
The private sector in Sichuan has grown fast in recent years. The share of non-state activities in Sichuan's GDP rose from less than 50% (46.9%) in 2006 to 60.9% in 2017. Sichuan has developed a number of famous local enterprises and brands, including the country's largest colour TV producer – Changhong Electric Group Co. Ltd. (長虹); steel company – Panzhihua Steel Group (攀枝花), alcohol manufacturers – Wuliangye Group (五糧液), Jiannanchun Group (劍南春) and Luzhoulaojiao (瀘洲老窖); medicine manufacturers – Di'ao Group Company (地奥) and Di'kang Group (迪康); and animal feed company – New Hope (新希望).
Industries
While Sichuan is strong in agriculture, its industrial activities have expanded rapidly in the last two decades. In 2011, the secondary sector accounted for 47.8% of its GDP, up from the level of 36.5% in 2000, but gradually declined to 38.7% in 2017 while the share of the tertiary sector has continued to rise.
Composition of GDP (%)
| | | |
| --- | --- | --- |
| | 2000 | 2017 |
| Primary | 24.1 | 11.6 |
| Secondary | 36.5 | 38.7 |
| Tertiary | 39.4 | 49.7 |
Source: Sichuan Statistical Yearbook 2018
Nowadays, Sichuan is one of the most industrialised provinces in western China. While heavy industries (67.5% of the aggregate revenue from principal business in 2017) such as coal, energy and iron and steel remain as dominating sectors, the province has also established a light manufacturing sector comprising electronics, building materials, wood processing, food, silk processing, etc.
Sichuan's production of TV sets, natural gas, electricity, steel, cement, Chinese medicine, wine and chemical fibre is among the largest in western China. Notably, the revenue of "telecommunication equipment, computer and other electronic equipment" has continued to increase and its share in gross industrial output increased from 5.5% in 2010 to 11.1% in 2017.
Revenue Share of Leading Industry Groups (2017)
| | |
| --- | --- |
| | % share in aggregate revenue from principal business* |
| Food and beverage, farm byproducts processing | 16.0 |
| Telecommunication equipment, computer and other electronic equipment | 11.1 |
| Nonmetal mineral products | 7.4 |
| Automobile manufacturing | 6.9 |
| Raw chemical materials and chemical products | 5.9 |
| Smelting and pressing of ferrous metals | 5.0 |
| General purpose machinery manufacturing | 4.7 |
* For all state-owned enterprises and other forms with annual sales over RMB20 million
Source: Sichuan Statistical Yearbook 2018
Sichuan's high-tech industry has been developing fast. In 2017, the gross output of new and high-tech products grew by 16.1%. Sichuan has 13 state level key laboratories and two state level hi-tech industries development zones – The Chengdu New and Hi-tech Industries Development Zone (CDDZ), and the Mianyang New and Hi-tech Industries Development Zone (MYDZ). These zones have attracted a number of internationally renowned IT companies such as Microsoft, Cisco, Intel and IBM to set up R&D centers.
Sichuan is richly endowed with herbs (around 5,000 species) and is the home to many senior Chinese medicine doctors. Sichuan is strong in R&D of modern Chinese medicine. Chengdu is selected by the Ministry of Science and Technology to set up the first state-level Modernized Science and Technology Industry Base for Traditional Chinese Medicine.
Tourism
Sichuan has abundant tourism resources: it is home to the giant panda; it has 5 world natural heritages and 12 national AAAAA grade nature parks. Its internationally famous scenic attractions include Mt. Emei (峨眉山), Jiuzhaigou Valley (九寨溝) and Dujiangyan Irrigation System (都江堰).
| | | |
| --- | --- | --- |
| | 2017 | % change |
| Number of overseas tourist (million) | 3.36 | 8.9 |
| Foreign exchange income (US$ mn) | 1,447 | 16.7 |
Source: Sichuan Statistical Yearbook 2018
Foreign Trade
Sichuan's foreign trade grew strongly in the past few years. It is the leading export base in the western region. Major trade partners in 2017 included the US, the ASEAN countries, Japan and Korea. Major export products included computer products (37.0% of the total), integrated circuits (18.0%), garment (2.1%), agricultural products (1.8%) and footwear (1.7%). Major import products included integrated circuits, minerals, printed circuit boards and testing apparatus being the major import items.
As a result of increased foreign investment in recent years, foreign trade conducted by foreign investment enterprises has risen. In 2017, exports conducted by FIE accounted for 68.1% of the province's total exports.
Chengdu is the hub of trade in goods between Europe and China through railway. By the end of November 2018, among the 12,000 China-Europe China Railway Express (CR Express) cargo trains that have left for Europe from China, around 3,000 departed from Chengdu, making the city the top departure point. The CR Express (Chengdu) connects Chengdu with 23 foreign cities. Major goods transported includes electronic products, automotive and accessories, computers, garments, fruits etc.
Foreign Investment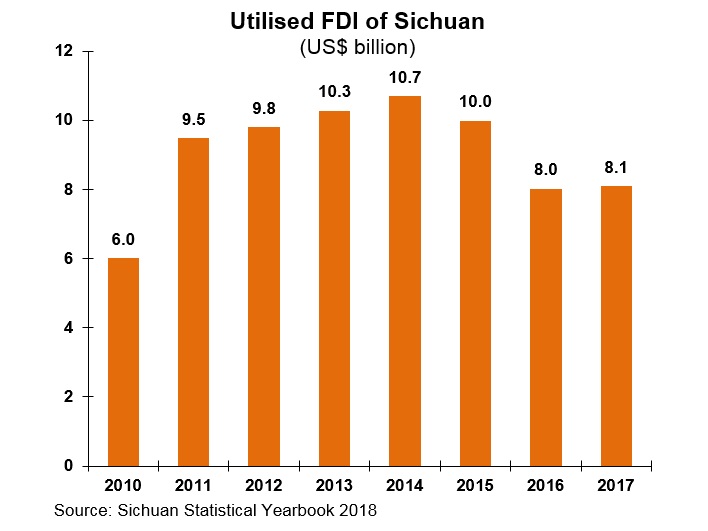 Sichuan came first in attracting FDI among all western provinces. Prominent multinationals like Intel, Onsun, Sony, UPS, Sanyo and Kingfisher have invested in Sichuan, especially in its capital Chengdu. By the end of 2017, 235 of the world's largest 500 overseas companies have invested in Sichuan.
Consumer Market
Sichuan has the biggest consumer market in western China. In 2017, annual per capita disposal income of urban households reached RMB30,727 (+8.4%).
Composition of Per Capita Expenditure of Urban Household (%)
| | | |
| --- | --- | --- |
| | 2000 | 2017 |
| Food | 41.5 | 33.3 |
| Transportation & communications | 6.3 | 14.5 |
| Clothing | 9.6 | 7.8 |
| Recreation, cultural & education | 12.9 | 10.1 |
| Residence | 4.6 | 17.8 |
| Household articles | 8.6 | 6.4 |
| Medicine & medical services | 5.5 | 7.3 |
Source: Sichuan Statistical Yearbook 2018
Since China fully liberalises the retail and wholesale distribution sector, foreign retail enterprises have entered the Sichuan market. Major foreign retail enterprises include Metro (麥德龍) from Germany, Carrefour from France, Trust-mart (好又多) from Taiwan, Itoyokado (伊藤洋華堂) from Japan, and Parkson (百盛) from Malaysia.
Economic Indicators of Major Cities (2017)
Cities
GDP
(RMB bn)
Per Capita GDP
(RMB)
Retail Sales
(RMB bn)
Exports
(US$ mn)
Chengdu (成都)
1,388.9
86,911
640.4
30,559
Zigong (自貢)
131.2
46,182
62.4
259
Panzhihua (攀枝花)
114.4

92,584
35.2
165

Deyang (德陽)
196.1
55,607
79.1
1,045
Mianyang (綿陽)
207.5
43,015
111.2
908
Leshan (樂山)
150.8
46,130

70.5
758
Yibin (宜賓)
184.7
40,868
86.8
472
Source: Sichuan Statistical Yearbook 2018