https://hkmb.hktdc.com/en/1X06BVNS
Shandong: Market Profile
Major Economic Indicators
Economic Indicators
2017
2018

Value
Growth
(%, y-o-y)
Value
Growth
(%, y-o-y)
Gross Domestic Product (RMB bn)
7,267.8
7.41
7,647.0
6.41
Per Capita GDP (RMB)
72,851
7.61
7,626.7
5.91
Added Value Output
Primary industry (RMB bn)
487.7
3.51
495.1
2.61
Secondary industry (RMB bn)
3,292.5
6.31
3,364.2
5.11
Tertiary industry (RMB bn)
3,487.6
9.11
3,787.7
8.31
Value-added Industrial Output2 (RMB bn)
28,706
6.91
—
5.21
Fixed-assets Investment (RMB bn)
5,423.6
7.3
—
4.1
Retail Sales (RMB bn)
3,364.9
9.8
—
8.8
Inflation (Consumer Price Index, %)
—
1.5
—
2.5
Exports (US$ bn)
147.1
7.3
160.1
8.9
By foreign-invested enterprises (US$ bn)
50.8
0.7
51.6
1.5

Imports (US$ bn)
116.0
19.2
132.3
12.5
By foreign-invested enterprises (US$ bn)
33.3
4.2
34.2
2.6
Utilised Foreign Direct Investment (US$ bn)
—
—
124
6.5
Notes:
1 In Renminbi real term
2 For all state-owned and other forms of enterprises with annual sales over RMB20 million
Sources: Shandong Statistical Yearbook 2018, Shandong Statistical Bureau, China Customs Statistics
General Background
Shandong lies in the Bohai Bay economic region. It spans a total area of 157,900 sq. km. Total population stood at 100.5 million in 2017. Jinan is the provincial capital of Shandong. In 2011, the State Council established the Shandong Peninsula Blue Economic Zone, which includes 8 cities including Qingdao, Yantai, Zibo, Weihai, Weifang, Dongying, Rizhao etc. In 2017, the Shandong Peninsula Blue Economic Zone accounted for 46.7% of Shandong's GDP. Apart from the Shandong Peninsula Blue Economic Zone, the Capital City Group Economic Circle of Shandong Province accounted for 34.8% of Shandong's GDP in 2017. Qingdao and Yantai are two of the major ports in China, in 2017 Shandong Province accounted for 17.5% of China's total volume of freight handled in major coastal ports.
Shandong's private sector has developed very quickly. The total number of private enterprises reached 1.48 million in 2017, compared to 363 thousand in 2006.
Industries
Shandong is endowed with agricultural and marine resources. In 2017, the gross output value of agriculture, forestry, animal husbandry and fishery of Shandong stood at 914.0 billion, accounting for 8.4 percent of China's total. As a base of agricultural and marine production, Shandong has developed strong food manufacturing and food processing industries. Yantai is an especially important export base of agricultural products, focusing on apples, peanuts and vegetables.
Composition of GDP (%)
| | | |
| --- | --- | --- |
| | 2005 | 2017 |
| Primary | 10.6 | 6.7 |
| Secondary | 57.4 | 45.3 |
| Industry | 51.7 | 39.5 |
| Tertiary | 32.0 | 48.0 |
Source: Shandong Statistical Yearbook 2018
Due to the rich natural resources, particularly oil and coal, Shandong's excavating and energy industry is very strong. In 2017, Shandong accounted for 11.7% of China's total crude oil production. Industries are mainly located in Qingdao, Yantai, Weifang, Jinan and Weihai.
Output Share of Leading Industry Groups (2017)
| | |
| --- | --- |
| | Share of value-added industrial output (%) |
| Raw chemical materials and chemical products | 9.7 |
| Processing of food from agricultural products | 7.4 |
| Processing of petroleum, coking and nucleus fuel | 6.7 |
| Manufacture of general purpose machinery | 6.3 |
| Manufacture of non-metallic mineral products | 5.7 |
| Textile industry | 5.4 |
| Manufacture of automobile | 4.6 |
| Manufacture of special purpose machinery | 4.2 |
| Manufacture and processing of non-ferrous metals | 3.7 |
| Manufacture of electrical equipment and machinery | 3.7 |
Notes: All state-owned enterprises and other forms with annual sales over RMB20 million
Source: Shandong Statistical Yearbook 2018
Shandong's industrial output has been dominated by heavy industry which accounted for about 67.1% of the gross industrial output. Nonetheless, Shandong is also a cradle for many national giants in light industry. Shandong has successfully promoted many famous brands such as Haier Electronics, Hisense Electronics, Tsingdao Beer, Qingqi Motorcycles, Kongfujia Liquor and Weifang Kite etc.
Tourism
Shandong is a popular tourist spot, going for the charming and romantic beachscape or the beautiful buildings with typical European style. In 2017, Shandong attracted 780 million (+10.3%) domestic tourists with a revenue of RMB849 billion (+14.8%). Overseas tourists reached 4.94 million (+1.8%) generating a revenue of US$3.2 billion (+3.6%).
Foreign Trade
In 2017, the US was Shandong's leading export market, followed by Japan and Korea owing to geographical proximity. Major exports included machinery, electronics, textiles, garments, chemical products, plastics and related products, base metals and related products.
South Korea was the largest import source, followed by Brazil, Australia and the US. Major imports included minerals, machinery and electrical equipment, seeds and fruits, plastics and related products.
In 2017, Shandong exported US$4,284 million worth of goods to Hong Kong, and imports from Hong Kong amounted to US$262 million.
Foreign Investment
FDI in Shandong are mainly in the manufacturing sector. By the end of 2017, manufacturing sector accounted for 63.6% of the cumulative total of utilised FDI. In 2017, FDI going to the tertiary sector accounted for 28.1% of the total FDI. Real estate is important, accounting for 35.7% of the cumulative total of utilized FDI in the tertiary sector by the end of 2017.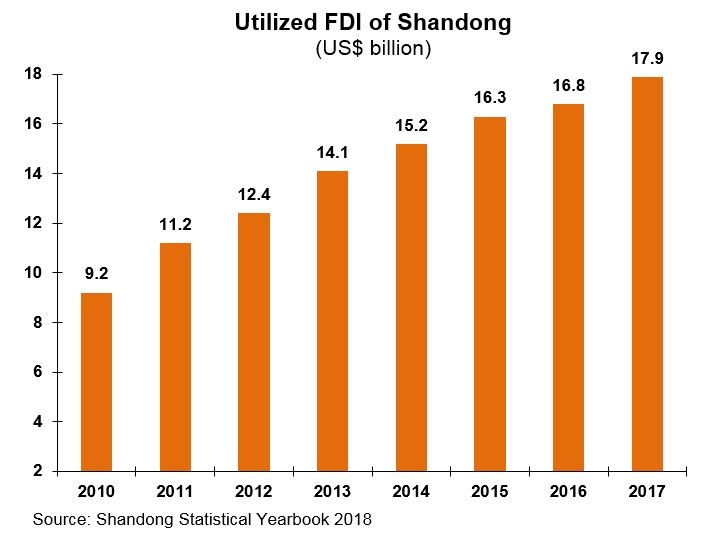 Hong Kong surpassed South Korea and became Shandong's largest source of FDI. In 2017, FDI from Hong Kong accounted for 50.2% of Shandong's utilised FDI. In 2017, other major foreign investors came from South Korea, Singapore and Germany. Qingdao, Yantai and Jinan are the primary destinations of overseas investments.
Multinational companies such as the German Metro, Siemens, the French Carrefour, Daewoo, LG and Samsung of South Korea, Toyota of Japan, Kellogg's of the US have already set up their subsidiaries in Shandong.
Consumer Market
Shandong is the second largest consumer markets (in terms of retail sales) among all mainland provinces and municipalities, only after Guangdong. Retail sales of consumer goods increased by 9.8% to RMB3,364.9 billion in 2017, accounting for 9.2% of the national total. Major commercial centres are located in Jinan, Qingdao, Yantai, and Weifang. In 2017, annual per capita disposal income of urban households grew by 8.2% to RMB36,789.
The landscape of retail distribution in Shandong is changing rapidly in recent years. While the importance of traditional department stores has declined, various forms of modern operation such as shopping malls, supermarkets, warehouse type markets, chain stores, and convenience stores are prolific.
Composition of Per Capita Expenditure of Urban Household (%)
| | | |
| --- | --- | --- |
| | 2000 | 2017 |
| Food, tobacco and liquor | 34.7 | 26.8 |
| Clothing | 13.3 | 8.8 |
| Household articles | 11.2 | 7.5 |
| Medicine & healthcare services | 6.4 | 7.7 |
| Transportation & communications | 7.0 | 14.2 |
| Recreation, cultural & education | 14.2 | 11.4 |
| Residence | 7.9 | 21.2 |
Source: Shandong Statistical Yearbook 2018
Major department stores and shopping centers in Shandong include Jinan Yinzuo Shopping Center (濟南銀座購物商城), Jinan Shimao International Plaza (濟南世茂國際廣場), Qingdao MIXC Shopping Mall (青島萬象城), Zibo Intime City (淄博銀泰城) and Yantai Zhenhua Department Store (煙台振華百貨) etc.
In recent years, many foreign investors have set up joint venture retail outlets in Shandong's major cities. Foreign department stores/supermarkets in Shandong include AEON, Carrefour and Metro.
Economic Indicators of Major Cities (2017)
Cities
GDP
(RMB bn)
Per Capita GDP
(RMB)
Gross Output
Value of Industry 1
(RMB bn)
Retail Sales
(RMB bn)
Export value
(US$ bn)
Jinan (濟南)
715.2
98,275
794.3
414.6
7.5
Qingdao (青島)
1,102.4
119,215
1,189.3
454.1
44.6
Zibo (淄博)
477.1
101,569
1,004.9
237.4
5.5
Yantai (煙台)
734.4
103,771
1,396.6
327.3
25.7
Weifang (濰坊)
585.5
62,553
1,154.8
273.8
14.0
Weihai (威海)
351.3
124,463
693.6
160.8
12.6
1 For all state-owned and other forms of enterprises with annual sales over RMB20 million
Source: Shandong Statistical Yearbook 2018