https://hkmb.hktdc.com/en/1X06BPV2
Chongqing: Market Profile
Major Economic Indicators
Economic Indicators
2017
2018
Value
Growth
(%, y-o-y)
Value
Growth
(%, y-o-y)
Gross Domestic Product (RMB bn)
1,950.0
9.3 1
2,036.3
6.0 1
Per Capita GDP (RMB)
63,689
8.3 1
—

—

Added Value Output
Primary industry (RMB bn)
134.0
4.0 1
137.8
4.4 1
Secondary industry (RMB bn)
859.7
9.5 1
832.9
3.0 1
Tertiary industry (RMB bn)
956.4
9.9 1
1,065.6
9.1 1
Value-added Industrial Output2
—
9.6 1
—
0.5 1
Fixed-assets Investment (RMB bn)
1,744.1
0.5
—
7.0
Retail Sales (RMB bn)
806.8
11.0
—
8.7
Inflation (Consumer Price Index, %)
—

1.0
—
2.0
Exports (US$ bn)
42.6
4.8
51.4
20.6
By foreign-invested enterprises (US$ bn)
27.7
19.4
32.3
16.3
Imports (US$ bn)
24.0
8.6
27.7
15.2
By foreign-invested enterprises (US$ bn)
11.1
10.0
12.4
11.6
Utilised Foreign Direct Investment (US$ bn)
2.2
-20.4
—
—
Notes:
1 In real terms
2 For all state-owned enterprises and other forms with annual sales over RMB20 million
Sources: Chongqing Statistical Yearbook 2018; Chongqing Statistical Bureau; China Customs Statistics, 12.2017, 12.2018
General Background
Chongqing has a total area of 82,400 sq kilometres. Total population stood at 30.75 million by the end of 2017. Chongqing's GDP grew by 6% in 2018, 0.6 percentage points lower than the national average.
Chongqing is one of China's four municipalities directly under the central government, but its structure is substantially different from the other three. For instance, the area of Chongqing is 13 times that of Shanghai, and its population is 6.6 million more than Shanghai's. The vast majority of Chongqing area is still rural. In 2017, Chongqing's urban population only accounted for 64.1% of its total population.
The establishment of the Chongqing municipality in 1997 represented a major breakthrough of China's initiatives to speed up economic development in the central and western regions. The Three Gorges Project which has positive implications in areas such as tourism, relocation of residents and environment protection has stimulated development of Chongqing's economy, as well as the western region as a whole.
"One Belt, One Road": Chongqing as Western Hub of Yangtze River Economic Belt
The Chongqing municipal government issued its Opinions on Implementing the National Strategy of "One Belt, One Road" and Building the Yangtze River Economic Belt in December 2014. In order to enhance its connectivity and influence under the "Belt and Road" and Yangtze River Economic Belt initiatives, Chongqing will further reinforce its strategic position as a shipping centre in the middle reaches of the Yangtze and a national logistics hub. Efforts will also be focused on developing the city into a financial centre and technology education centre. It is reported that the city will invest up to Rmb1.2 trillion in infrastructure construction by 2020.
Industries
Chongqing is one of the old industrial bases of China. It is a major automobiles, military, iron & steel and aluminum industry centre in China. Chongqing's industry is dominated by heavy industry. In 2017, heavy industry accounted for 79.2% of the municipality's gross industrial output. In recent years, Chongqing's electronics and related industries grew strongly. The share of gross output of telecommunication equipment, computers and other electronic equipment industries in total gross industrial output grew from 11.4% in 2012 to 19.7% in 2017.
Composition of GDP (%)
| | | |
| --- | --- | --- |
| | 2000 | 2017 |
| Primary | 17.8 | 6.9 |
| Secondary | 38.9 | 44.1 |
| Industry | 31.9 | 33.8 |
| Tertiary | 43.3 | 49.0 |
Source: Chongqing Statistical Yearbook 2018
Output Share of Leading Industry Groups (2017)
Sector
% share
industrial output
Motor vehicles
22.0
Communication and electronic equipment
19.7
Railway, ship and other transport equipment
5.4
Non-metallic mineral products
5.1
Electrical machinery and equipment
4.8

Processing of food from agricultural products
4.3
Raw chemical materials and chemical products
3.9
Source: Chongqing Statistical Yearbook 2018
High-tech Development
Chongqing New North Zone (CNNZ) is a modern industrial base aimed at developing hi-tech industries. The zone consists of several zones including the Chongqing Economic and Technological Development Zone, Chongqing High-Tech Industrial Development Zone and Chongqing Export Processing Zone.
Leading computer and related products manufacturers have set up plants in Chongqing, including Foxconn and Inventec from Taiwan. In 2017, exports of high-tech products accounted for 66% of total exports. Exports of notebook computers accounted for about 45% of Chongqing's total exports.
Tourism
There are some famous tourist spots in Chongqing, e.g. the Three Gorges, Dazu Rock Carvings. In 2017, Chongqing received 3.58 million overseas tourists (+13.2%), bringing foreign exchange revenue of US$1.95 billion (+15.5%).
Foreign Trade
The leading export market was the US in 2017 which accounted for 27% of Chongqing's total exports. Other major export markets included Germany (12.6%), South Korea (4.8%) and Hong Kong (3.8%). Major sources of imports included South Korea (accounted for 14.0% of total imports), Taiwan (10.3%) and Malaysia (9.8%). In 2017, Hong Kong's trade with Chongqing dropped by 59.6% year-on-year to top US$1.63 billion.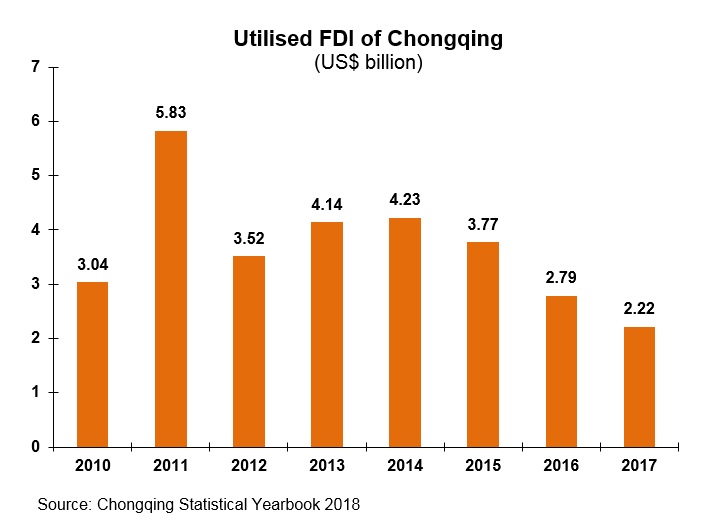 In 2017, the total utilised FDI of Chongqing was US$2.2 billion, dropped by 20.4% year-on-year. Hong Kong was the largest source of FDI in Chongqing, while other major investors came from Singapore and South Korea. In 2017, investment from other provinces grew by 3.6% to RMB968 billion.
An increasing number of multinational companies have set up operations in Chongqing. By the end of 2018, over 280 of the world top 500 companies have set up operations in Chongqing. More and more foreign companies relating to the electronic industries are setting up in Chongqing. Besides Hewlett-Packard, Foxconn and Inventec, Acer from Taiwan has also set up a manufacturing base in Chongqing. Honeywell is also building an automobile material plant.
Consumer Market
Chongqing has a large local market with a total population of over 30.75 million. In terms of per capita disposable income of urban residents, Chongqing reached RMB32,193 in 2017, up 8.7%.
Chongqing is a retail and wholesale centre of southwestern China. The retail industry of Chongqing is very competitive, particularly with the establishment of a number of local and foreign retail enterprises such as Carrefour, Walmart, Metro and Gome. Major department stores and shopping malls include Chongqing Department Store, New Century, Wangfujing, Pacific, Times Square and Metropolitan Oriental Plaza.
There are several major shopping districts in Chongqing, namely Jiefangbei (解放碑), Shapingba (沙坪壩), Nan Ping (南坪), Guanyinqiao (觀音橋) and Yangjiaping (楊家坪). Chaotianmen market (朝天門) is a major wholesale centre in southwestern China selling a wide range of products such as garment, plastic products and textiles.