https://hkmb.hktdc.com/en/1X006S5J
Stationery Industry in Hong Kong
Stationery and office supplies encompass a diverse range of product categories. Glues and adhesives, pens and pencils constitute the major export categories.
As well as making products for OEM clients (including major stationery brands in France and Germany), some Hong Kong manufacturers also market their own branded items. Hong Kong companies also accept ODM orders that require substantial design input from suppliers.
The stationery industry is exploring new growth areas by modifying traditional stationery items with new technologies such as the smart pen, a device which records brush strokes and converts handwritten information into digital data, enabling the data to be utilised in various applications. Computer consumables is another growth area.
Demand for stationery featuring licensed characters of popular TV shows, cartoons, movies and mobile phone games continues to show steady growth.
Industry Features
Hong Kong's stationery manufacturers offer a wide range of products, including paper stationery, plastic office/school supplies, writing ink, writing utensils, staples, crayons, letter openers, pencil cases, chalk boards, memo boxes, file rings, push pins and adhesives. They are available in a variety of finishes and surfaces, such as chrome (gold, silver or bronze in colour), plastic, imitation leather and genuine leather.
Prepared glues and other adhesives now dominate Hong Kong's stationery export mix. However, paper stationery – including exercise books, albums, diaries, sketchbooks, memo pads, registers, account books, receipt books, gift boxes, shopping bags, shipping bags and gift wrapping materials - remains an important export category. Gift boxes and shopping bags, which are made for manufacturers or retailers of consumer goods, usually bear company names, logos or advertisements. Some are made for subsequent resale to people for wrapping gifts they have purchased.
In general, ball point pens manufactured in Hong Kong are targeted at the premium market. Most manufacturers rely heavily on imported ink, refills, brass ball points and barrels. Only a few companies make their own refills. Various parts are then assembled in-house. Some also make their own barrels if the design is intended to incorporate a particular function such as LCD time display.
As well as producing for their OEM customers, some Hong Kong exporters also market their own branded items. Hong Kong companies also accept ODM orders that require substantial design input from suppliers.
Performance of Hong Kong's Stationery Exports [1]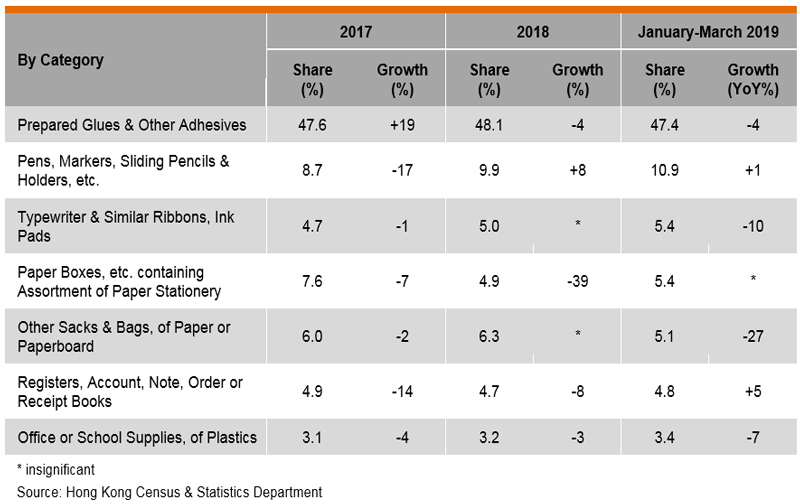 Sales Channels
Stationery products are mostly exported directly by manufacturers, although some are handled by general trading firms which may also deal in other kinds of products. In Hong Kong's retail market, stationers, office supply shops and bookstores are the major distribution channels. European brands such as Montblanc dominate the upper end of the market, while Japanese and German products have a wide presence.
Home and small offices are expanding, especially in the US. Superstores and mail order companies dominate the channels for selling to small offices in the US and increasingly in Europe. In the US, for example, the two largest office-supply chain stores are Staples and Office Depot. The online market has become a convenient one-stop shop for all types of stationery, school and office supplies. Amid the keen competition from hypermarkets and online retailers, stationers and office-supply stores have developed online sales platforms and adopted an omnichannel approach.
Marketing and promotion efforts usually include advertising in related industrial publications and through participating in exhibitions. To expand their business networks, explore market opportunities, and promote product image and brand names abroad, Hong Kong stationery makers may participate in some well-organised and influential international trade fairs. Since stationery items are very often dispensed as souvenirs and gift items, stationery manufacturers and traders usually take part in gift and premium fairs too.

Industry Trends
In developed markets, selling stationery has become more than a seasonal, back-to-school business. The widespread use of computers, smartphones and tablets has increased the sales of IT-related products. There is a sustained demand for computer accessories such as USB flash drives, linking up traditional wholesalers with IT specialists.
Developments in technology have also affected the traditional stationery business. For example, traditional writing instruments such as ballpoint pens are used less as people switch to communicate by email or social media. Typing or recording via laptops and smartphones is increasingly becoming more popular than writing things down on paper. Responding to this trend, manufacturers have begun looking to market traditional stationery as a gift or luxury item with high-quality design, offering consumers stylish alternatives to the mainstream gold, silver or lacquer finishes. The popularity of scanners, high quality printers and specialty paper has also contributed to a rising trend of providing customised products.
In most developing countries, however, stationery is still a necessity rather than a luxury, as people there have fewer electronic devices. The demand for all types of stationery increases moderately along with a rise in population and increased literacy in general. These customers tend to be price sensitive, which means that reducing prices through the mass production of similar products continues to be the main strategy of most companies.
Competition in the stationery industry is keen, which adds to the pressure on prices. As well as taking cost cutting measures, such as relocating to less expensive production bases, suppliers need to counter the pressure with innovations, striking designs and attractive colours, and by reaching out to new target groups. Manufacturers can no longer regard themselves as just the sellers of a product. Increasingly, products must be sold along with a concept.
CEPA Provisions
Under the Mainland and Hong Kong Closer Economic Partnership Arrangement (CEPA), the mainland has given all products of Hong Kong origin, including stationery, tariff-free treatment from 1 January 2006. A product which has no existing CEPA rules of origin can enjoy tariff-free treatment if an application is made by the local manufacturer and upon the CEPA rule of origins being agreed and met.
In December 2018, the mainland and Hong Kong signed the Agreement on Trade in Goods under the CEPA framework, which strengthened the arrangement for rules of origin (ROOs). From 1 January 2019, goods of Hong Kong origin have a zero tariff when imported into the mainland. In addition to product-specific ROOs (PSRs), Hong Kong and the mainland introduced a general rule of origin (General Rule) based on the calculation of the value-added to the products in Hong Kong. Products without PSRs also benefit from a zero tariff when imported into the mainland, subject to fulfilment of the General Rule. For details on the PSRs, please read 'Product Specific Rules of Origin Under CEPA'.
Trade Measures Affecting Stationery Exports
Some stationery items originating from Mainland China are facing anti-dumping charges in the US and the EU. For example, cased pencils, paper clips and certain paper products such as lined paper and folding gift boxes are subject to US anti-dumping duties, while certain ring binder mechanisms are charged against by the EU. Since most Hong Kong companies' production facilities are on the mainland, these anti-dumping charges will inevitably affect their business.
There is also rising concern about product safety. Certain stationery products, such as pens and pencils, are required to meet international safety standards before entering overseas markets, particularly the US and the EU. Although compliance to Japanese Industrial Standards (JIS) is not mandatory, Japanese consumers tend to insist that stationery and office supplies meet such standards, or even more stringent ones.
Buyers have also started to show concern about the production process. They prefer ethical manufacturing characterised by fair labour treatment, a healthy work environment, and enforcement of environmentally-friendly practices.
Product Trends
The proliferation of computers and mobile devices has certainly an impact on the development of stationery products. The stationery industry is exploring new growth areas by modifying traditional stationery items with new technologies. For example, the combination of smart pen, digital ink, cloud storage and artificial intelligence (AI) enables handwriting and drawings on paper to be converted into text and image formats on screens. Another growth area is the sale of computer consumables such as printing papers, labels, mouse pads, printer inks and USB devices.
Stationery products are becoming more sophisticated, focusing on novelties and items with multiple functions. For example, message pads now come with light displays showing incoming messages and dual time LCD clocks. Manufacturers are also turning out multi-function ballpoint pens which incorporate features like magnifying glasses, needles and threads, torches or even USB memory sticks. Many manufacturers have also gone upmarket using genuine leather (instead of plastics) to give their products a high-quality look.
Going green has become an important trend too, especially in developed countries. Green office products, including recycled paper, pens, printer cartridges and office furniture, are gaining popularity, thanks to advances in technology and manufacturing processes that have lowered the cost of producing recyclable stationery. Paper products certified by the Forest Stewardship Council (FSC) are increasingly in demand. FSC certification ensures that paper products are made from wood taken from responsibly managed forests, providing a guarantee of a high level of environmental and social responsibility from forest to manufacturer to merchant.
Stationery sets remain popular. The contents of a set vary depending on the manufacturer, but items are typically designed with a consistent look and style, and packed securely within the case, which may be for personal use or for giving as a gift.
Demand for stationery featuring licensed characters of popular TV shows, cartoons, movies, and even mobile games continues to show steady growth. Global retail sales of licensed merchandise amounted to US$271.6 billion (HK$2.13 trillion) in 2017, up 3.3% from the previous year, according to the International Licensing Industry Merchandisers' Association (LIMA). Of this, entertainment/character licensing was the most popular category, accounting for 45% of the global licensing market.
---
[1] Since offshore trade has not been captured by ordinary trade figures, these numbers do not necessarily reflect the export business managed by Hong Kong companies.
Stationery & Office Equipment