https://hkmb.hktdc.com/en/1X0040CO
Printing Industry in Hong Kong
Overview
Hong Kong is one of the major printing centres of the world. Thanks to its free flow of information and freedom of the press, a large number of local and international newspapers, journals, periodicals and religious books and textbooks are printed in Hong Kong.
Trends in the printing industry are often the result of the advent of new technology. In recent years, the general trend has been for printing to be combined with various pre-press and post-production activities as well as automated workflow in order to improve accuracy and reduce time and cost. Besides, customers are moving towards ordering online which allows for higher flexibility and efficiency.
Industry Features
Printing is a support industry for publishing and advertising, and also for various light consumer goods industries (toys, food, cosmetics etc). Most printing companies in Hong Kong are small and medium enterprises (SMEs). They produce a wide range of printing materials, including books, booklets, brochures and leaflets, and paper and paperboard labels, advertising materials, commercial catalogues, calendars, postcards and greeting cards. Some specialise in the production of higher value-added/hi-tech printing products, such as children's novelty books with pop-ups and additional objects, cheque books, passports, bills and statements, securities and prospectuses. Creating these products requires considerable specialist skill, substantial capital investment and confidentiality.
Overseas customers are increasingly looking for faster turnaround and shorter delivery time in order to maximise return through smaller but more frequent orders. Hong Kong printers are known for quality, quick delivery, competitive pricing and the ability to cope with short-notice printing jobs. Their quality is comparable to that of printing businesses in US, Germany and Japan, the pioneers in printing technology. Hong Kong printers are also known for their inventiveness and willingness to find solutions to production problems.
Major printers are relocating production to mainland China with purpose-built plants to reduce operation costs. Such development has changed the workflow and logistics and greatly improved efficiency and output quality. However, they still maintain their offices in Hong Kong to receive overseas orders. The ability to meet high quality requirements has allowed Hong Kong to become a major global printing and publication centre, despite the increasing price competition from mainland printers. Rising labour costs on the mainland are encouraging greater automation and mechanisation. Automation can also reduce human errors while increasing efficiency, productivity and quality.
Hong Kong's excellent telecommunication networks are great assets of the industry. In effect, publishers in Hong Kong can quickly access information from various parts of the world, a vitally important advantage for time-sensitive publications. With proximity to the mainland market and a high degree of freedom of the press, Hong Kong has attracted many international publishers/news agencies (especially media firms) to set up regional centres here, including The Financial Times, The Economist and The International New York Times.
Printing is an industry in which technology is constantly being updated. The ability to keep up with new production techniques is crucial. Hong Kong printers are equipped with advanced models of laser-setters, electronic colour scanners, electronic page-composing systems, digital printers, automatic finishing systems and one to five-colour printing machines. They have also introduced computer-to-plate (CTP) systems, equipment for security printing, and latest machines designed to enhance digital printing capabilities.
Performance of Hong Kong's Exports of Printed Matter [1]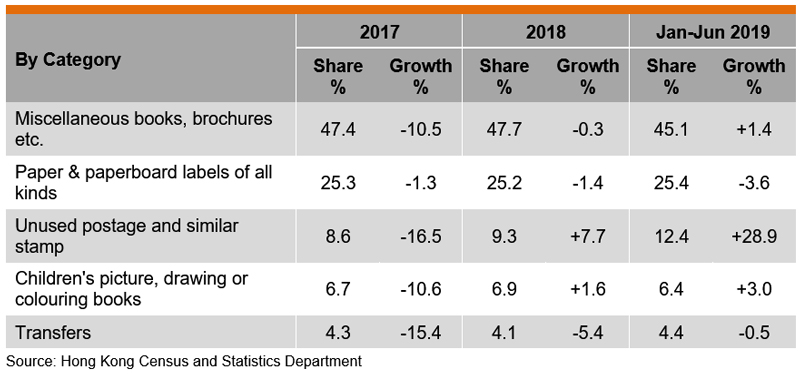 Sales Channels
A large share of the export business is attributable to orders received directly from overseas countries. This also includes orders from major international publishers in Hong Kong. Export orders are mainly handled by larger printers or dealers, who have established business relationships with overseas customers. In an effort to capture overseas business, large Hong Kong printing companies have established offices overseas.
In order to expand business networks, explore market opportunities, and promote their company image abroad, Hong Kong manufacturers and distributors participate in trade fairs and study missions organised by the Hong Kong Trade Development Council (HKTDC), such as the Hong Kong International Printing and Packaging Fair. HKTDC also organises study or match-making missions for Hong Kong manufacturers, allowing them to visit specific markets to explore business potential and establish new business relationships. Other important international trade fairs include Germany's Drupa and the International Printing Machinery and Allied Trades Exhibition (IPEX) in the UK.
Industry Trends
Many emerging trends in printing pertain to the advent of new technology or production techniques. Digital printing has gradually developed and applied in a wide range of fields within the printing industry. Inkjet has become a preferred choice for most magazine/book printers with the improvements of inks which are able to stick to gloss coated paper without the need for pre-treatment. 3D printing has caught significant attention within the print industries and more utilisation is expected in the future. There is also development of a new printing technology that uses soundwaves to detach liquid droplets from the print nozzle.
E-commerce will continue to be an important channel for procurement in printing. The clumsy processes of specifying requirements, enquiries, checking the sample draft, amending information, confirming the order and so on, can all be done online. Besides, through the online portal, consumers can receive quotations with greater ease and speed, and products such as banners and brochures can be ordered and shipped more quickly.
Automation is another trend. This helps cut costs, improve quality and speeds up the production process, especially on large quantity orders. For example, a printer can set up pre-designed templates for frequent print orders such as business name cards so that they will be readily available to print on demand. The automated function of bulk uploading allows business name cards for multiple people to be ordered at the same time with a single digital file, saving time and effort and ensuring consistency.
Advertising and marketing materials would remain one of the largest sectors of the printing industry, despite the rise of online advertising. Posters, flyers, brochures and other more complex marketing products are still popular but are increasingly printed using digital technology. Digital printing enables direct imaging – sending texts and graphics directly from the computer to the printing machine without the use of plates. This shortens production time and cost, and improves speed and accuracy. It is easy to operate and is suitable for printing small quantities where flexibility, short lead time and customisation are important. Examples of this would be the printing of personalised direct mailing and tickets. Digital printing also enables the development of personalisation in packaging.
Some printers are also offering the "total solution" service, which includes auxiliary services like design, data-processing, translation and editing, and electronic publishing. A number of large printers have developed vertically, such as manufacturing or trading paper, or forming strategic partnerships with suppliers, in order to minimise the effects of paper price fluctuations and allow the company to have better control over material supplies.
The Mainland and Hong Kong Closer Economic Partnership Agreement (CEPA)
CEPA was concluded in June 2003 and subsequently expanded in following years. All products made in Hong Kong, subject to CEPA's rules of origin, enjoy duty-free access to the mainland. Detailed information is available from this website.
General Trade Measures Affecting Exports of Printed Matters
The US Consumer Product Safety Improvement Act of 2008 (CPSIA) requires manufacturers and importers to show that products intended for children under 12 do not contain harmful levels of lead and phthalates. The regulation used to affect products such as children books. However, in August 2011, the US Congress passed an amendment to CPSIA exempting ordinary children's book from third-party testing.
The EU's Toy Safety Directive (Directive 2009/48/EC) came into effect on 20 July 2011. Any books falling under the definition of a toy must be compliant with the directive if sold on the European market.
Switzerland is the only European country that currently has legislation in place to regulate food packaging printing inks. It prohibits direct contact of printing inks with food and identifies the only substances which are allowed to use on food packaging.
Product Trends
Interactive and Innovative Designs
Traditional printed products need more innovative designs to meet the emerging demands of various market segments. Children books, for example, are becoming more sophisticated as children now expect to interact with them. They may listen and talk to them, use them to build models or solve puzzles, or even play with soft toys that are housed inside the book. Everyday items such as calendar can take different forms, from desktop models to large 3D wall calendars. In order to meet the need for higher printing quality, 5-colour/7-colour presses are being introduced.
Personalisation
With the rising adoption of inkjet technology in commercial printing, printers can create more personalised books such as planners and notebooks. It allows personalisation in all aspects, including the cover, back and spine design, font and colour as well as the interior design and format.
Sustainability
As publishers pledged to be more environmentally friendly, print shops are being pushed to use more environmentally friendly supplies such as recycled paper and synthetic paper, polyester-based fabrics, UV ink and soy/vegetable-based ink. The chemical-free plate system has also been introduced. Although the use of FSC or PEFC-certified paper remains relatively small, it is increasing rapidly. Some printers are also embracing technologies such as on-demand printing and variable data printing in order to reduce wasteful production practices caused by overprinting.
3D and Holographic Printing
3D printing technology will become increasingly low cost and support cheap and rapid prototyping processes. These printing capabilities will also help to pave the way for mass customisation. The incorporation of 3D printing technology may create innovative printing products. Holography is a method of recording and reproducing the complete image of a three-dimensional object. This method has only been used so far for certain purposes, such as holograms on credit cards. But improvements in technology have made mass production of holograms possible, and they are now being used on various forms of packaging, including labels. Separately, changes in the operation of the distribution sector have also resulted in an increasing demand for bar code printing.
---
[1] Since offshore trade is not captured by ordinary trade figures, these numbers do not necessarily reflect the export business managed by Hong Kong companies.