https://hkmb.hktdc.com/en/1X0040BP
Packaging Materials Industry in Hong Kong
Overview
Hong Kong manufacturers produce a wide range of packaging materials, including paper containers, polyethylene (PE) packages, polyvinyl chloride (PVC) packages and so on, with mainland China being Hong Kong's largest market.
Laws and regulations restricting the use of packaging materials become more stringent worldwide. Packaging manufacturers are expected to meet higher environmental standards, in order to facilitate their customers' fulfilment of the respective requirements in the countries where their products are sold.
Packaging tends to be lighter in weight and made of less material in order to meet the increasing recycling or recovery targets. Sustainable packaging with recyclable materials are also gaining importance. For food and beverage packaging, the general trend is improved hygiene and safety, additional functionality and added convenience.
Industry Features
The packaging materials industry can be divided into consumer packaging and industrial packaging. The former refers to the packaging of goods sold to consumers, primarily involving shopping bags, packaging bags, padded mailers, boxes and gift wraps, etc. Food and beverage packages, such as PET bottles, laminated paper packages and flexible packaging, also fall within this category. Industrial packaging is mainly used for protection and transportation purposes. They include vacuum packs, heat seal, shrink packaging films, cartons, paperboard boxes, PS foam, air-bubble blister stuffing and foam sheets.
Hong Kong manufacturers produce a wide range of packaging materials, including paper containers (such as corrugated carton boxes, paper carrier bags, paperboard boxes and pulp moulds out of newsprint and corrugated paper), polyethylene (PE) packages (such as bags for food and garment packaging, stretch films for wrapping purposes and shrink films for multiple items packaging), polyvinyl chloride (PVC) packages (such as films/tubings for wrapping consumer items and plates for blister cards) and metal containers for beverages and edible oils.
Hong Kong companies are famous for being responsive and flexible in customising products for their customers with short delivery lead time. The local packaging materials industry is also supported by a strong printing industry. Some Hong Kong companies can offer more value-added services such as developing the packaging design along with the customer's product development. For example, in toy industry, the packing can be integrated as part of the play set to reduce wastage in packaging materials.
Performance of Hong Kong's Exports of Packaging Materials[1]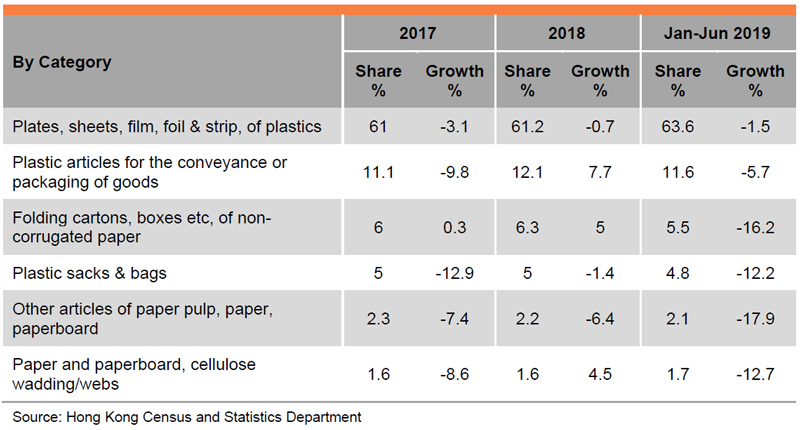 Mainland China is the largest export market of Hong Kong's packaging materials industry, accounting for 60.6% of total exports in 2018. Demand for packaging materials on the mainland has been mainly driven by local production activities.
Items under SITC 582, which include plastics plates, sheets, film, foil and strip, are the major packaging materials exports of Hong Kong. This category made up 64% of total exports in 2018. It is also the major category of packaging materials exported to the mainland and ASEAN, and it accounted for about 80% of total exports of packaging materials to the mainland and 60% to ASEAN.
Sales Channels
Hong Kong's exporters of consumer goods, such as garments, electronics products, toys, shoes, timepieces, jewellery, housewares and giftware, are the major customers of local packaging materials suppliers. Bag and container makers usually export their products directly to manufacturers or distributors overseas. These products include consumer packs, such as gift boxes, packaging bags, as well as cans and bottles.
In the US and Japan, local packaging companies are capable of producing packaging containers on a large scale. Therefore, Hong Kong exporters generally target at the small/medium factories in these countries, whose smaller orders are usually not accommodated by the domestic large packaging factories.
Industry Trends
Mainland China has been a major consumer goods production centre which generates mammoth demand for packaging materials. The growth in other businesses on the mainland has also boosted the demand for advertising, packaging and printing. In the meantime, more consumer goods manufacturers outsource their packaging production to specialised packagers. These developments have created business opportunities for packaging subcontractors.
As online shopping accelerates, there is a visible increase in demand for e-commerce packaging solutions. Paper boxes and labels are expected to have the fastest growth as boosted by the increase in package volume. Packaging is expected to be more personalised for the purpose of marketing and brand differentiation. Also, light packaging solutions are preferred in order to reduce shipment costs.
Flexible packaging is set to gain popularity in the coming years, and it is expected to see more of them replacing or complementing product assortments that are traditionally packaged in cans and bottles. One example is stand-up pouches, which are increasingly used in food and beverages packaging, especially for liquids. They are easy to store and highly practical to close or reseal. They also use less materials which help to reduce shipping and logistics costs. Polyethylene, polyethylene terephthalate and polypropylene are some common materials used in most flexible packaging.
The Mainland and Hong Kong Closer Economic Partnership Arrangement (CEPA)
CEPA was concluded in June 2003 and subsequently expanded in following years. All products made in Hong Kong, subject to CEPA's rules of origin, enjoy duty-free access to the Chinese mainland. Detailed information is available from this website.
On the whole, the CEPA origin criteria for packaging materials mainly include the principal manufacturing or processing operations carried out in Hong Kong, which confer essential characteristics to the final product. For example, for semi-chemical fluting paper, other thin uncoated paper and paperboard, as well as other coated, impregnated or covered paper and paperboard that are all manufactured from waste paper/wood pulp and coating materials, the principal processes for the purpose of delineating their origin are forming, drying, calendaring and coating. All these processes are required to be carried out in Hong Kong. For cartons, boxes and cases of corrugated paper or paperboard, the principal processes are plate-making, printing, cutting and assembling. If type-setting is required after plate-making, it must also be done in Hong Kong. The same rules also apply to folding cartons, boxes and cases of non-corrugated paper or paperboard.
General Trade Measures Affecting Exports of Packaging Materials
Many countries have imposed laws to regulate producer's responsibility for packaging materials. For example, the EU has obliged the industry to cut down on packaging, and consequently its waste, in a harmonised fashion since the adoption of Directive 94/62/EC in 1994. In order to further reduce the impact of packaging waste on the environment, the development trend is for a continued increase in the recycling and recovery targets. Last year, the EU updated its rules on wood packaging materials used in transport of certain commodities. The new Decision 2018/1137 refines the existing inspection procedure, includes commodities originating in Belarus as well as mainland China, and significantly extends the scope of the measures to include a much wider list of commodities, such as tableware and kitchenware made of stoneware.
Canada has also introduced some policies to regulate the use and recycling of packaging materials. In the province of Ontario, Bill 90 or the Waste Diversion Act was enacted in June 2002 to help in the collection and recycling of packaging waste. The Bill requires that the net cost of recycling retail packaging materials be borne equally by the municipalities and by the brand owner or importer.
China has also imposed recovered paper (RCP) policy which banned mixed paper (customs code 47079000) effective from 1 January 2018. Old corrugated container (OCC) import licenses were also cut down for Chinese mills that did not meet the required standards.
Product Trends
Sustainable packaging: The growing concern of environmental issues and the more stringent legislations on the use of packaging materials worldwide are influencing the choice of materials. Manufacturers use more recycled content in their production and make their products more readily recyclable. There is increasing application in bio-based renewable materials such as biopolymers in packaging as they are often biodegradable and not toxic to produce. Growing consumers' concern over plastic pollution are also creating new opportunities in the market such as plastic-free aisles in supermarkets and zero-waste retail stores.
Connected packaging: Driven by the growth in ownership of connected devices and advancement in technologies, brands are exploring the options to connect with their customers virtually with packaging, including QR codes and other digital markers, near field communication (NFC) and augmented reality. Malibu, a Caribbean coconut flavoured liqueur, included an NFC tag on their liqueur bottles that leads consumers to branded content such as drink recipes and bar locations. Connected packaging brings unique shopping experience to consumers while allowing brands to deliver engaging content and product-specific information.
Minimalist packaging: Consumers nowadays are often bombarded with a lot of information and claims on products packaging. According to Mintel's report, 39% of surveyed consumers feel that excessive information on food and beverages packaging can make it hard to trust a brand. Simple and easy information on key product qualities and package functionality would instead lead to higher customer engagement.
Convenient packaging: Apart from improved safety, additional functionality and added convenience are the general trends in food and beverage packaging market. For example, there are pouches which feature handles and pouring spouts. These pouches can be heated in boiling water and stored under refrigeration and are especially ideal for soup and sauces packaging. There is also the trend for retail ready packaging which refers to retail goods which are ready to be displayed or with little set up for retail consumption.
Single-serve packaging: Due to the rising number of single person households, there is an increase in demand for single-serve portion packaging in different product groups in the food and beverages industry such as sauces, bakery products, prepacked dishes and others. Convenience, portability, portion control and sustainability are drivers for this packaging trend. A case in point is single-serve carton board box for sliced pizza.
---
[1] Since offshore trade is not captured by ordinary trade figures, these numbers do not necessarily reflect the export business managed by Hong Kong companies.