https://hkmb.hktdc.com/en/1X0040AQ
Spectacles Industry in Hong Kong
Overview
Hong Kong was the world's third-largest exporter of spectacles and frames after mainland China and Italy in 2017. In the first half of 2019, Hong Kong's total exports of spectacles, lenses and frames slid by 1% year-on-year to HK$10.3 billion. The EU and the US, accounting for nearly 60% of the total, were the two biggest markets.
Facing keen competition from indigenous Chinese companies, Hong Kong companies strive to improve their quality and design by using advanced technology to uphold competitiveness. Technological advancement allows the use of lighter, more durable and environmentally-friendlier materials.
Fashion and designer labels often promote their collection of spectacles and frames as fashion-forward accessories. The trends ahead are expected to feature transparency, double-bridge design, round frames and vintage nude colours.
Industry Features [1]

Hong Kong's spectacles makers specialise in making medium to high-end frames. They are able to cope with small orders and offer an extensive range of frame designs. Hong Kong companies are traditionally strong in making plastic spectacles frames, which include hand-made cellulose acetate frames, rimless nylon frames, and injection-moulded frames. They also produce metal frames made of rolled gold, aluminium alloy, brass, stainless steel, silver, titanium and mixtures of metals.
The majority of Hong Kong's spectacles companies are engaged in the production or trading on an OEM/ODM basis for overseas buyers and international brands. This labour-intensive industry is characterised by short life cycle, fast changing design and small order sizes. In this regard, a few Hong Kong companies have diversified their business from manufacturing to distribution and retail of brand-name products in mainland China and overseas, with some even developing and producing their own brands.
Hong Kong's spectacles companies are facing keen competition from their counterparts in nearby regions, particularly from Wenzhou and Danyang of mainland China. Nonetheless, competition is confined to the lower-end sector. The leading Italian companies still prefer to engage with Hong Kong sub-contractors because of their quality, business integrity and long-established relationship.
In order to reduce operation costs and stay competitive, many spectacles makers have relocated their factories to mainland China and increasingly also in ASEAN. On the other hand, high value-added activities, including marketing, management, finance and accounts, are still carried out in Hong Kong.
Technological investments such as advanced machinery and information technology are substantial for large-scale manufacturers in improving their production efficiency and product design. They are equipped with 3D CAD/CAM technologies and computer numerically controlled (CNC) production lines to enhance their design and streamline the production process. For instance, 3D Head Mold and design database can customise spectacles which fit in with Asian faces.
The industry is well supported by ancillary industries, including the production of cellulose acetate sheets for plastic frame production, optical parts including spring hinges, nose bridges and temples, as well as other industrial supports such as electroplating and mould-making.
Performance of Hong Kong Spectacles Exports [2]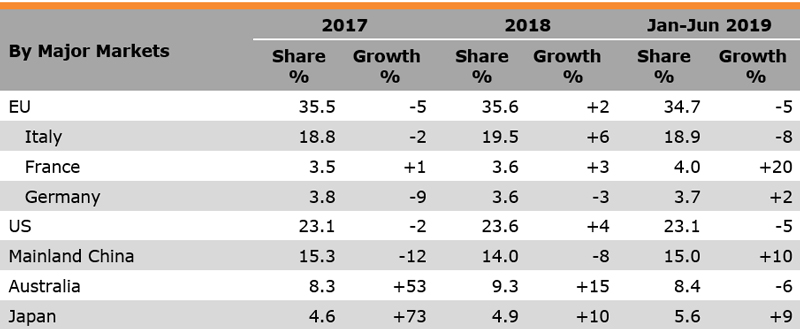 Source: Hong Kong Trade Statistics, Census and Statistics Department
Hong Kong was the world's third-largest exporter of spectacles and frames after mainland China and Italy in 2017, according to the latest available data. In the first half of 2019, Hong Kong's total exports of spectacles, lenses and frames decreased 1% year-on-year to HK$10.3 billion. During the same period, exports to the EU and the US, the two largest markets with a combined share close to 60%, fell on par by 5% year-on-year. However, exports to mainland China, the next major market, showed a surge of 10% in January-June 2019.
By major category, spectacles and goggles, and frames and mountings took up the largest share to account for a total of 83% in the first six months of 2019. On the other hand, the next two major categories, lenses and parts for frames and mountings, saw a 14% growth and a 3% slide, respectively, in January-June 2019.
Sales Channels
On the retail side, most of the sales are done by chain stores and mass merchants worldwide. Many manufacturers deal with overseas buyers directly, including large retail chains. There are a growing number of Hong Kong exporters that produce house or international designer brands under the licensing agreement. Some Hong Kong exporters have formed strategic alliance with overseas companies and brand license to consolidate long-term relationship and explore overseas market opportunities. Hong Kong manufacturers are also engaged in OBM, developing their house brands for other markets, particularly in Southeast Asia and mainland China. Major Hong Kong optical retail brands such as eGG Optical Boutique and Optical 88 have diversified into distribution business by setting up retail chain stores in mainland China and Southeast Asia, while some of them even have established distributors throughout Europe and North America.
Attending international optical trade fairs is an effective way to increase the exposure in the overseas market. Below is a list of some major trade fairs:
Industry Trends
Online retailing: Internet is an increasingly popular channel for spectacles, thanks to growing commercial application of 3D facial scanning, Augmented Reality (AR) and online vision tests. While many Hong Kong retailers have setup online showroom, some foreign companies like Ace & Tate (the Netherlands), Hubble Contacts (the US), Warby Parker (the US) and Zenni Optical (the US) are offering customised spectacles online.
Emphasis on design and quality: Apart from cost-controlling measures, Hong Kong companies are putting increasing emphasis on design, technological innovations and quality management to stay competitive. Many large Hong Kong manufacturers have attained quality management certification, such as ISO 9000 and/or Q-Mark awarded by the Federation of Hong Kong Industries. To promote and enhance the design and quality of Hong Kong eyewear, an eyewear design competition is held at the HKTDC Optical Fair every year.
ODM and OBM trends: Hong Kong exporters are facing the challenges of escalating production costs, as higher raw material prices, labour wages and energy prices have fully offset the positive effects of economies of scale. ODM basis of production has helped various Hong Kong companies to increase value-added. In addition, some manufacturers, such as Arts Optical International, Sun Hing Optical Manufactory and Swank International Optical, have shifted their focus further to OBM – developing their own brand products in order to enhance their competitiveness.
Business opportunities in mainland China: The mainland Chinese optical market is promising with more than half of the population experiencing myopia. Some foreign companies seek for partnership opportunities with Chinese chain stores notwithstanding the fact that existing ones are confined to big cities and are much smaller in scale as compared to their foreign counterparts. Meanwhile, some leading spectacle manufacturers, such as the Luxottica Group and HAL Investments (Asia) BV, as well as contact lens companies, like Johnson & Johnson, Ciba Vision and Bausch+Lomb, have entered the Chinese market.
Environmental trends: Eco-friendliness and sustainability are becoming more important for the spectacles industry. To stay compliant and competitive, for example, the Hong Kong Productivity Council (HKPC) helped Arts Optical International Holdings to develop the 'Ion Plating Technology' for electroplating to reduce wastewater discharge and add value with the anti-scratch and abrasion resistant features.
CEPA Provisions
Under the third phase of the Mainland and Hong Kong Closer Economic Partnership Arrangement (CEPA III), mainland agreed to give all products of Hong Kong origin, including spectacles, tariff-free treatment starting from 1 January 2006. According to the stipulated procedures, products which have no existing CEPA rules of origin can enjoy tariff-free treatment upon applications by local manufacturers and upon the CEPA rules of origin being agreed and met. Non-Hong Kong made spectacles remain subject to tariff rates of 6-20% when entering mainland China.
The rules of origin for contact lenses and spectacles lenses to benefit from the CEPA's tariff preference are the same as the current rules governing exports to other markets. For contact lenses that are manufactured from polymer, the principal processes namely lathe-cutting and polishing are required to be done in Hong Kong for the purpose of delineating their origin. For spectacles lenses that are manufactured from lens blank, the principal process is grinding/polishing of refractive curvature. Details of CEPA tariff preference, including origin criteria, are available here.
To further facilitate the importation of Hong Kong goods into mainland with zero tariff, mainland and Hong Kong recently signed the Agreement on Trade in Goods under CEPA to provide exporters with a flexible option to choose between the existing Build-up method and the new Build-down method when calculating the value added to the products in Hong Kong. More details are available here.
General Trade Measures Affecting Spectacles Exports
Spectacles exports are required to comply with certain safety and quality requirements. An EU Directive (89/686/EEC) that is currently in force stipulates that personal protective equipment must meet specified safety requirements and bear a CE mark when being sold in the EU market. Since December 1999, the EU has set requirements for nickel in products that come into contact with skin.
Tariff preferences under the GSP Regulation for China-made optical goods imported into the EU have been removed completely since May 2004.
In the US, spectacles/sunglasses must comply with impact-resistant lens regulation. Another regulation – ANSI Z80.3 – is further developed by the American National Standard Institute (ANSI) to govern non-prescription sunglasses and fashion eyewear.
Spectacles are victims of the Sino-US trade conflicts. All mainland China-origin spectacles have been subject to US 301 15% additional tariff since 1 September 2019. Further details and updates are available here.
Product Trends
Ultra-lightweight: Weight and durability continue to be the key considerations when choosing frames. The lightweight and corrosion-resistant metals, such as titanium, titanium alloy, stainless steel and beryllium, have growing popularity, especially among designer brands. Prevailing plastic frame materials include zyl which allows colourful layers, blended nylon which is most fit for sports and performances, and cellulose acetate propionate which is more transparent and glossier than other plastics. Other more exotic but heavier frame materials such as wood, bone and buffalo horn, as well as 10k gold and sterling silver are also used for fashionable and premium eyeglass designs.
Fashion and designer labels: Many fashion and designer labels promote their collections of spectacles and frames as fashion accessories by granting licences to spectacles manufacturers. For example, Luxottica Group has been producing and distributing the brand eyewear of Chanel, Burberry, D&G and Prada under licensing agreements.
Frame styles: Frames featuring floating big logos at temples and even the hinges are common among the brand-named eyewear. Spring hinges allowing temples to flex backwards and forwards are widely used. Some frames are screwless and feature a patent-pending flex-hinge design that allows customers to quickly make repair by hand without costly parts or tools. Handcrafted frames that are durable, comfortable and easy to adjust are also gaining a following. The top brow and the temple of a frame are a prime source of added style, for example, accents with crystals, metal, colour stones and diamonds. The trends ahead are expected to feature transparency, double-bridge design, round frames and vintage nude colours.
Role of lenses: In recent years, people tend to spend more money on the lenses (costing on average more than 50% of the price of the spectacles) than on the frames owing to the more important role of lenses in fashion. Nowadays with technology advancements, lenses provide more special functions beyond eyesight correction and protection, such as anti-reflective, anti-scratch and anti-fog.
Rise of demand for presbyopic glasses: Currently some one billion people worldwide are aged 60 or above while the number is projected to double by 2050. Riding on the ageing population, the demand for presbyopic glasses and progressive glasses is expected to surge while younger presbyopes are found more receptive to over-the-counter glasses.
Rising popularity of sports eyewear: Growing health consciousness and increasing popularity of outdoor sports activities are driving demand for sports eyewear. The bestsellers usually are those made of polarised and UV-400 protection lenses coupled with ultra-lightweight, shatter-resistant, curved and flexible frames.
Increased demand for sunglasses: Sunglasses production shows the fastest-growth among all sectors in the spectacle industry, especially in Italy, Spain, South Korea and China. The selling of sunglasses is a year-round business for female market but more seasonal for male consumers. The sunglasses market is expected to grow with the increasing awareness of UV hazard and the stylishness of fashion eyewear.
Contact lenses on the rise: Contact lenses are the second fastest-growing product segment after sunglasses. Comfortability remains the top priority for consumers, while those with high moisture level, oxygen permeability and disposability are also high in demand. Thanks to cosmetic purposes, decorative contact lenses are getting more popular among youth and female consumers.
Smart Glasses: In its infancy, smart glasses are more often embedded with new functions, such as retinal projection, GPS navigation, bluetooth connectivity, voice interaction with virtual assistants, open ear speakers and cameras. These futuristic eyewear products have attracted not only attention but also investment from global tech giants, such as Amazon, Apple, Intel, Microsoft and Sony, as well as some crowdfunding platforms.
---
[1] Since offshore trade has not been captured by ordinary trade figures, these numbers do not necessarily reflect the export business managed by Hong Kong companies.
[2] Since offshore trade is not captured by ordinary trade figures, these numbers do not necessarily reflect the export business managed by Hong Kong companies.