https://hkmb.hktdc.com/en/1X003UUO
Financial Services Industry in Hong Kong
Overview
With Hong Kong being an international financial centre, its financial services sector remains one of the most important economic pillars, accounting for 18.9% of the city's GDP and providing some 258,500 jobs in 2017.
Hong Kong was ranked 3rd in the Global Financial Centres Index (GFCI) released by Z/Yen Group and China Development Institute in March 2019. Since releasing the first semi-annual results in March 2007, GFCI has consistently ranked Hong Kong as one of the top international financial centres in Asia.
Hong Kong has one of the world's most active and liquid securities markets. There is no control over capital movement, no capital gains and dividend income tax.
Hong Kong's stock market was the 3rd largest in Asia and 6th largest in the world in terms of market capitalisation as of June 2019. There were 2,382 companies listed on the Hong Kong Exchanges (HKEx) in the same period, with a total market capitalisation of about US$4.2 trillion.
Hong Kong is one of the world's most active markets for initial public offerings (IPO), with US$36.7 billion raised in 2018.
Hong Kong hosts the largest pool of RMB liquidity outside Mainland China.
Industry Data
Banking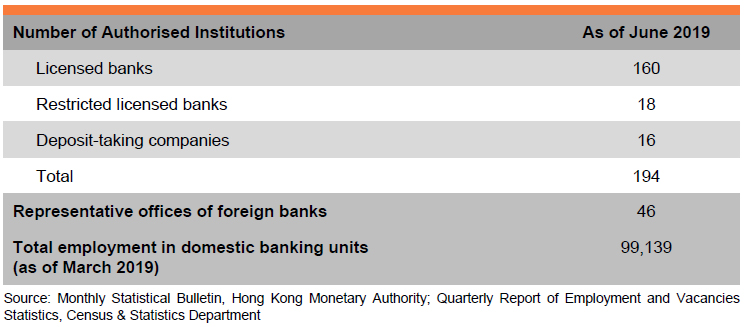 Fund Management

Securities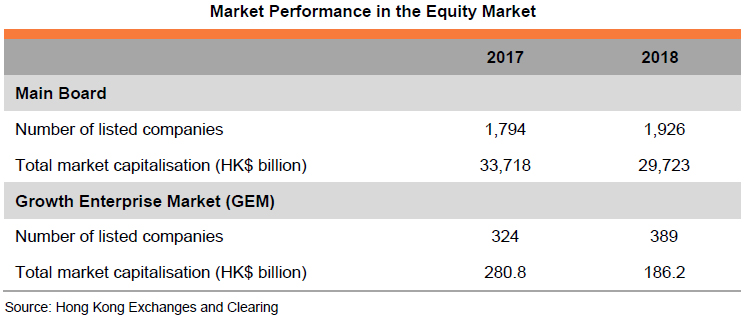 Insurance

Debt

Ranges of Services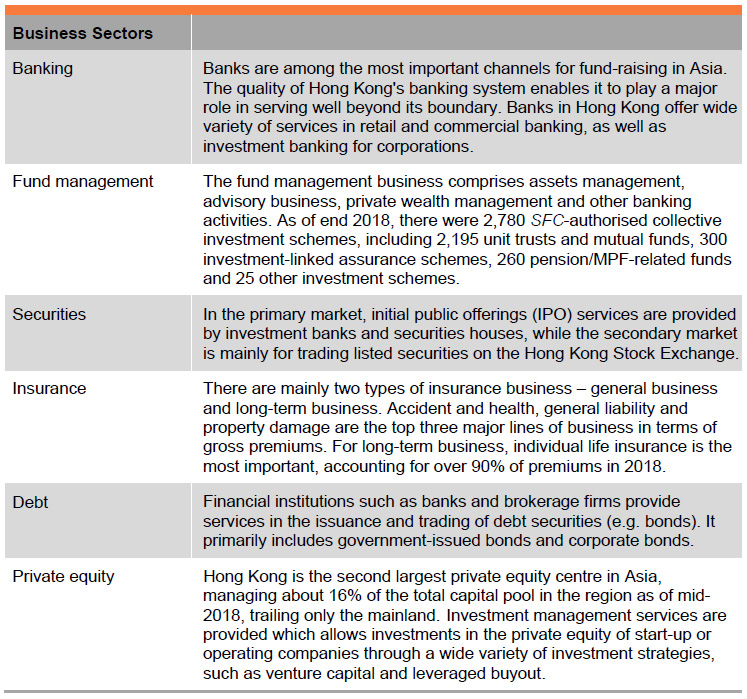 Service Providers
Banking
The banking system in Hong Kong is characterised by its three-tier system, which is formed by three types of banking institutions: licensed banks, restricted licence banks and deposit-taking companies, which are authorised to take deposits from the general public. The three tiers of deposit-taking institutions operate under different restrictions. As of June 2019, there were 160 licensed banks, 18 restricted licence banks and 16 deposit-taking companies. There were also 46 representative offices of overseas banks.
Fund Management
Hong Kong is a major regional fund management centre with a large concentration of international fund managers in Asia. According to the SFC survey, 62% of the investment funds (excluding REITs) were sourced from outside Hong Kong in 2018. Despite that, assets managed in Hong Kong made up over 50% of the asset management business. In 2018, 67% of the assets managed in Hong Kong were invested in Asia-Pacific, amounting to HK$5,333 billion, with HK$2,503 billion in Hong Kong, HK$1,205 billion in the mainland, HK$531 billion in Japan and HK$1,094 billion in the rest of the Asia-Pacific.
Securities
Securities industry trading services are provided by investment banks, commercial banks, finance companies and securities brokerage companies.
Investment banks are the principal underwriters for initial public offerings (IPO). Hong Kong's highly liberal and liquid securities market has attracted many international investment banks and securities houses to build their presence here, eyeing the IPO and securities businesses. In the secondary market, local retail customers are served mainly by local brokers and banks, whereas institutional buyers are principally served by the international brokers and investment banks.
Being the most liquid overseas market for mainland enterprises, Hong Kong is an important centre for raising capital for companies in mainland China. The majority of mainland companies seeking overseas listings have their listing in Hong Kong. As of June 2019, 1,197 mainland companies were listed in Hong Kong, with a market capitalisation of HK$22,254 billion, or about 68% of the total.
Insurance
Authorised insurers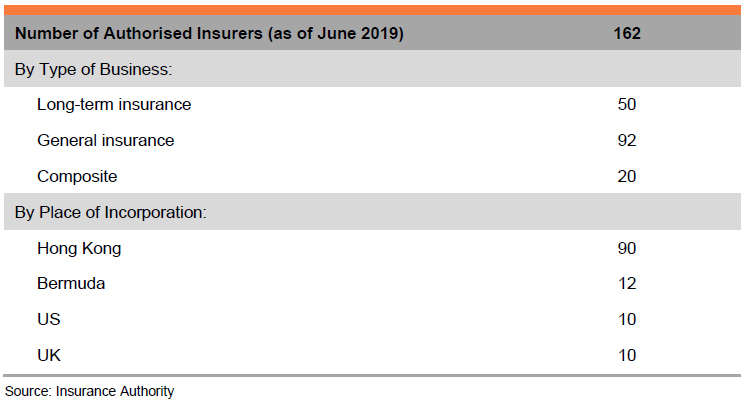 According to the Insurance Authority, the top five insurers by overall gross premium in 2017 were AXA General, Bupa, China Taiping Insurance (HK), Zurich Insurance and Bank of China Group Insurance. Other mainland insurers listed in Hong Kong include Ping An Insurance of China, CNOOC Insurance, China Pacific Insurance and People's Insurance Company (Group) of China.
Insurance Agents and Brokers
Insurance agents and brokers serve as an intermediary between policyholders and the authorised insurers. While insurance agents are contracted with a certain insurance company, insurance brokers are not affiliated with any insurance company.
As of March 2019, there were 2,391 insurance agencies and 70,418 individual agents registered with the Insurance Agents Registration Board, and 798 authorised insurance brokers who are the members of the approved bodies of insurance brokers, namely The Hong Kong Confederation of Insurance Brokers and Professional Insurance Brokers Association.
Debt
Issuers of debt securities include governments, banks and corporations. The debt market is mostly made up of governments, with bonds commonly used to finance a variety of projects and operations. Investment banks act as underwriters to help issuers sell the bonds in the market. The Government Bond Programme (GB Programme) was implemented in 2009, with the aim to enlarge the Hong Kong local bond market. An outstanding amount of HK$95.7 billion under the GB Program was recorded as of July 2019. The Hong Kong government has launched an inflation-linked bond issue programme called iBond, with the latest batch rolled out in May 2016. In the same year, the government also launched its first batch of Silver Bond, aiming to provide an investment product with steady returns for senior residents in Hong Kong.
Private Equity
The majority of private equity funds in Hong Kong come from overseas and invest in companies in the region. Hong Kong Venture Capital and Private Equity Association (HKVCA) helps the development of private equity and venture capital, with over 400 corporate members as of end 2018.
The Hong Kong government has established an information portal, StartmeupHK, for Hong Kong's start-up community, listing the latest start-up events and resources, including government incentive and incubation schemes, accelerators, angels and venture capitalists, along with success stories of both local and overseas start-ups. Aside from this, StartBase.HK, an open-source startup profiling database set up in Hong Kong, has been launched to facilitate information flow between venture capitalists and startup companies, with an aim of encouraging the development in the venture capital market.
Industry Development and Market Outlook
Market Connections with the mainland
To improve the opening and healthy development of capital markets on the mainland and in Hong Kong, Shanghai-Hong Kong Stock Connect and Shenzhen-Hong Kong Stock Connect were launched in 2014 and 2016 respectively, marking important milestones of mutual access between capital markets of Hong Kong and the mainland. Bond Connect was also launched in July 2017, allowing overseas investors to invest via Hong Kong in China's US$9.6 trillion bond market, with the southbound trading link to be added subsequently. As of June 2019, Bond Connect has attracted 62 out of the top 100 global asset management companies and more than 1,000 international investors from 29 jurisdictions. First Abu Dhabi Bank (FAB), the largest bank in the UAE, has recently joined the Bond Connect and became the first investor from the Middle East.
Hong Kong's New Listing Rules
In the 2018-19 Budget, Hong Kong Financial Secretary Paul Chan, advocates the transformation of Hong Kong's listing platform to be more desirable for emerging and innovative enterprises. The new listing regime launched on 30 April 2018, when the HKEx added three new chapters in the Main Board Listing Rules and made consequential changes to the current Rules. It includes providing the listing of "new economy" companies with weighted voting rights structures and the introduction of pre-revenue biotechnology companies. The listing reform allows Hong Kong to capitalise on the opportunities of emerging technology companies and accelerate the development of the new-economy sector. In the longer term, it enables the injection of new knowledge on emerging and innovative businesses into the investor community, including business models and technologies. One year since the launch of the new listing regime, a total of 40 new economy companies (including 9 biotech companies) have gone public in Hong Kong, raising over half of the total IPO funds raised during the period.
Fintech Development
Fintech is reshaping the financial sector and driving innovation in financial services globally. In Hong Kong, fintech development is also burgeoning and making good headway into areas such as virtual banking, insurance technology and regulatory technology.
In recognition of needs for digitalising and streamlining payments, HKMA launched Faster Payment System (FPS) last year. FPS supports instant HKD or Renminbi payments across different banks with the use of mobile phone numbers, email addresses or QR codes, providing greater convenience and new experience to the public. In March 2019, HKMA started granting virtual bank licences, a major milestone in facilitating financial innovation and supporting Hong Kong's entry into the smart banking era. As of 9 May 2019, there are a total of eight virtual banks in Hong Kong, including Livi VB Limited, SC Digital Solutions Limited, ZhongAn Virutal Finance Limited, Welab Digital Limited, Ant SME Services (Hong Kong) Limited, Infinium Limited, Insight Fintech HK Limited and Ping An OneConnect Company Limited.
In an effort to boost the city's internet financial services, Hong Kong Insurance Authority launched a fast-track approval system for pure online insurers and issued its first virtual licence to Bowtie Life Insurance late last year. Being a home-grown digital insurer, Bowtie is set to offer insurance products directly to customers, without any insurance intermediaries. More virtual licences are expected to be issued in the short term to continue pushing the development of insurtech and offering more options for end-customers.
Offshore RMB Centre
Since 2004, Hong Kong banks have been allowed to provide personal RMB business. With the introduction of the Pilot Scheme for Settlement of Cross-border Trade in Renminbi in 2009 and the expansion of the scheme in July 2010, a wide spectrum of RMB services are provided to corporate customers, including RMB certificate of deposits, RMB bonds and trade finance. Hong Kong plays an important role in the mainland's external trade settlement, processing over 70% of the world's RMB payment transactions, making Hong Kong the largest offshore RMB centre globally. It allows businesses to take advantage of the diversity and liquidity of Hong Kong's RMB market and facilitate business cooperation with Chinese companies.
Hong Kong as a Fundraising Hub
Being the key financial and capital market in Asia, Hong Kong's financial institutions are well positioned to capture opportunities on capital raising and deal making in the region, especially with the China's Belt and Road Initiatives (BRI) and the development of Greater Bay Area. Financing demand, including green financing and green bonds, will continue to increase due to more and more infrastructure projects under the BRI. It is expected that Hong Kong will continue to play a prominent role for capital raising, particularly in IPOs, bond issuance and the private equity sector.
The Mainland and Hong Kong Closer Economic Partnership Arrangement (CEPA)
Hong Kong's financial services sector is one of the liberalised sectors benefiting greatly under CEPA, including the banking, insurance and securities markets. Currently, financial services are covered by the Agreement of Trade in Services (ATIS) signed in November 2015 between the Hong Kong government and the Ministry of Commerce of China. This agreement further liberalises the services market and extends geographical coverage to the whole mainland China.

Further details on the liberalisation measures on financial services can be found here.