https://hkmb.hktdc.com/en/1X003UNV
Real Estate and Construction Services Industry in Hong Kong
Overview
Building and construction: Hong Kong companies have gained a reputation over the years for the rapid construction of quality high-rise apartment blocks and office towers. The adoption of specialised construction techniques, such as reclamation and design-and-build methods, has made Hong Kong a regional leader.
Architecture: Hong Kong is a leading expert in high-rise design, slope design, high-density design and designing with space constraints. It is renowned for high-rise buildings typified by the skyscrapers in Hong Kong's central business district, which showcase the innovative application of building materials, technology and designs combined with the versatility of Hong Kong's architects.
Engineering: Hong Kong's engineers are active in exporting their services to the region, particularly to Mainland China. Major types of professional engineering services currently being exported include project management, building services work and engineering consulting.
Surveying: Hong Kong is the region's leader in the surveying profession in terms of experience and technical expertise. The buoyant construction market over the last two decades has provided invaluable exposure for the local surveying profession to a wide range of projects.
Industry Data
Construction


Real Estate

Architectural, Surveying and Engineering

Range of Services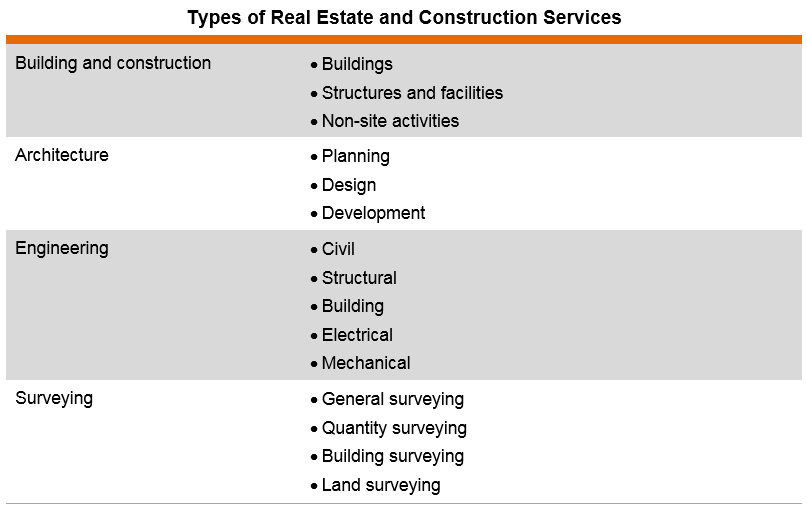 Services Providers
Building and Construction
Hong Kong's construction industry is characterised by a small number of large local contractors, a large number of overseas contractors, and a high level of sub-contracting, with a substantial proportion of companies being both developers and contractors.
Most of Hong Kong's construction companies are small in size. Companies that carry out construction work worth less than HK$10 million (US$1.3 million) in terms of annual gross value account for as much as 82% of the industry. The majority of the small companies act as subcontractors for the large ones, which tend to be main contractors. There are also a number of big construction companies capable of handling projects requiring sophisticated technology and strong financial backing, which are expanding their business across the region.
Hong Kong contractors tend to be experienced and highly skilled. There are no formal restrictions on entry to the contracting business in Hong Kong. Foreign and local contractors are treated alike, and all are allowed to tender local public sector projects. Due to the growing size and complexity of building projects, it is now common to award large and complex building contracts as a single package to multi-disciplined contractors.
Architecture
All practitioners have to register with the Hong Kong Institute of Architects (HKIA), which has more than 4,000 members. Most of the architect firms in Hong Kong are locally owned. Attracted by the business opportunities in the region, a number of foreign architects have come to work in Hong Kong.
Engineering
Many engineers are members of the Hong Kong Institution of Engineers (HKIE), a local professional body for engineers. First established as the Engineering Society of Hong Kong in 1947, the HKIE was incorporated by government ordinance in 1975 to set professional standards and to encourage professional development for local engineers. In 1992, the HKIE qualification was recognised for government services appointments. The HKIE has become a key qualifying body for a wide range of engineering disciplines. It has over 30,000 members, of which more than 14,000 are corporate members.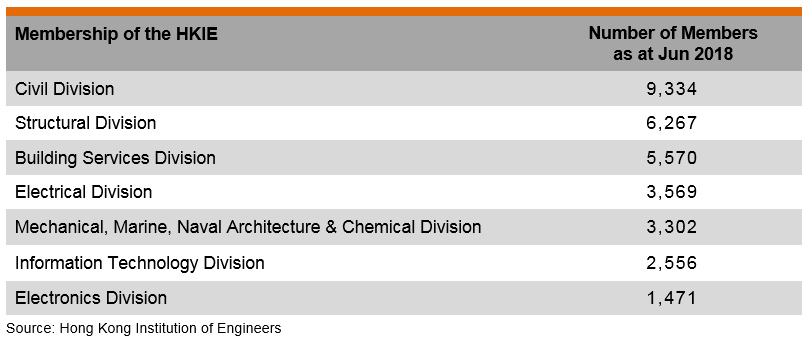 Surveying
The number of surveyors practising in Hong Kong has been growing as a result of increasing demand and opportunities in the local and surrounding markets. A number of leading international surveying firms have established their regional offices in Hong Kong. Three divisions of Hong Kong's surveying industry have gained mutual recognition of professional qualification with Mainland China, namely general practice, quantity surveying and building surveying.
The Hong Kong Institute of Surveyors (HKIS) is a professional body established in 1984. As of the end of 2018, the total number of corporate members of the HKIS stood at 6,250.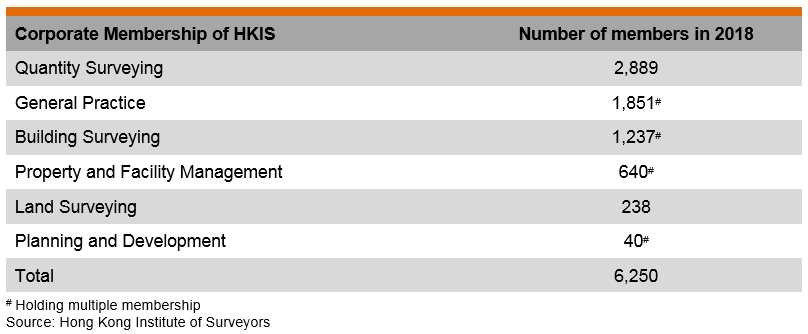 Exports of Services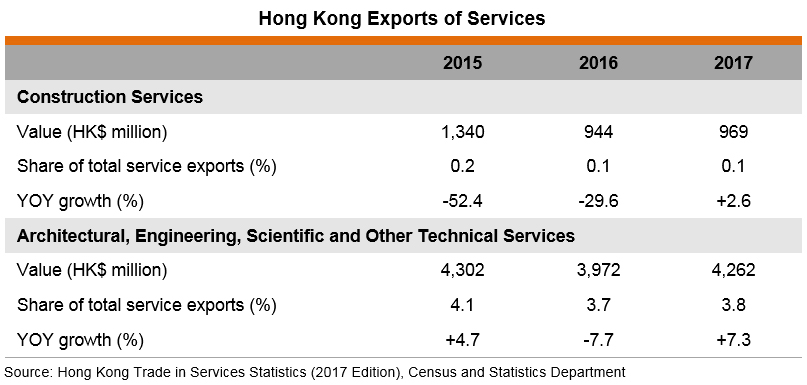 Hong Kong is internationally renowned for its expertise in the construction of quality high-rise residential and commercial buildings, and its services are in great demand in overseas markets, particularly in Asia. The Middle East, where government infrastructure plans provide good support to construction activities in the Gulf region, has become a market with growing potential for Hong Kong's construction, architectural and engineering companies.
Mainland China is the largest export market for Hong Kong's architectural, engineering and surveying services. A number of Hong Kong companies in the engineering sector are also exporting their services via working for multinational companies in South-east Asia, North America and Western Europe, covering a wide range of industries including information technology, telecommunications, chemicals and fast-moving consumer goods.
Industry Development and Market Outlook
Investment in Local Public Infrastructure
To achieve the objective of promoting economic growth through infrastructural development, the Hong Kong government has been increasing its infrastructure investment over the past few years. Hong Kong's ten mega infrastructure projects, first announced in the 2007 Policy Address, are being rolled out in phases and several transport projects are being carried forward in tandem.
Progress has been made on the Rail Gen 2.0 project, with the South Island Line and Kwun Tong Line Extension launched in the second half of 2016. The Hong Kong-Zhuhai-Macao Bridge and Guangzhou-Shenzhen-Hong Kong Express Rail Link were opened last year, improving logistics and transport efficiency between Hong Kong and mainland cities. The West Kowloon Cultural District, an important cultural infrastructure investment of Hong Kong, has also launched The Xiqu Centre, its first landmark performing arts venue, in January this year. Other major projects under way include Shatin to Central Link Project, Kai Tak Development and development areas in the northern New Territories.
Belt and Road Opportunities
In March 2015, China's National Development and Reform Commission issued The Vision and Actions on Jointly Building the Silk Road Economic Belt and the 21st Century Maritime Silk Road, outlining the framework of the Belt and Road Initiative (BRI), co-operation priorities and mechanisms. It is estimated that at least US$1.2 trillion could be invested into infrastructure projects along the BRI routes, with a large portion of the funding expected to go to transport infrastructure projects such as ports, railways, and roads. Hong Kong is renowned for its excellent professional services and it is expected that the industry can benefit from the ample opportunities ahead. A list of available investment projects along the Belt and Road can be found here.
Infrastructure Projects in China
Rapid urbanisation has driven infrastructure development in Mainland China in recent years. As part of the 2014-2020 urbanisation plan, the Chinese government aims to increase the urbanisation rate from 53.7% in 2013 to 60% by 2020, with approximately 100 million people expected to move from the rural areas into cities. This higher rate of urbanisation is likely to generate huge demand for new public infrastructure, housing and transport networks. Under the 13th Five-year Plan, the Chinese government will continue with its current development priority to increase infrastructure investment, including the expansion of transport networks and the development of information infrastructure, such as the construction of high speed broadband and cloud computing centre.
Developing Asia's Infrastructure Needs
Many developing Asian countries, such as India and Indonesia, have recognised the urgent need to upgrade their basic infrastructure, road networks, port facilities, housing and city planning to keep up with rapid economic growth. According to the Asia Development Bank (ADB), the region is estimated to require US$26 trillion from 2016 to 2030 to meet its infrastructure requirements, meaning US$1.7 trillion will be needed for each intervening year.
Green Building Boom
The growing awareness of the need for environmental protection is creating an increasing demand for green buildings. Hong Kong's Urban Renewal Authority has announced its environmental sustainability policy for future urban renewal projects. According to the Hong Kong Green Building Council, more than 2,000 buildings are certified by BEAM Plus, a leading initiative in Hong Kong to offer independent assessments of building sustainability performance. Apart from Hong Kong, Mainland China is also ambitious on its green building movement, with the target of 50% of all new buildings constructed by 2020 to be certified green buildings.
Technology Adoption
In order to strive under the competitive global environment, it is critical for the construction industry in Hong Kong to promote efficiency and innovation by adopting modern construction methods and techniques, information technology (IT) and automation technology. The use of IT technologies such as Building Information Modelling (BIM) has increased across the industry, including large-scale project owners such as MTR Corp and Airport Authority. The introduction of Construction Industry Council (CIC) BIM Standards allows industry participants to manage and assess BIM deliverables by architects, engineers, surveyors and contractors.
Gammon Construction, a Hong Kong-based construction and engineering services provider, imported robots from Japan in 2016 which designs to help workers lift heavy objects. In 2017, the company introduced its first AI robot, Gambot, to support automating routine processes and project management. The company also adopts E-Docket and Concrete Management System which uses the cloud with real-time order, production and delivery information as well as e-dockets for receipt of concrete.
The Closer Economic Partnership Arrangement between Hong Kong and the Mainland (CEPA)
CEPA provides many benefits to Hong Kong's real estate and construction businesses, ranging from greater flexibility in entering the mainland market to mutual qualification recognition. The latest Agreement on Trade in Services consolidates and extends the liberalisation of services to the whole of China, which granted Hong Kong Services Suppliers (HKSS) national treatment to provide various construction and related engineering services across China. As of 31 March 2019, there were 105 approved HKSS in the construction professional services and construction and related engineering services sectors, and 29 approved HKSS in the real estate services sector. As early as 2004, HKIA reached an agreement with the National Administration Board of Architectural Registration on mutual recognition of qualifications by examination. In 2005, the Quantity Surveying Division of HKIS also reached a reciprocity agreement with the China Association of Engineering Consultants (CECA) on professional qualification recognition. Further information on the latest CEPA agreements can be found here.