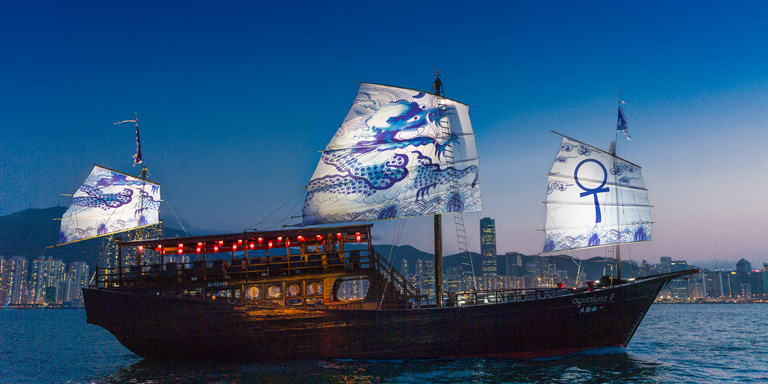 Sailing the High Seas
Beautiful by day, stunning by night; Hong Kong's iconic Victoria Harbour is the ideal setting for leisure cruising.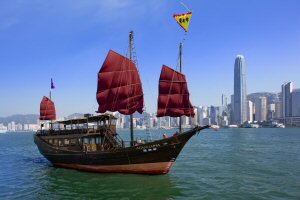 Ahead of the prime sailing season, the Aqua Luna Restaurant Group launched the second in its fleet of "junks" – traditional Chinese boats re-imagined for leisure cruising. Kitted out for cocktails under the stars, aqua luna II is sister ship to the distinctive, red-sailed aqua luna, which has carried passengers around the harbour for the past decade leading to its status as an unofficial symbol of Hong Kong.

Aqua group founder David Yeo conceived the idea as a way of preserving one of Hong Kong's great traditions – the wooden junk "that defined Hong Kong's remarkable seafaring past." The group's original vessel proved so popular, that a second junk was created.

"We wanted to do something to give back to Hong Kong, which has been such a good home for our Aqua Restaurant Group," Mr Yeo explained. "Victoria Harbour was once filled with glorious red sail Chinese junk boats, however over the years they have disappeared one by one. What better way to raise the spirits of the city than to recreate such a visually stunning, and quintessentially 'Hong Kong' icon?"
Here are some of the various ways for residents and visitors to enjoy Hong Kong's famous harbour.

The aqua luna fleet:
• 45-minute evening cruise, sipping cocktails while relaxing on lounge beds
• Daily sailings around the harbour on the aqua luna's hop-on/hop-off Harbour Discovery Tour
• Longer daytime cruises to destinations, including Stanley, Cheung Chau and Lamma Island
• Dim Sum Cruises, with signature dishes prepared by Dim Sum Library, Aqua Restaurant Group's innovative dim sum and modern Chinese restaurant

DukLing:
• Symphony of Lights cruise every evening
• 45-minute day-sailings departing throughout the afternoon
• A special fireworks cruise on 1 July 2017 to mark the HKSAR's 20th anniversary

Watertours of Hong Kong:
• 1.5-hour pre-dinner or evening cruises to various scenic spots
• Three-hour evening cruise includes a Chinese dinner ashore at Lei Yue Mun Seafood Village

Harbour Cruise - Bauhinia:
• Pearl of the Orient dinner buffet
• Symphony of Lights dinner buffet

Shining Star, Star Ferry:
• Single-ride day and night-time cruises, which from now until September, include a snack and drink with the ticket price
Traditional Craftsmanship
Painstakingly built over the past two years, aqua luna II is, Mr Yeo believes, probably one of the last traditional Chinese junk boats that will ever be made.

Leading the construction was a sifu or master craftsman named Au Wai. Now 86 years old, he is said to have built more wooden boats than any other living person in Hong Kong. The boat is made exclusively from wood, using bamboo for waterproofing with no nails used in the structure.

While the first aqua luna is famous for its traditional and distinctive red sails, the sails on sister ship aqua luna II depict an ornate blue and white dragon of the Ming Dynasty, often seen on antique Chinese porcelain. In Chinese culture, the dragon is a legendary creature; a symbol of power and good luck for all it touches that is much favoured by emperors.

Mr Yeo explains the ships' links to the pirate Cheung Po Tsai, often portrayed as a latter-day Robin Hood, who sailed Hong Kong waters over 100 years ago, storing his treasure in the coastal caves of Cheung Chau. "We regard aqua luna as Cheung Po Tsai and aqua luna II as his big brother, Cheung Po Dai, due to its larger size," he said. "At 29 metres in length, our new boat can hold up to 80 guests on its two decks."
Restored Fishing Junk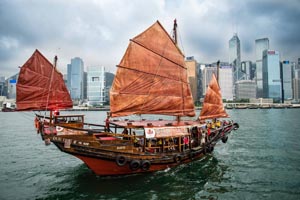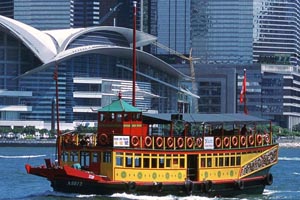 Another icon of the harbour, the restored fishing boat DukLing, is back in the sightseeing business after a major refit in 2015. Built in Macau more than 50 years ago, DukLing served as the home and livelihood of a local fisherman until 1985. Subsequently restored to her original glory, including the traditional red sails, DukLing today takes up to 35 passengers at a time on day and night-time cruises around the harbour, and is also available for private charter.

The colourfully decorated double-deck motor launch, owned by Watertours of Hong Kong, plies the harbour nightly with an open bar on board. Its 1.5-hour cruise takes in various neon-lit locations, including Central, Causeway Bay, North Point, Lei Yue Mun Village and the Kowloon Peninsula.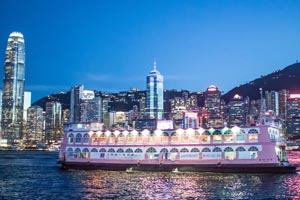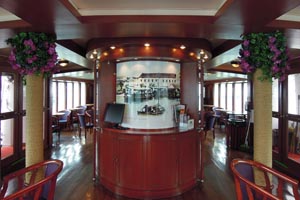 Then there is a bright pink fleet of triple-decker boats offering nightly dinner cruises. Owned by Harbour Cruise-Bauhinia, and operated by the Hong Kong Ferry Group, the vessels take passengers sightseeing, and offer an international buffet as well as live-band performances.

Or hop aboard the Shining Star, the sightseeing vessel of the Star Ferry fleet, which historically provided the major passenger connection between Hong Kong Island and the Kowloon Peninsula, and remains operational today.

Launched in 2013 as a classic recreation of 1920s era travel, the Shining Star features an on-board café, air conditioned seating, as well as open decks for enjoying the views and cooling sea breezes.
Related Links
Aqua Luna Restaurant Group (aqua luna)
DukLing
Harbour Cruise
Star Ferry
Watertours of Hong Kong