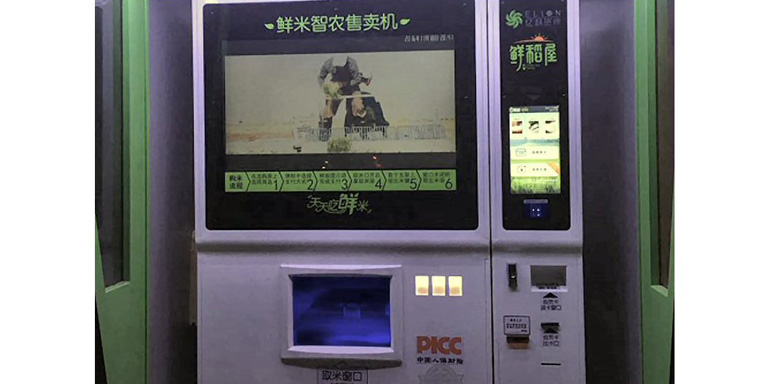 IoT-enabled Vending Machines Set to Woo China Consumers
Smart rice-vending machines could pave the way for unmanned digital convenience stores on the Chinese mainland.
Rice-vending machines are the latest option for busy mainland Chinese diners keen to explore greater convenience without compromising on nutrition. A number of such machines are now available in several districts of Beijing and have proved to be highly popular with locals, largely on account of their ability to quickly serve up freshly milled rice, with high-fibre bran content fully intact.

Part of a new generation of smart vending machines, these automated suppliers of milled rice utilise Internet of Things (IoT) technology, with remote monitoring to ensure they remain fully stocked and that the products are stored at optimum temperatures. As a result, fresh rice can be dispensed on a 24-hour basis, with nitrogen gas packaging and cold storage helping to preserve product integrity.
Digital Payment
In order to reassure customers that they are receiving a quality product, the machine's operators guarantee that all of the rice dispensed has been recently harvested and hulled within the last month. It is also stored at a constant temperature of 15°C and subject to a 108-step quality assurance programme.

The machine's digital connectivity also ensures that mobile payments – including Alipay and WeChat Pay – are accepted. As an extension of this, rice can be ordered and paid for remotely, with customers then directed to the machine via GPS in order to collect their purchase. In essence, these smart vending machines operate as unmanned convenience stores, able to dispense food staples as specified by their owners/operators.

The machines are said to be particularly suited to the needs of elderly users, providing them with high-quality fresh rice at a convenient location. As many of the automated vending systems are situated close to residential communities, older customers can frequently collect their daily requirements without having to leave their immediate neighbourhood.

For more China market opportunities, please visit: http://research.hktdc.com
Food & Beverages
Technology