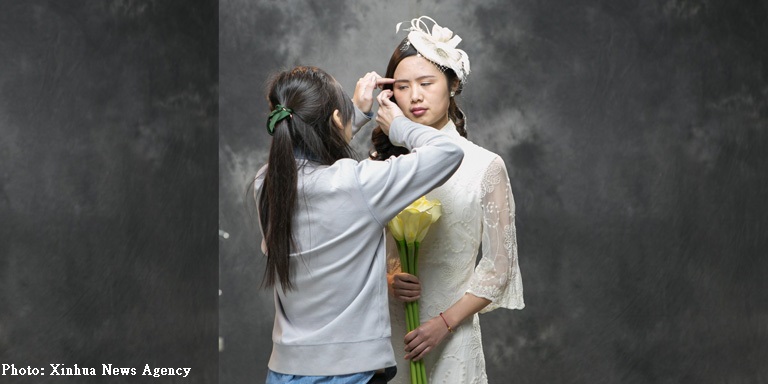 Picture Perfect
Image-conscious consumers are transforming professional photography services in the Chinese mainland.
Creating the right image for a climb up the career ladder has become a big part of Beijing's photography market. A perfect picture – created with the help of a qualified make-up artist, a trained photographer and a degree of digital retouching – can make any applicant appear polished, professional and appealing, and in turn boost their chances of securing gainful employment.

With online recruitment more commonplace across the mainland, posting a professional image is common practice on career-focused social media sites, most notably LinkedIn or 51job. Inevitably, demand for such photos peak during prime job-seeking periods, with prices of the enhanced images frequently some Rmb100-300 higher than the cost of standard photos.
Glamour Photos
Demand for such professional images is also strong in the wedding sector. Beijing is home to a high proportion of younger residents, many of whom set high standards for photos to be used on their official marriage registration documents. These pictures, while official, are subject to less rigid requirements than those specified for other legal documents such as passports or ID certificates. This allows betrothed couples to submit more glamorous, professional photos, complete with make-up, formal dress and professional hairstyling. Given the memento nature of such images, again the services of a professional photographer are often called upon.

There are two primary options open to customers when choosing a photography studio in Beijing or in one of China's other major cities. First, there are long-established studios. In Beijing, these include two well-known state-owned establishments in the Wangfujing area – Zhongguo Photo Studio and Dabei Photo Studio. Drawn by positive word-of-mouth, several generations of families have had group portraits taken in these studios.

One drawback from these state-owned businesses, however, is that they do not cater for advance booking, only serving walk-in customers. Partly as a result, a new generation of studios has emerged in recent years whose owners and photographers tend to be younger than their counterparts in the state sector. Typically, their style of photography and advance-booking facility are more in line with the preferences of younger customers. In keeping with this, they also offer a range of outfits and facilities that better meet the needs of this younger demographic.

For more China market opportunities, please visit: http://research.hktdc.com