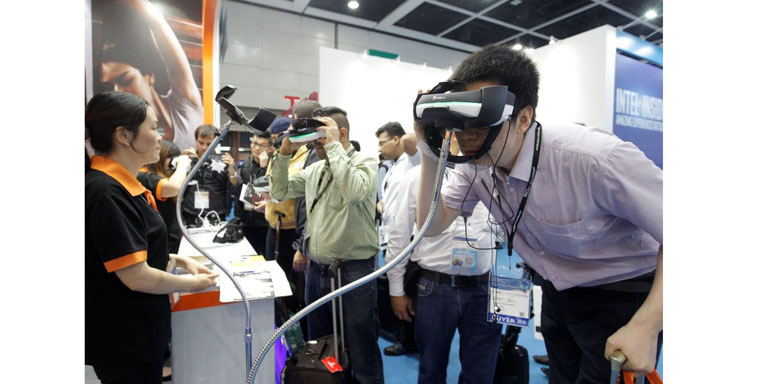 Hong Kong Electronics Fair (Spring Edition)
Asia's biggest electronics show takes place in April alongside the International ICT Expo.
WHAT: The 14th edition of the region's largest electronics event will highlight the latest products in the industry.

WHEN: 13-16 April 2017

WHO: More than 2,800 exhibitors from 20 countries and regions, and over 62,000 visitors took part in last year's show.
WHY: A microcosm of global industry trends and a sourcing hub for thousands of electrical and electronic products from around the world, the fair features several exhibit categories, with such popular zones as Connected Home, Robotics and Unmanned Tech, i-Accessories and Wearable Electronics returning this year.

The 2017 fair will see the debut of two new zones: Startup Zone and Virtual Reality Zone.

Global brands can be found at the Hall of Fame, featuring top-of-the-range brand name products. Running concurrently with the fair, the International ICT Expo will showcase state-of-the-art software solutions and services for information, communications and technology companies.

WHERE: Hong Kong Convention and Exhibition Centre, Hong Kong

And You Can Quote Me: "This is my first time visiting the Hong Kong Electronics Fair. I have found potential suppliers of smartphones and related accessories, elderly monitors, TVs and virtual reality products. I have already got some samples of mobile phone accessories. After further discussions with colleagues, we'll place our initial order for US$5,000 worth of mobile phone accessories. I am also interested in 3D printing because we received many enquiries about 3D printers from our customers, so I am looking for suppliers at the fair. The Spring Electronics Fair is a well-organised show. I would like to come again next year." (Alex Tchablakian, Sales and Operations Manager, Letstango.com, UAE, talking about last year's fair.)
For more information, please visit http://hkelectronicsfairse.hktdc.com
Electronics & Electrical Appliances