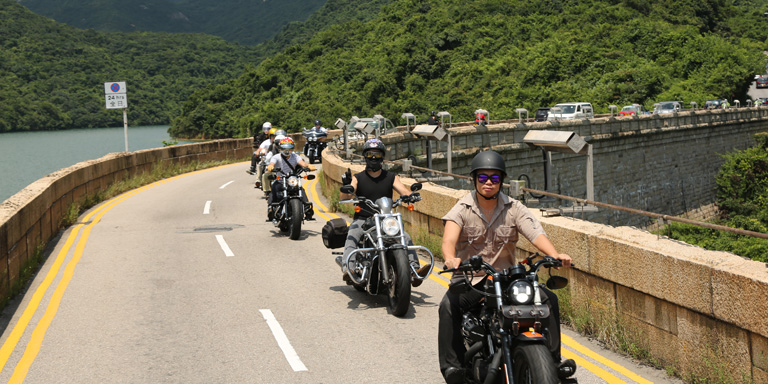 Ride like the Wind
Hong Kong may be a compact city, but for motorcycling enthusiasts, it's a biker's paradise.
Beyond Hong Kong's dense business districts, the open roads of the New Territories stretch from mountain high to forest green, to stunning coastline. Indeed, a jaunt along the scenic Clearwater Bay Road has been named first by CNN in a list of eight spectacular driving adventures in Asia.

Among the motoring enthusiasts who hail Hong Kong for the interesting and challenging road trips it offers, there are those who believe that the long, winding coastal and country roads are best enjoyed on two wheels. On any given Sunday, you can set your clock by the throaty hum of motorcycles cruising through the twists and turns of the New Territories' most scenic driving routes.

"Though Hong Kong is a compact city, it's fun for motorcycle riders," says David Neilsen, Dealer Principal, Harley-Davidson of Hong Kong. "You get to see totally different sides of Hong Kong: from the pulsating metropolis of Tsim Sha Tsui and Central areas, to the mountains and sea of the New Territories. Riders find it's really relaxing."

The ride to Shek O on Hong Kong Island is Mr Neilsen's favourite. "I take the bike out and ride by myself on sunny days, enjoying the feel of the wind and the smell of seawater when I approach Shek O beach," he said. "I park my bike at one of the small cafés alongside the beach, have some lunch, then ride back to the office and continue my work. It makes my day."
Bike Clubs Cater to All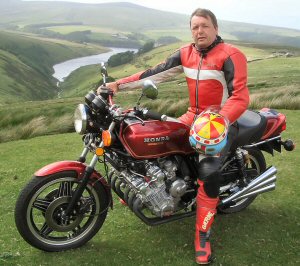 There's a great camaraderie among the riding community as well, via several bike clubs catering to enthusiasts of all kinds.

Founded only a year ago, the Roaring Brothers already has nearly 100 members. Chairman Lau Siu-fung said the club is for cruiser or chopper owners "no matter which brand of bike."

Group rides are organised monthly, but members often meet up weekly to take a spin on their favourite routes. Mr Lau loves a night-time ride to Clearwater Bay, Sai Kung or Shek O, when there is little traffic on the road and starlight to enjoy.

The Classic Bike Club of Hong Kong has been around since 1992, when it was formed by Howard McKay, "an engineer and publican," said club coordinator Ian Foster. The club has 50 active members (though 600 signed up to its Facebook page) and regards itself as "expat-friendly." "We are also happy to hear from enthusiasts visiting Hong Kong," Mr Foster said.

Anyone moving to Hong Kong for work will also find it relatively easy to import and register their classic bike, he added.

The club aims to preserve and promote the motorcycling culture of Hong Kong and beyond. "Our focus is appreciating motorcycles as a hobby and passion, and we have the only collection of classic bikes in Greater China," Mr Foster said.

Exhibition Days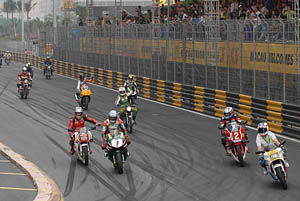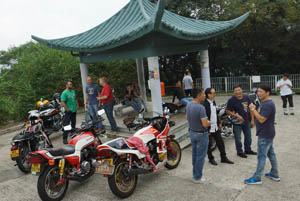 When organisers of the Macau Grand Prix wanted to celebrate the 50th anniversary of motorcycle racing this year, they invited the club to participate. "We are presently shipping 50 classic bikes to Macau to take part in shows and parade laps on the Ghia Circuit for the 19 November event," Mr Foster said.

"We have a display at the annual motorcycle show held in Hong Kong each October/November, which is always well-attended, and have monthly ride-outs where members get together and head off into great mountain roads of the New Territories' countryside."

The club is a friendly, informal group of enthusiasts, he added. "If you have an interest or passion for classic bikes, you are welcome to join us, whether you have a bike in Hong Kong or not. Occasionally there is a spare bike around that visitors can use.

"We encourage diversity, so have members who own anything from a 1940s BSA M20, through 1960/70s Nortons and Triumphs, to 1980s Honda CB1100RC, Yamaha RD350LC, Suzuki GSX1100 Katana."
Harley-Davidson, which is "all about the brotherhood," according to Mr Neilsen, holds bi-monthly group rides and barbecues for its enthusiasts.
Charity Events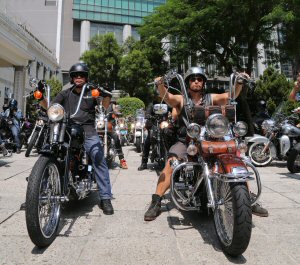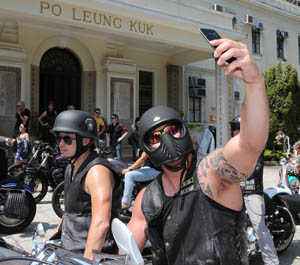 Riders also give back to the community.

In October 2016, some 60 motorcyclists participated in the first Harley-Davidson charity ride, raising funds for the local charity Po Leung Kuk. The ride finished at the Stanley waterfront with a traditional American festival at Stanley Plaza.

Members of the Classic Bike Club also participated in the 2016 Distinguished Gentleman's Ride, an annual fundraiser for men's health, held in hundreds of cities worldwide.
Top Picks
So, where to ride? Among the best routes, Route Twisk is a favourite. It's described on a riders' forum, bestbikingroads.com, as "one of the greatest bike routes in Hong Kong – best during the week or early mornings on the weekend."

Bride's Pool Route is described as a "nice stretch of great corners in Hong Kong('s) green lung."

The Robin's Nest route is "all about the view." It's described as "a must" by one enthusiast, who says that the ride itself is a slow methodic crawl to the top, "but is the only one I know of like this in Hong Kong. The Robin's Nest at the top gives you a spectacular view of both China and Hong Kong and the ride down is a real treat as you soak up the scenery."

Others include Tai Po Road, "a good setup for a trip to Route Twisk or Bride's Pool, and lets you open up the throttle on some of the straights." Science Circuit is "a nice circuit near the Hong Kong Science Park, [with] some nice straights, especially the flyover bridge that runs over the motorway, which leads to a nice long sweep up the hill towards Tai Po Road." And Lau Fau Shan is "a pleasant coastal road, nice for a Sunday cruise." Those with a "nimble dirt bike" can ride up the dirt track at the end.
Related Link
bestbikingroads.com