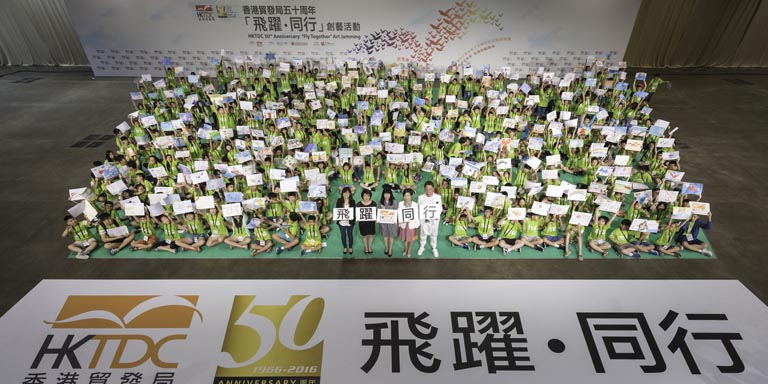 Creative Art Jam
Hong Kong cross-media artist Simon Ma led more than 500 children to create a collaborative artwork that symbolises the city's enterprising spirit.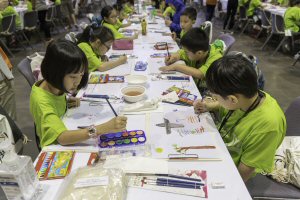 To mark 50 years since the founding of the Hong Kong Trade Development Council (HKTDC) in 1966, the Council in July staged a large-scale art jam session with more than 500 youngsters, led by celebrated cross-media artist Simon Ma. The event welcomed youngsters, aged nine to 15, to create artworks under the theme "Fly Together," to illustrate that creativity has no boundaries.

"Through today's art jamming activity, we hope to encourage more Hong Kong youngsters to flex their creativity," said HKTDC Executive Director Margaret Fong. "For 50 years, the HKTDC has actively promoted Hong Kong's external trade through diverse services and promotional activities. I hope the youngsters participating in the activity can carry on this enterprising spirit, and join hands with the HKTDC to create even more economic miracles for Hong Kong in the future."
Art as Self-expression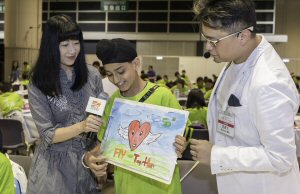 With support from The Boys' & Girls' Clubs Association of Hong Kong, Baptist Oi Kwan Social Service, and the Cultural and Leisure Services Committee under the Wan Chai District Council, the event kicked off with participants crafting their own three-dimensional bird designs using crayons and watercolour.

"As a homegrown Hong Kong artist, I hope kids from across the city will express their feelings using various artistic approaches," Mr Ma said. "Art is not only about producing a piece, but also a way of thinking and doing things. Everyone is an artist, and I hope to spread happiness by strengthening their self-esteem through self-expression."

Founder of Ma Design Company Ltd, Simon Ma has created collaborative pieces with such international brands as Porsche, Lamborghini, and recently BVLGARI, by repositioning Western brands in China with signature products that fuse cultural elements from the East and West. The artist has worked on several award-winning projects and cross-discipline arts involving monumental sculpture, architectural and interior designs.
Balancing East and West
As a cross-media artist, Mr Ma says he breaks rules by combining old and new. "A principle to cross-media production is to perfectly balance in a piece all elements, East and West, so that it is representative of my artistic approach and culture. I endeavour to promote Chinese traditional art. At the same time, I like the hybrid mix of old and new that fuse ancient techniques with new approaches."

Mr Ma's studio has taken part in several interactive community showcases, including an exhibition in Hangzhou and one commissioned by the Hong Kong Jockey Club in April. "Art is living in every aspect of our everyday life, so I would like to engage the community to live in art. Art, in whatever form, should not just be hung on walls and adored in museums, they should be enjoyed and appreciated on a daily basis."
Art Value
An ambassador for the Italian fashion school Istituto Marangoni and lectures at several Hong Kong and the Chinese mainland universities. Mr Ma said his goal is to strengthen young people's morals through art. "Students in Hong Kong and on the Chinese mainland share similar values. They calculate rewards and returns before they decide whether to invest time and effort, be it academic or relationships. I devote quite some time in my courses to discuss the balanced point in life, with reference to designs.

"Essentially what is good design? A design that is so rare and extraordinary that no one can afford? Or one that is cheap, but not functional and aesthetically pleasing? I believe if they have the right set of values, they would then have the ability to make good design."
Can-do Spirit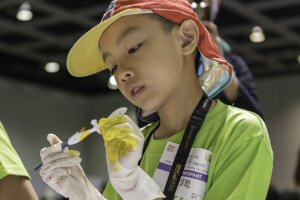 The "Fly Together" project is the latest artist collaboration with the HKTDC that aims to promote the city's expertise in innovation and design.

Mr Ma will combine the artworks produced at the art jamming session into one giant installation, to be unveiled at the HKTDC's 50th anniversary grand reception in December. He said the art jam event embodies the Hong Kong can-do and enterprising spirit.

"The flying motion represents empowerment, a desire to strive for the greater good, for a broader perspective. I think this activity is best done for the younger generation, who will pass on this energetic vibe unique to Hong Kong people in the next 50 years."
Related Links
HKTDC 50th Anniversary
Ma.Design