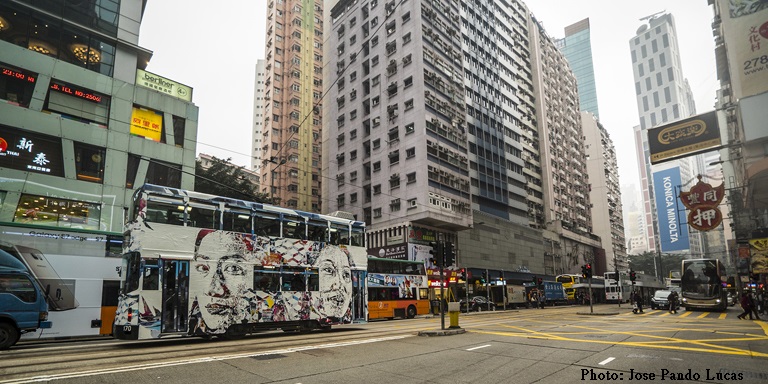 Public Art Takes off
An exhibition by Portuguese street artist Vhils brings art into the public domain.
Renowned for a unique carving technique that involves drilling into walls to create life-like murals, Portuguese street artist Alexandre Farto, AKA Vhils, aims to make art more accessible to Hong Kongers with "Debris," his first solo exhibition in the city.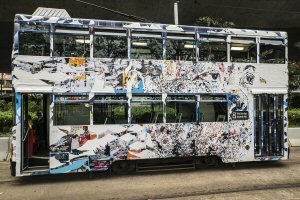 Presented by the Hong Kong Contemporary Art Foundation (HOCA), a non-profit body that promotes public awareness of contemporary art in Hong Kong, the exhibition will be held at the Central Ferry Pier from 21 March-4 April to coincide with Art Basel.
As a preview to the exhibition, the artist created an "intervention" on a Hong Kong tram. The project involved carving into layers of posters applied onto the façade of this much-loved mode of transport. "We found Vhils' approach to art to be unique, and believe that his work will be very appealing to our passengers," says Antoine Sambin, Commercial and Corporate Affairs Manager at Hong Kong Tramways, which partnered with HOCA for the project.


Art Onboard

Artistic partnerships, such as the Vhils intervention, deliver an attractive diversion to tram journeys, according to Antoine Sambin, Commercial and Corporate Affairs Manager at Hong Kong Tramways.

"We vary the projects but always keep to our company message, which is to promote Hong Kong's heritage and vibrant culture, and support local artists by displaying their work," he says.

Mr Sambin was introduced to HOCA via Hong Kong art and design festival Detour, which the company first partnered with in 2013, to transform four trams into art, dining and social venues. "The experiment enables us to explore the design possibilities for tram space and provides passengers with new cultural and communal experiences.

Last month, Hong Kong Tramways launched a six-month exhibition showcasing graffiti and street art in collaboration with Secret Walls, which holds live art "battles" between fellow street artists globally. The tram installation showcases more than 150 photos and artworks from the Secret Walls battles, which debuted in Hong Kong more than four years ago. Presented in a comic-book style, the rules of this lively street-art competition are included so people can learn about the event.

Art will again be in the public domain with another installation from Hong Kong Tramways during Le French May, as artist Antoine Rameau revamps a tram for the two-month long festival. "Rameau is well known for his story-filled collages with multiple symbols and messages," says Mr Sambin. "His work has been shown in Hong Kong on several occasions and we look forward to working alongside him and many other talented local artists in the future."
Art Reflects City Life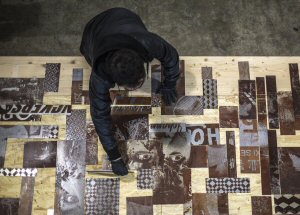 Inspired by his experiences in Hong Kong, Vhils' debut exhibition at Pier 4 will showcase works using various techniques such as billboard collages, neon-light boxes and sculpture, in addition to his trademark drilling style. A highlight is a video installation showing the city's streets, where the audience will find themselves moving against the decelerated flow of the crowded streets, symbolising the role of the individual within the masses.

Such works along with the tram installation reflect Vhils' mission to encourage visitors to interact with the public space. "It's this connection that really presents the exhibition as a whole," says the artist. "I think that the public space of a city is a special place for art and contributes to making both the city and our daily lives more interesting."

Vhils was invited by the HOCA Foundation to develop a project in Hong Kong and relocated from his native Lisbon for his debut solo show in the city.

"I'd already been to Hong Kong several times and it's a place I find really inspiring, so I accepted the invitation straightaway. I decided to move to Hong Kong last year to make sure I was fully immersed in the city's energy and dynamics. This exhibition is the result of this experience of living and working in Hong Kong over the last few months," he says.
"I find Hong Kong very inspiring; it's a blend between hi-tech efficiency and the chaos inherent in city life."
The artist says moving to Hong Kong has allowed him to focus more on his work. "I've spent a lot of time just creating here, working in the studio or going about doing research, meeting and working with local people. I find Hong Kong very inspiring; it's a blend between hi-tech efficiency and the chaos inherent in city life. In a way, it represents everything that is positive and negative in contemporary urban societies, and this has been vital for my work."

While Vhils views Hong Kong as a city with a "very interesting art scene and great cultural life," he would like to see more artists taking over public spaces. "Working in the city opens up discussion and interaction with the public at large, especially those who are not in the habit of visiting galleries and museums or lack the opportunity to do so. There is definitely potential in exploring this more to make Hong Kong an even more inspiring city."
Engaging the Audience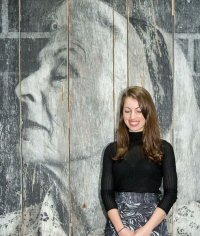 HOCA Foundation Curator Lauren Every-Wortman says Vhils' works resonate because it challenges the notion of street art. "His new neon works are really striking and I think people in Hong Kong will respond well to his creative use of the medium," she says. "He worked with a neon master in the city to change the way the tubes are formed, actually having them vary from thick to thin to allow the image more contrast and detail."

HOCA has presented some significant exhibitions in the past year, including shows by street artists JR and Invader, to critical acclaim. It also held parallel education programmes with these shows, and similar programmes will be happening for "Debris."
"We try to involve the community in various ways during each exhibition. For "Debris," we will be hosting regular tours in English and Cantonese, two workshops for students, and a film screening of the artist's short films. We hope this will engage our audience in unique ways and provide them with a deeper understanding of the artist's practice."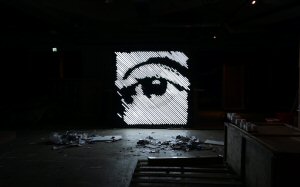 As for Vhils, Hong Kong will continue to be a rich source of material for the Portuguese artist.

"It is a city of contrasts, both positive and negative. The city's extreme urbanisation both fascinates and repels me. You can go from this overbuilt environment to the surrounding green hills in a few minutes. It is both highly efficient and chaotic at the same time. It buzzes with life, being a melting pot of cultures and heritages. It shares many similarities with other large cities around the world, while managing to maintain a special character of its own. I've been finding it fascinating, and hope that some of this can be seen in the reflection I'll be presenting at my exhibition."
Related Links
Alexandre Farto
Hong Kong Contemporary Art Foundation (HOCA)
Hong Kong Tramways
Portugal
Hong Kong
Western Europe