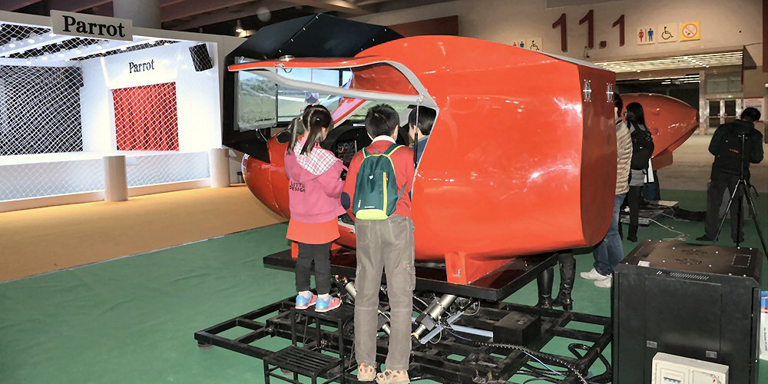 Virtual Experience
Drones and virtual reality played centrestage at the 2015 China (Guangzhou) Intelligent Equipment and Robot Expo.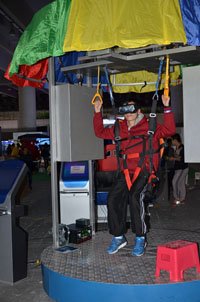 The China (Guangzhou) Intelligent Equipment and Robot Expo, held last December, featured a wide array of virtual reality equipment, designed to give users a truly immersive experience. The other major attraction was the debut of several innovative new videography systems, with both domestic and overseas companies keen to stake their claim in this rapidly expanding market.

Among the popular stands was Shenzhen's Jingmin Digital Machine Co, an established supplier of equipment for virtual reality theme parks. The company develops, manufactures and markets intelligent dashboards and control software, as well as animation simulation electromechanical products. This year, the company's oval-shaped space capsule and virtual reality parachute installation attracted plenty of visitors, all keen to try out this high-tech experience.

According to Xiang Wanpeng, the company's Sales Engineer, up to three customers can be seated in the oval-shaped space capsule at any one time, allowing small groups to share the experience. From inside the capsule, users can view high-definition simulated movies through the screens set into their helmets. This, in conjunction with the synchronised movements of the capsule, reportedly provides customers with an authentic space travel experience.

Apart from the capsule, the company also offered a side variety of HD simulated movies at its virtual reality pavilion. The movies offered visitors a choice of digital experiences, including mountain adventures, haunted cemetery encounters, extreme landscape exploration and mysterious gorge journeys.

Mr Xiang said his company has the capacity to design a large selection of immersive simulated scenes. Its full set of equipment, including all the necessary hardware and software, sells for between Rmb80,000 and Rmb100,000, and entitles the purchaser to use 10 new HD movie simulations per year. The company's products are now available to domestic buyers, and are also exported to several overseas markets, notably Eastern Europe, East Asia and Southeast Asia.

The company also offers bespoke movie scenes, tailored to client specifications. At present, some 60 per cent of the company's staff is said to be involved in R&D-related activities, with the company investing heavily in maintaining and developing market share.
Drone Arrangers
In the drone section, Renxian, the Guangzhou-based agent for Shenzhen's Dajiang Innovation Technology Co(DJI), featured the Phantom 3, DJI's latest unmanned drone. It also showcased the DJI Ronin-M 3-Axis Handheld Gimbal Stabiliser, a system designed to reduce image shake while using digital cameras.

Targeted at professional photo companies, advertising agencies and filmmakers, the Ronin-M is designed to ensure camera images stay steady even while the operator is running in motion. According to Chin Jianxiang, Head of Renxian's Guangzhou operation, the system can operate in three ways – underslung mode, upright mode and briefcase mode (where it's turned on its side to film through narrow apertures).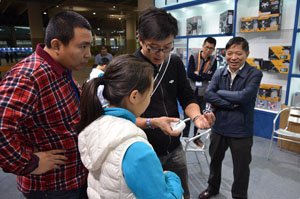 Mr Chi said that the Ronin-M's major selling points are its compact and lightweight features and facility to support photography equipment weighing up to 3.6 kilogrammes. The system can also be remotely controlled and can produce enhanced videographic effects if used by two operators, with one positioning the rig and the other controlling the camera.

On the robotic front, Guangzhou Jinjia Intelligent Technology showcased its meal-delivery robot, while Guangdong Jaten Robot & Automation exhibited Dahuangfeng, its automated guided vehicle.

Meanwhile, making its Asian debut was Behop2, an unmanned drone manufactured by French company Parrot. Also flying high in terms of robotic offerings was Zhuhai-based Lvweishi with Feipengbao, its drone crop sprayer.

The exhibition component of the event was complemented by a series of seminars and networking meetings, all addressing such themes as Industry 4.0, smart manufacturing and 3D printing.
For more China market opportunities, please visit: http://research.hktdc.com