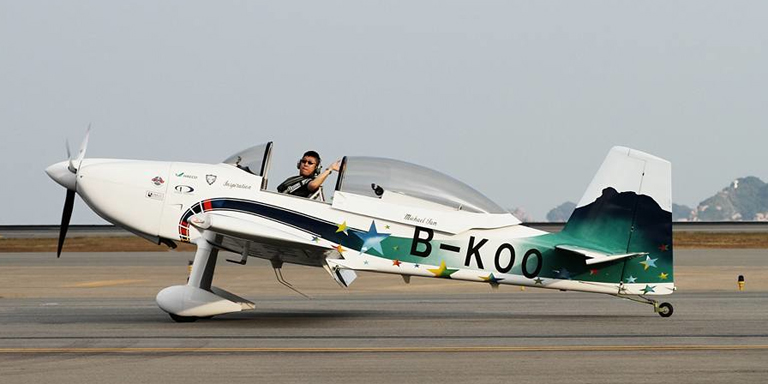 Taking Flight
Hong Kong's first registered flight-ready plane is preparing to circumnavigate the globe.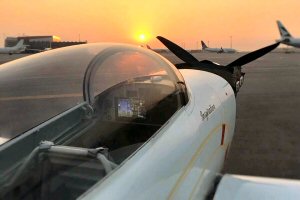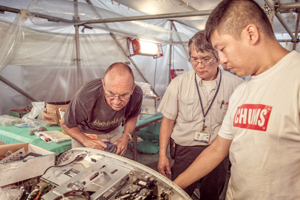 Seven years in the making, the first airplane assembled and registered in Hong Kong took off on its inaugural 15-minute flight from the Hong Kong International Airport last November. In the cockpit of Inspiration B-KOO – a two-seater, kit-built RV-8 single engine aircraft – was Hank Cheng, a Cathay Pacific airline captain who had dreamed of building his own plane since he was a child.

While many of Mr Cheng's colleagues at Cathay have created home-built planes, Inspiration B-Koo is the first to be registered in the city, and the only one to make its maiden flight over Hong Kong soil. "All my colleagues shipped the parts back to their home country and flew their planes out there," he said, noting that the process is cheaper overseas. "But being a Hong Konger, I didn't have that option," says Mr Cheng.

Costing US$200,000 (HK1.5 million) to build, Mr Cheng and his team raised enough funds to build, register and fly the plane without outside investment. Now, pending approval from the Hong Kong Civil Aviation Department for B-KOO's 25-hour Flight Test Programme, the pilot hopes to circumnavigate the globe to raise money for charity. The ambitious undertaking planned for this summer is expected to cost HK$3 million, so the B-KOO team is currently seeking support from local investors.
Securing the Right Team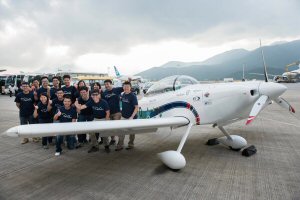 Mr Cheng says his childhood dream could not have become reality without the support of a core team, including engineer Gary Tat, who works in Cathay's Group Quality Department. One of their biggest hurdles was finding a suitable workspace, which ultimately was provided by classroom space at St Paul's Convent School in Causeway Bay in exchange for Mr Cheng providing aeronautics-focused tutorials.

Over five years, the project attracted approximately 100 students, including about 20 each year, who chose Aeroplane Building as their Diversified Interest Programme. Those students were put to work on the B-KOO project every Wednesday afternoon and during holidays.

As moderators of the school's Aerospace Society, information and communications technology teacher Patricia Liu and chemistry teacher Dr Lo Wing Kit were appointed to oversee the B-KOO project. "We were glad to have this once-in-a-lifetime experience to [help] build the first handmade aircraft in Hong Kong, and in fact, Asia," they say.
St Paul's Director of Administration, Paul Shum, got involved with the B-KOO team when the plane became too big for its assigned classrooms and had to be moved from the school to a hangar at the Hong Kong Aircraft Engineering Company (HAECO) at the airport. He took charge of arranging a naming ceremony for the plane.

During the project's initial stages, Mr Cheng delivered lectures on aeronautics to prepare students as they waited for components to arrive. "Getting them involved and interested didn't require much effort, as they really wanted to know how to build a plane," he recalls.

Mr Cheng says that after HAECO agreed to provide hangar space, its specialists were soon offering technical support on engine installation and avionics. "As HAECO is based at the airport, it was the perfect site. We didn't actually approach them for technical support, but once the engineers saw the plane, they came up and helped voluntarily. I was struggling with aspects like how to put the engine together, but for them, the process was very similar to the aircraft they work on. Some of the engineers would leave work at 5pm and stay with us until 7pm. I was very touched, as they gave me some extremely important input."
Inspiring Students
Aircraft building involved use of heavy tools, which the students, with practice and guidance, eventually mastered. They were involved in such tasks as binding metal sheets, drilling, riveting, countersinking and painting.

"As they knew that the aircraft cost a lot and every step in the building process affects the safety of passengers, they were worried about making mistakes. As a result, the students encouraged each other to be precise in their work, a challenge that helped to shape them into careful and meticulous individuals," says Dr Lo.

One student, Sammi Yuan, says that even simple tasks like deburring holes on the metal plates of the plane and cleaning the plane body was rewarding. "I felt extremely proud when I saw the plane become shinier and the holes become much smoother after hours of hard work. This sense of achievement and satisfaction was my biggest motivation, as I witnessed how I'd made a contribution, however small, to the plane."

For another St Paul's student, Joyce Chan, the most gratifying moment was witnessing the virgin flight of the RV-8. "As one of the builders since Form 2 and knowing that this aircraft had been seven years in the making, I was touched when I witnessed the wheels of the aircraft finally losing contact with the ground and saw Hank enjoying himself so much in the sky," she says. "I found the experience even more memorable when I realised that we, the Form 6's of this year, were actually the last set of students to experience working on the plane when it was still in the classroom."

Several students involved in the B-KOO project have been inspired to consider a career in aviation engineering, and building the plane also encouraged them to be tenacious and determined. "Having seen how Captain Hank and his teammates worked hard for a common goal, despite many challenges, the students were encouraged to work hard for their own goals too. In whatever career they choose, they are confident that qualities such as persistence will help them to achieve their goals," says Ms Liu.
Raising Funds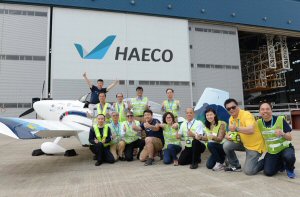 Raising the US$200,000 to fund B-KOO's inaugural flight was entirely "self-funded, with some friends chipping in, but we've been able to handle it as it's been over seven years, which is more manageable than paying a big chunk of money [in one go]," says Mr Cheng.

When the project began, the B-KOO team anticipated that they would need about US$100,000, which is what it costs in the US. "The expenses associated with getting an airplane flying are very high in Hong Kong: for the insurance, we were required by law to have the same amount of insurance as a 777, which is about 10 times more than you'd pay in the US. And it was HK$118,000 just to have the plane accepted by the authority before its inaugural flight." For Mr Cheng, however, the personal satisfaction of working on B-KOO far outweighs the considerable financial outlay. "When you look at the number of people you've inspired along the way, that's something that's not measurable in dollars."
"When you look at the number of people you've inspired along the way, that's something that's not measurable in dollars."
As the project enters its second phase and as Mr Cheng prepares to circumnavigate the globe this May or June, the B-KOO team needs to raise at least HK$3 million. "We thought about selling B-KOO-themed souvenirs, but that will not raise enough money to complete the journey. Then we thought about offering a seat to people donating a certain amount." The team also hopes to procure funding from Cathay Pacific as well as local investors, but there are no solid agreements in place as yet.

Nevertheless, Mr Cheng is determined that they will raise the cash and get approval on the 25-hour Flight Test Programme and round-the-world trip from the Director-General of Civil Aviation. "We want people to know that, out of the 200 people who have done this in the world, one of them is from Hong Kong."

Alfred Poon, Assistant General Manager (Technical Services) at HAECO, says the organisation remains committed to the project as it enters its second phase, and believes the B-KOO project will encourage a new generation of aviation aficionados. "The success of Hank's project may inspire aviation and aircraft engineering enthusiasts to pursue their dreams, which will in return benefit Hong Kong as a whole."
Related Links
HAECO
Inspiration B-KOO
St Paul's Convent School