Belt and Road Facilitator
HKTDC Chairman Vincent HS Lo discusses how Hong Kong's "global city" credentials make it the right conduit to connect businesses along the Belt and Road.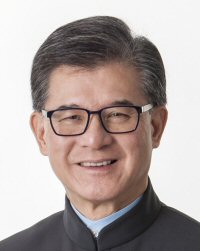 The Hong Kong Trade Development Council (HKTDC) has unveiled a series of measures to help promote China's Belt and Road Initiative. Chairman Vincent HS Lo explains why the HKTDC is best positioned to help businesses explore opportunities arising from this far-reaching economic and development strategy.

What is the significance of the Belt and Road Initiative?
It is a very ambitious plan, we're talking about 65 countries, over 60 per cent of the world's population, 30 per cent of the world's GDP, how you can work together to improve the cultural exchanges, the trading, the cooperation, the investment. I believe it is very exciting because it will change the face of the world when it is fully implemented.
What is Hong Kong's role in the Belt and Road development?
I believe Hong Kong can play a very positive role in this whole Initiative. Hong Kong is a global city; we have been working with multi-cultural practices, we have a very strong services sector here, including lawyers, accountants and arbitrators. There is no doubt that in the future, there will be requirements for all of these services and we can also become a platform to integrate the investment projects here in Hong Kong. Because I believe the Belt and Road projects cannot be based on politics, it has to be driven by economics, and Hong Kong can do that very well. So with all those attributes, I believe Hong Kong can play a very, very important role.

Do you see HKTDC's role also evolving as the Belt and Road developments begin taking shape?
We have 46 offices outside of Hong Kong. And along the Belt and Road, we have 28 offices. And, while the HKTDC is very commercial in nature, we are not driven by profit. So I believe the HKTDC can build that platform to facilitate and service the Belt and Road.

How is the HKTDC helping to promote opportunities relating to the Initiative?
We have just launched a dedicated website that includes information about Belt and Road nations, the policies, investment opportunities, and we will use that to continue to build on the resources and all the facilities that will be required to get the Belt and Road up and running.

With this in mind, we have set up this Belt and Road Portal with two key objectives: One is to provide information to help you make informed business decisions. The second purpose is to provide contacts. You can search from Hong Kong-based services providers to find professional services relevant to the Belt and Road, like financial, legal, accounting and infrastructure development. We will expand the database to cover other sectors such as logistics, maritime and ICT and welcome more services providers from all over the world to participate in this huge undertaking.

There's been a lot of talk about the Belt and Road, but nobody has really put their finger on what you can actually do with it. We, at the HKTDC, will organise the Belt and Road Summit in May next year, where we'll invite senior officials from the Belt and Road nations, including China. We will also invite participants, for example, bankers, lawyers, accountants, to share their thoughts on what they can do on the Belt and Road.

I think we need to, first, let people know what the Belt and Road is, and what the opportunities and possibilities are; then hopefully we can play the facilitator role.

The Belt and Road is a game-changer for Asia and the world. With our vast international network with industries, governments and other intermediaries, the HKTDC has partnered with leading organisations and institutions to help businesses explore and connect, as well as provide them with market intelligence to make informed decisions.

Related Link
Belt and Road