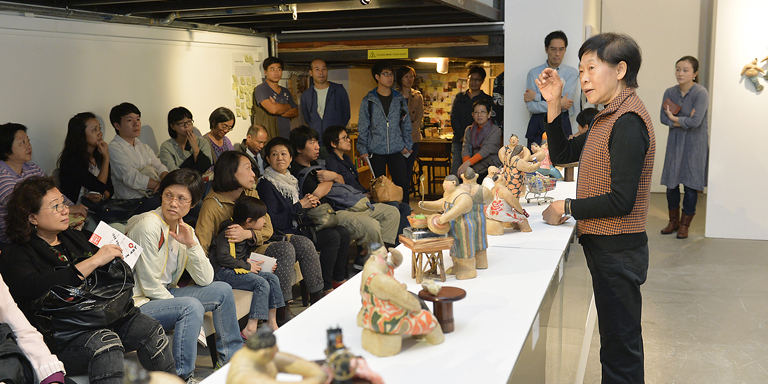 Asia's Art Hub
Hong Kong's art scene continues to attract internationally renowned artists looking to make their mark in the region.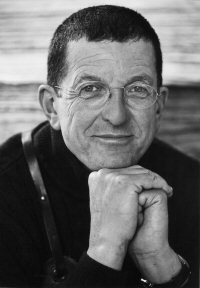 It's been a great year for art in Hong Kong, with the debut of Art Central in March as part of Hong Kong Art Week, alongside Art Basel Hong Kong. It's not only big events, however, driving the development of Hong Kong's art scene. In March, PMQ hosted the first solo exhibition of Shanghai artist Xu Zhen in Hong Kong. This month, it's hosting a pop-up photography exhibition by French Buddhist monk Matthieu Ricard and French-Swiss photographer Olivier Follmi.

The creative year continues this autumn and into the New Year, with several major arts events on the calendar, including the Asia Contemporary Art Show, Hong Kong Gallery Art Week, the arrival of Antony Gormley's Event Horizon public art installation – the biggest public art display in Hong Kong – and a photography exhibition by celebrated photographer Annie Liebovitz.
Art in Intimate Surrounds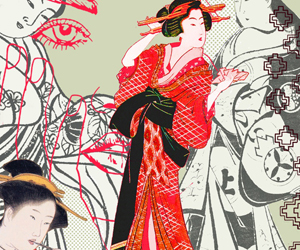 More than 60 galleries and 2,000 artworks from 17 countries around the world will exhibit at the seventh edition of the Asia Contemporary Art Show, 8-11 October. Some of the works co-founder and Director Mark Saunderson is most excited about are from Hong Hauchang, one of China's most respected oil painters. "He reflects the upper level of what we do in terms of maturity and price point. We go all the way from young artists to ones with a public auction record."

Mr Saunderson says the show, held in several hotel rooms at the Conrad Hong Kong, aims to appeal not only to serious collectors but those who buy one or two pieces a year. And with the show in its seventh year, he knows what is likely to resonate with the local market. Colourful figurative works, he says, are "in," while abstract or politically motivated works are "out." "Hong Kong is a commercial city, a business city, and people want something they can look at that's lively at the end of the day," he says.

Having lived in Hong Kong since 1982, Mr Saunderson has witnessed the art scene slowly yet steadily take off, from a limited number of galleries offering Chinese contemporary art to the arrival of notable spaces such as Gagosian and White Cube in the past five years. He also notes that Florentijn Hofman's Rubber Duck – which arrived in Victoria Harbour in May 2013 with a message of world peace – helped popularise public art. "I'm not sure people viewed that as public art, but that's exactly what it was."

Hong Kong's geographical position also lends itself well to being an art hub, he says. "If you look at the art in Taiwan, Korea, even Shanghai and Beijing, they're very local markets. So when the big art fairs arrive in March [in Hong Kong], there's enough going on to draw people in."
Celebrating Local Galleries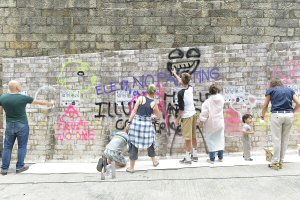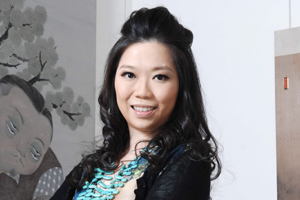 Hong Kong Art Gallery Week, to be held 1-7 November, will see more than 50 galleries participating, from small spaces like Fabrik to expansive British gallery White Cube. This year's programme explores themes relating to Hong Kong as a burgeoning arts hub in the context of the diverse art scene in Asia.

"Our talks, tours, activities and exhibitions will allow the public to explore Hong Kong's place within a regional context and its relationship with its neighbours in terms of the arts scene," says Henrietta Tsui, founder and co-president of the Hong Kong Art Gallery Association, which organises the annual event.

Apart from its business advantages, its close proximity to the Chinese mainland and cosmopolitan nature make Hong Kong particularly attractive to the industry, adds Ms Tsui.

"Our member galleries and their varied backgrounds reflect the melting pot that makes Hong Kong's visual art community particularly unique. The fact that all the large international auction houses and international fairs such as Art Basel have set up in Hong Kong in recent years also says quite a bit."
Engaging the Public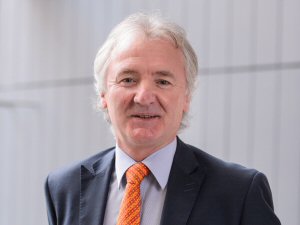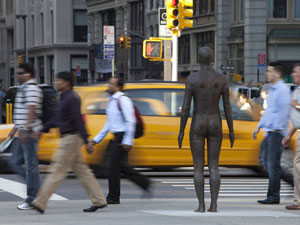 Hong Kong will host its largest public art installation in November with the arrival of British artist Antony Gormley's Event Horizon; 31 solitary statues that will be dotted throughout the city.

Robert Ness, Director of British Council Hong Kong, which is bringing the installation to the city, says the work was conceived in the year when, for the first time, over half of the planet's human population was recorded as living in cities. "It is very fitting to Hong Kong, given its densely populated surroundings and famous city skyline," says Mr Ness. "First shown in London in 2007, followed by Rotterdam, New York, São Paulo and Rio de Janeiro, Hong Kong is in good company to be hosting this project."

While the arrival of Event Horizon will cement Hong Kong's status as a global art hub, Mr Ness believes it has the power to change attitudes to art. "Public installations encourage the community to interact with art, which I believe makes a city a better place to live in. As art creates discussion, we are looking forward to the conversations Hong Kong has within the community and international conversations created from this installation."
Focus on Photography
Among the world's largest contemporary art collector and lead partner of Art Basel Hong Kong, Swiss bank UBS is also helping raise Hong Kong's creative profile. It is sponsoring a global exhibition of celebrated photographer, Annie Leibovitz, which will show in Hong Kong in mid 2016.

Featuring newly commissioned photographs, the images are a continuation of a project Ms Leibovitz started more than 15 years ago, when she published a book of portraits, Women, in collaboration with American writer and filmmaker Susan Sontag.

UBS Chief Marketing Officer Johan Jervo hopes the Liebovitz exhibition will inspire more photographers to bring their images to the city. "Photography is developing as an art form, and showing Annie's work will hopefully inspire others to follow. That's what world-class talents can do."
Related Links
Asia Contemporary Art Show
British Council Hong Kong
Hong Kong Art Gallery Association
UBS