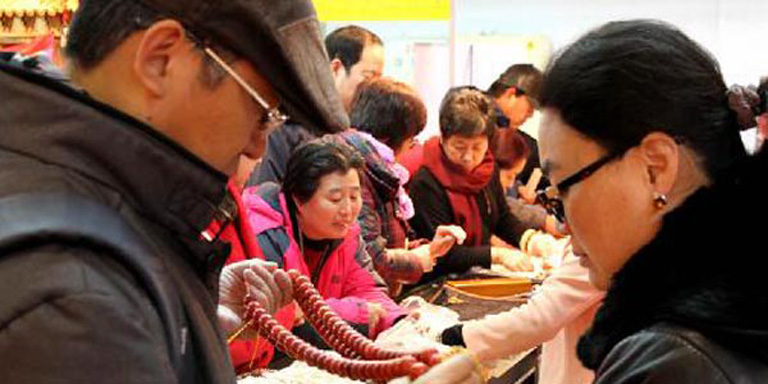 Zen Sales
The unprecedented growth in the number of Buddhists on the Chinese mainland in the last 30 years has spurred strong demand for related merchandise.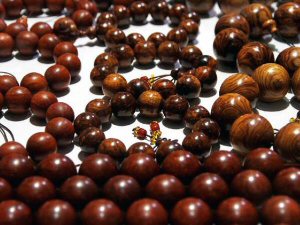 With China's Buddhist population traditionally concentrated in the southern regions, the country's first sizeable International Buddhist Items and Crafts Fair was held in the southeastern coastal city of Xiamen in 2006. Spurred by this initial success and, more importantly, by the continued growth in the number of the country's Buddhists, several similar exhibitions have since been held across the country.

The first edition of the Xiamen fair attracted many exhibitors from neighbouring Taiwan, including Tso Chin-yung, a representative of Kuan Hong, a Taiwanese religious arts company, which is a regular exhibitor at the event. The inaugural fair was held in a 6,000 square metre venue and attracted nearly 200 exhibitors. Today, though, newcomers would find it difficult to secure a stand, reflecting strong growth in the market for Buddhist merchandise across the mainland.
Industry Bellwether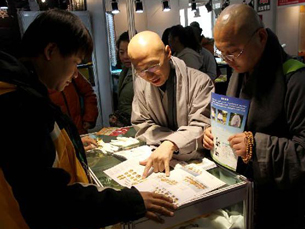 According to trade statistics, the Xiamen fair has become the bellwether of the Buddhist merchandise industry, as well as the preferred specialist platform for the mainland market. It also claims to be the world's leading Buddhist merchandise marketplace. At the ninth edition, held last autumn, the exhibition covered 90,000 square metres, featuring 5,000 international-standard booths, and attracted nearly 1,000 exhibitors from 11 countries and regions – including Taiwan, Hong Kong, Malaysia, Japan and South Korea. The event also drew more than 200,000 local and overseas visitors, as well as several buying missions. Other Buddhist-themed exhibitions have since been held in other parts of the country, including major fairs in Guangzhou, Wuhan, Nanjing, Hangzhou, Jinan, Qingdao and Dalian in 2014.

Perhaps most significantly, Beijing hosted its first such event last December. The China (Beijing) International Buddhist Items and Supplies Expo, staged with the approval of the China Council for the Promotion of International Trade and organised by the China Council for the Promotion of Buddhist Culture, was seen as marking national recognition for the sector. It also underscored demand for Buddhist items expanding well beyond the southern regions.
Spiritual Pursuits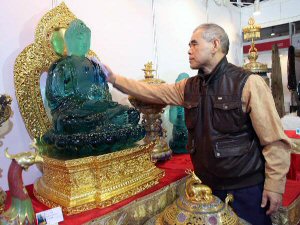 An HKTDC Research visit to the inaugural Beijing event saw firsthand the scale of the fair. The exhibition occupied three halls, covering 30,000 square metres, and attracted some 500 exhibitors. The items on offer ranged from a variety of Buddhist statues, prayer beads, books, incense and vegetarian menus, to musical instruments, Buddhist attire and decorative items, as well as temple construction and interior design equipment.

Kuan Hong's Mr Tso attended this event, along with about 20 other Taiwanese companies, which occupied about 50 exhibition stands. According to Mr Tso, the trade mission included many key players in Taiwan's Buddhism merchandise industry, many of whom have since established mainland affiliates.

Mr Tso, who launched his temple construction projects in China in 1992, believes that religious and economic development in society tends to be mutually supportive. A weak economy, he said, leads people to focus only on immediate material needs. With China experiencing exponential economic growth, he sees people's spiritual pursuits becoming more diversified and widespread, inevitably resulting in increased demand for religious items.
Growing Faith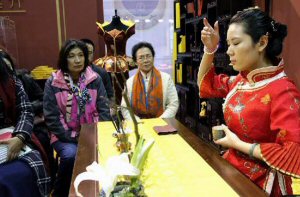 Despite a history dating back some 2,000 years, the last 30 years has seen the fastest growth in the number of Buddhists on the mainland. About 18 per cent of China's population now claims to be followers of the religion – some 185 million people. Among those identifying themselves as non-Buddhists, 31 per cent accept at least one tenet of the religion or have participated in a Buddhist religious activity.
Chen Yanni, founder of the Liu Wei Zen ("Six Flavour Zen") brand of Buddhist merchandise, believes that China's Buddhist population – and its associated industries – has experienced "explosive" growth over the past three years. Citing Beijing's famous Lama temple, Yonghegong, as an example, Ms Chen says its visitor level has grown by about 20 per cent a year. She estimated that China's Buddhist merchandise industry is worth more than Rmb100 billion.
Seeing the size of this potential market, Ms Chen founded Blooming Lotus, a cultural and arts development company, to produce high-end Buddhist merchandise. The Liu Wei Zen series, for instance, has been designed to correlate with the six sensors associated with Buddhism; namely the eyes, ears, nose, tongue, body and mind. Her company's products range from books and paintings, Zen music and incense, to Zen tea, attire and Buddhist journals.
Despite the high demand for Buddhist items on the mainland, she said that most products are still targeted at the low-end of the market. She now hopes to develop high-end Buddhist brands, something she sees as the future market trend in China.
Imported Buddhist Items Popular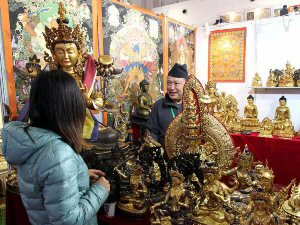 One Nepalese exhibitor also sees potential in the higher end of the market. Selling Buddhist items in China for more than two decades, the exhibitor last year sold US$1 million worth of glazed Buddha statues and Thang-ka canvas paintings to mainland buyers. He now believes that Chinese consumers have higher expectations of product quality, while also having greater faith in Nepalese products than domestically-made items.

This concern over the lack of quality associated with domestically-produced Buddhist items was echoed by Master Xuan Lin from Changchun. Speaking to HKTDC Research, he said that mainland items tend to be of poor quality, especially those manufactured in northern China.

According to Master Xuan, items from Taiwan and Japan are well-received among mainland Buddhists. Despite this, many of the higher quality items are not widely available on the mainland, with the sales channels still relatively undeveloped.

For more China market opportunities, please visit: http://research.hktdc.com/