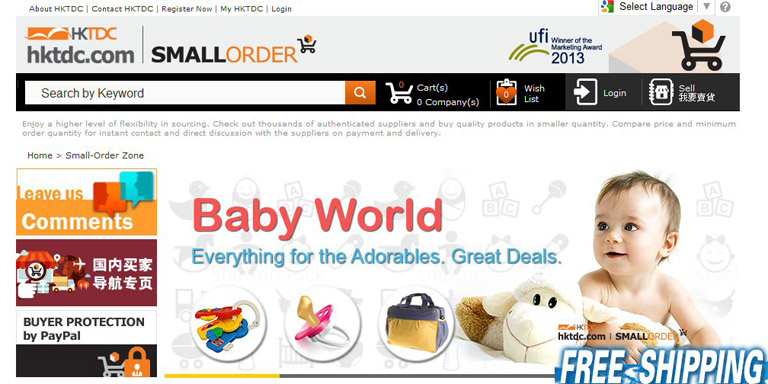 Small-Order Zone Online
Check out the HKTDC's upgraded small order service, available at hktdc.com.
WHAT: The Small-Order Zone, which caters to orders of five to 1,000 pieces, has been upgraded from an enquiry based service to a full-fledged online transactional platform

WHO: The HKTDC launched the new service by collaborating with online payment gateway provider PayPal and Hongkong Post. It has also partnered with 20 Hong Kong brands to launch a brand name section on the Small-Order Zone portal.
WHY: With the newly-added function, suppliers can conduct online transactions directly with buyers to maximise the benefits of e-sourcing and small-order trading.

And You Can Quote Me: "Because suppliers on this platform have been verified and many of them are also exhibitors at HKTDC fairs, they are reliable. The Small-Order Zone business model works perfectly for me by enabling me to use my sourcing budget more efficiently to purchase a wider variety of products. Managing and completing the order online, including payment and shipping arrangements, is the perfect solution." (Tim Lo, Director, Solmek Technology, Ltd)

HOW: To check out small-order products available online, please visit http://small-order.hktdc.com/