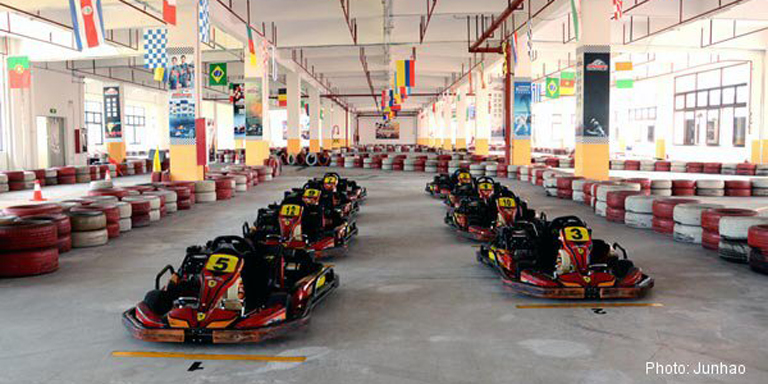 Crazy for Go-karting
After a brief fad in the 1980s, the go-karting business is again booming on the Chinese mainland.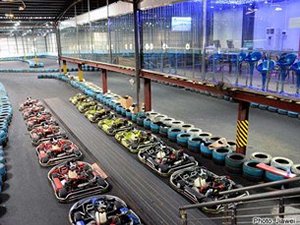 Go-karting has long been a popular leisure activity in the United States, Japan and Europe. Now this scaled-down motor-racing event is finding fans across the Chinese mainland. The activity has proved especially successful in Guangzhou, where a number of dedicated circuits has opened.

Guangdong's provincial capital is home to both indoor and outdoor circuits. Both have their particular appeal – the indoor circuits are immune to the vagaries in the weather, while outdoor circuits are more spacious and, hence, more challenging. The venues are typically found in out-of-town areas. In promoting the activity, Guangzhou operators tend to emphasise its "recreation for all" "fitness and entertainment" aspects, rather than simply billing it as a racing event.
Guangzhou Karting Clubs
One such popular centre is the Guangzhou Conghua Cizage Karting Club, located near a hot spring resort and spanning 6,000 square metres. According to the site's management, turnover has grown by about 40 per cent a month since it opened several months ago.

Zhang Tongxi, the Manager of the circuit, believes that kart racing is on the rise in many major mainland cities, with 20 to 30 large and small circuits in Guangdong alone. "Today, the rapid pace of society is taking its toll on people," said Mr Zhang. "As a result, many white-collar workers and young people choose to relax by thrill-seeking." A recent survey of go-kart enthusiasts found that the primary users are aged between 20 to 35 years old.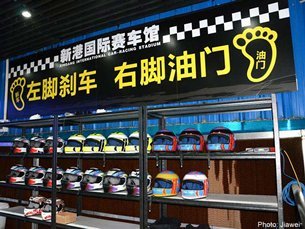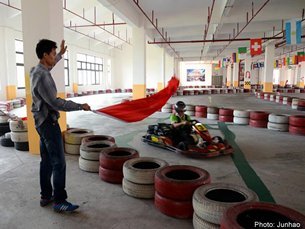 Conveniently located in downtown Guangzhou, Xingang International has proved hugely popular, even on weekdays. During this year's National Day celebrations, nearly 600 people visited the stadium each day. This saw the circuit gross Rmb350,000 over a seven-day period. Perhaps significantly, many of the patrons were overseas visitors, including from Europe, America and the Middle East.
In light of this popularity, Xu Xian, President of Shenchi, a Guangzhou sports event organiser, says his company plans to manage four go-kart tracks in Guangzhou, including the Baiyun Lake track, which is already operating, as well as the 8,000 square-metre Tianhe circuit, which opened in October.

According to Mr Xu, the mainland was gripped by an earlier go-karting craze in the 1980s, only for it to peter out. Today's higher levels of disposable income and changing leisure attitudes, however, bode well for the activity's continuing popularity. Apart from the many keen and committed regular participants, go-karting is also proving popular as a family day-out. While the very young and very old may not directly participate, they have proved enthusiastic spectators. Mr Xu also believes that a dedicated children's go-karting sector could thrive in Guangzhou.
Safety First
Among the mainland's leading go-karting proponents is Zhu Dawei, winner of the 2005 National Karting Championships (Group B) and the 2007 AGF Asian Formula International Open Competition annual championship. "Karting is a wholesome sport," says Mr Zhu. "It can easily fit into everyday life. It's not expensive to take part in, making it accessible for many families. Their only concern is to maintain safety."
Many circuits go out of their way to emphasise their safety procedures. The waiting area of the Conghua Cizage Karting Club, for instance, is crammed with operation manuals, while safety notices are posted everywhere: "Left-foot braking, right-foot throttle," "Karting is not bumper cars," "Stop at the red flag, slow down at the yellow flag."

According to Mr Zhang, unlike dedicated racing karts, the family-friendly vehicles typical of most circuits place particular emphasis on safety features. Such features include added kart body guardrails, increased vehicle weight and very low suspension, to prevent the kart from rolling over when cornering or during a collision. Additional safety measures include setting the starting zone before a straight portion of track, placing field marshals in collision-prone "dead corners," and having direction pointers clearly posted along the track.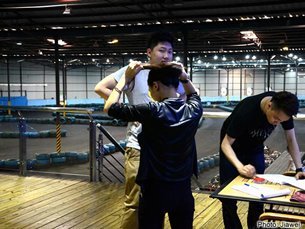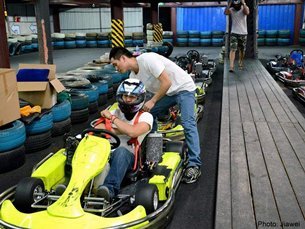 At the entrance of Xingang International is a highly-visible "Visitors Beware" notice, which carries several clear safety guidelines for both participants and observers. Staff members at Xingang brief participants on safety precautions – including the selection of the appropriate head sock/helmets and seatbelts – prior to taking part in any race. Smoking is also prohibited around the circuit.
Diverse Designs Bring Added Value
Fees charged may vary, although different Guangzhou circuits offer eight minutes for Rmb80, and six minutes for Rmb60. "Initially, people may think the fees are expensive," said Mr Zhang. "But once they have had their first experience, they typically re-book for additional rounds."

To maintain the popularity of their circuits, he advises operators to "ensure the venue covers at least 4,000 square metres. Anything smaller will shorten the lap time, reduce the number of curves and, naturally, lower the level of excitement.

"In terms of track design, as drivers on the straights tend to increase the throttle and display their 'maneuvering' skills, having the start area set close to a straight section of track will allow spectators to experience the speed and excitement before it's their turn. The curves generally test driving skills, notably logical thinking, judgment and response. Too many corners will quickly tire out a driver. As a result, attention needs to be paid to the curve design."

He added that consideration should also be given to the track material. "Kart circuits are generally paved either with cement or asphalt. Concrete is smooth, giving a stronger sense of drift, while asphalt grips tires better, making the ride steadier and smoother."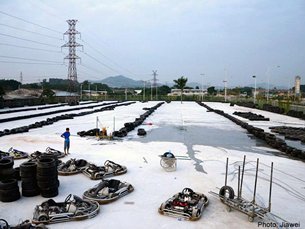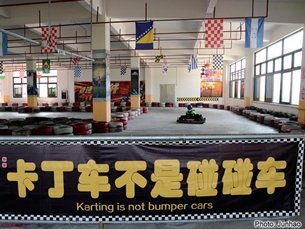 Shenchi's tracks were designed by a German company that specialises in the field and are intended to allow riders to fully enjoy the pleasure of passing and overtaking during a race. In terms of fees, the company offers a wide range of different ticket types, including discounts for couples and groups, as well as birthday offers. The company also plans to set up kart training centres for young drivers and hopes to establish a Guangzhou karting league.

Apart from their core racing activities, several circuit operators also offer such ancillary services as a general seating area, a VIP box seating area and a computer access zone. Mr Zhu said his company also has plans to build an extensive games area within the stadium, as well as an external basketball court, barbecue and fishing area.
For more China market opportunities, please visit: http://research.hktdc.com/