Nigeria: Market Profile
Major Economic Indicators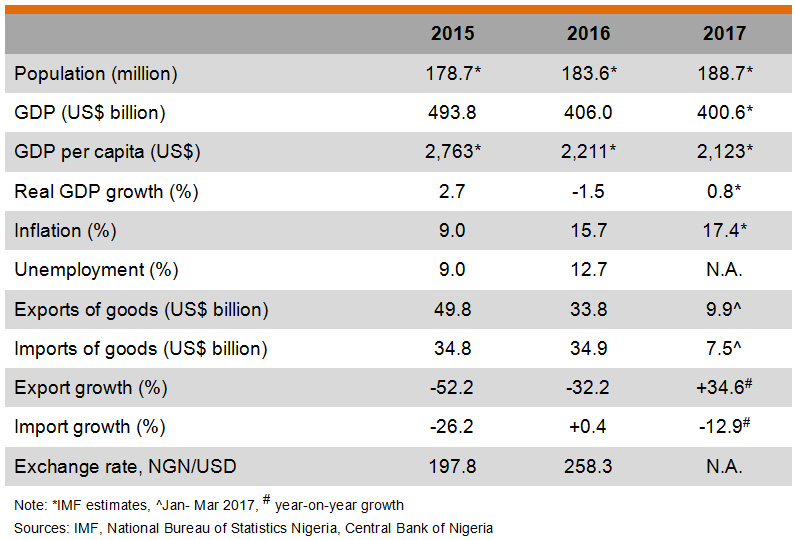 Recent Developments
Nigeria's economy contracted 1.5% in 2016 as a result of the oil price slump and foreign exchange (FX) crisis, with growth projected to increase marginally to 0.8% in 2017.
Inflation further accelerated to 15.7% in 2016, a trend projected to continue in 2017.
Nigeria's exports fell 32.2% to US$33.8 billion on oil price declines in 2016. In Q1 2017, exports surged 34.6% YOY to US$9.9 billion. Imports of US$34.9 billion for the same period were at levels similar to the previous year.
Nigeria's FX crisis has persisted since 2015, with the NGN depreciating by about one-third to 315 NGN per US dollar in the year to mid-2017.
Nigeria is Hong Kong's second largest export market in Africa. In the first five months of 2017, Hong Kong's total exports to Nigeria fell by 19.4% to US$195 million.
Current Economic Situation
After the official rebasing of GDP calculations in April 2014, Nigeria surpassed South Africa to be the biggest economy in Africa, though per capita income is about half the level of South Africa. With 188 million people, Nigeria is the most populous African country and the world's seventh most populous country. Nigeria's rapid economic growth since 2000 has given rise to a large consumer class.
Nigeria is the Africa's largest oil producer and the world's sixth largest oil producing country, with a maximum oil production capacity of around 2.5 million barrels produced per day. Oil plays an important role in the Nigerian economy, accounting over 90% of exports earnings and largest source of fiscal revenue. In 2016, Nigeria's economy contracted by 1.5%, after dropping 7% in 2015, by far the worse GDP growth performance since the economic take-off in 2000. After being hit by much lower oil prices since 2015, government revenues were dealt another blow by the Niger Delta Avengers attacks in 2016, which disrupted major infrastructure for oil transportation. Nonetheless, the Nigerian economy is expected to stabilise somewhat in 2017 with GDP growth projected to increase marginally to 0.8% in 2017.
The oil price slump has led to a shortfall of government receipts, currency depreciation and rocketing inflation. The Nigerian naira (NGN) started devaluating from around 199 NGN per USD in mid-2016, dropping about one-third its value in the year to mid-2017 to about 315 NGN per USD. With a much softer currency, consumer price inflation soared 15.7% in 2016, a trend that is projected to accelerate to 17.4% in 2017.
Nigeria's non-oil sector, contributing around 90% of GDP, is a key driver of GDP growth. Agriculture still contributes to around 21% of GDP, employing 70% of the working population. Industry accounts for 19% of GDP, but development is hindered by a lack of energy and transport infrastructure. The electrification level of Nigeria is low with power supply found unreliable.
The services sector, which accounts for around 60% of Nigeria's GDP, is a major growth driver, with the telecom sector being a major powerhouse. Nigeria liberalised its telecom sector in the late 1990s. The entry of foreign telecom operators has sped up the process of modernisation, particularly mobile penetration.
Nigerian exports dropped 32.2% to US$33.8 billion in 2016, following the drastic exports fall of over 50% in 2015. In Q1 2017, exports showed signs of recovery with a YOY increase of 34.6% to US$9.9 billion. Major export markets include the India, the EU and Brazil. On the other hand, imports of US$34.9 billion in 2016 were in line with the previous year. Major import items include machinery, chemicals, transport equipment and manufactured goods. China, the US and the Netherlands are the major import sources.
The oil price slump exposed Nigeria's economic vulnerability. In addition, Nigeria's economic prospects are darkened by inadequate power supply, lack of infrastructure, rampant bureaucracy, corruption and insecurity. Nigeria has a young population, but the unemployment rate is high (12.7% in 2016) to threaten social and economic stability. A nation of more than 500 ethnic groups and languages, Nigeria is fraught with high ethnic and regional tension. The Boko Haram insurgency in the north, Fulani herdsmen and pastoralists clashes in the Sahelian regions, and Niger Delta Avengers insurgency in the oil-producing south, are persistent threats to production and investment in Nigeria.
Trade Policy
Nigeria became a WTO member in 1995. It adopts the Harmonised System (HS) of Customs Tariff and all duties are levied on an ad valorem basis, with rates for most product lines ranging from 0% to 35%. Average tariff rate is around 10%.
Nigeria is a member of Economic Community of West African States (ECOWAS), a customs union of 15 member states including Benin, Burkina Faso, Cape Verde, Cote d'Ivoire, Gambia, Ghana, Guinea, Guinea-Bissau, Liberia, Mali, Niger, Senegal, Sierra Leone and Togo. ECOWAS adopts a five-band tariff regime, with the first four bands ranging from 0% to 20%, and the fifth subjecting some sensitive items to a 35% tariff.
Nigeria has also entered into effective bilateral trade agreement with wide geographies the Chinese mainland, Finland, France, Germany, Italy, South Korea, the Netherlands, Romania, Serbia, South Africa, Spain, Sweden, Switzerland, Taiwan and the UK.
In spite of Nigeria's active pursuit of bilateral trade agreements, it adopts a rather protectionist trade policy through an import substitution strategy, banning some 700 import items including food and manufactured goods. Such policies also hinder sourcing of production inputs for manufacturing.
Investment Policy
In 1995 the Nigerian Investment Promotion Commission was created to promote and assist foreign direct investment (FDI) in Nigeria. In the same year, the government also liberalised almost all sectors to foreign investment and allowed full foreign ownership in all sectors except oil. Tax incentives are given to attract FDI.
There 15 free trade zones (FTZs) operating in Nigeria, five in Lagos, the country's business capital and most populous city. Another 18 FTZs are under development. Industries permitted in FTZs include chemicals, petroleum, textiles, garments, rubber, plastics, electrical and electronics (E&E), telecom equipment, metal, wood, leather, education materials and cosmetics.
According to UNCTAD, inward FDI to Nigeria dropped 35% to US$3.1 billion in 2015, then rebounded 45% to US$4.4 billion. Yet, FDI level is still below the pre-recession level. Major investing countries included the US, China and the Netherlands. Nigeria is China's fourth-largest FDI destination in Africa in 2015. As of end-2015, Nigeria's FDI stock from China amounted to US$2.4 billion.
Hong Kong's Trade with Nigeria
Nigeria is Hong Kong's second largest export market in Africa. In the first five months of 2017, Hong Kong's total exports to Nigeria dropped 19.4% YOY to US$195 million, following a 13.2% contraction in 2016. Major export items included telecom equipment & parts (91% share) and computers (4%).
On the other hand, Hong Kong's imports from Nigeria increased by 29.4% YOY to US$36 million in the first five months of 2017 (after an increase of 34.9% in 2016). Major imports items included raw hides and skins (except furskins) (51.4%), leather (21.7%) and ores and concentrates of base metals (16.1%).