Saudi Arabia: Market Profile
Major Economic Indicators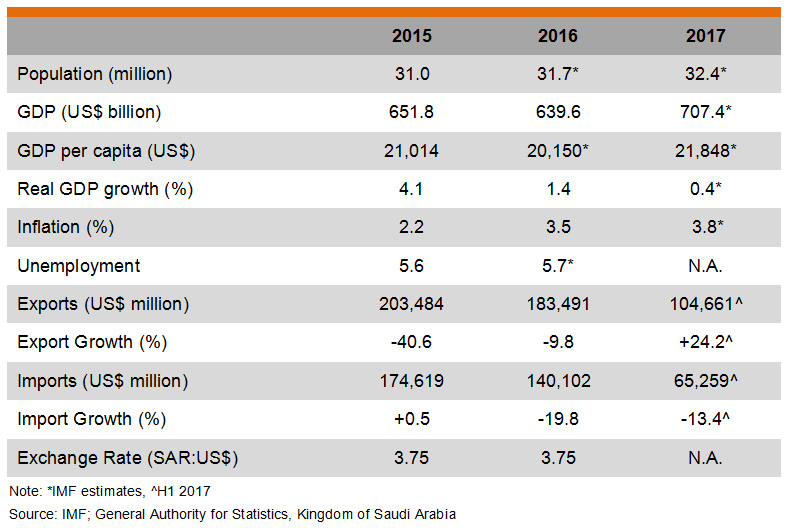 Recent Developments
The Saudi economy is edging down in 2017 due to sluggish oil prices and oil production cuts. In 2016 Saudi's GDP growth sharply decelerated to 1.4% from 4.1% in 2015.
Saudi oil output fell to 10.5 million barrels per day (MBD) in 2016 from 11.7 MBD in 2015 in observance with output cuts agreed with other major oil exporting countries. In May 2017, OPEC and non-OPEC oil producers announced to further extend oil the output curb to March 2018. Since then Saudi oil output has been hovering at around 10 MBD.
Prince Mohammad bin Salman, who leads the "Vision 2030" economic reform, was appointed Crown Prince in June 2017, making him the heir apparent to the throne.
Saudi Arabia's cumulative inward FDI amounted to US$231.5 billion in 2016, 31.3% above the 2010 levels. As of end-2016, China's FDI stock in the country jumped from US$760.6 million to US$2.4 billion, based on statistics from China's Ministry of Commerce.
Saudi Arabia is Hong Kong's third largest export market in the Middle East (after the UAE and Israel). In the first half of 2017, Hong Kong's total exports to Saudi Arabia decreased by 8.7% year-on-year (YOY) to US$497 million and imports from the country fell 22.1% YOY to US$210 million.
Current Economic Situation
Economy
Saudi Arabia's industry, services and agriculture sectors represent approximately 43%, 55% and 2% of its GDP. The oil sector is the pillar of the Saudi economy, accounting for about 80% of exports, over 80% of government revenue and 42% of the country's GDP.
The Saudi economy is facing downward pressure in 2017 due to oil production cuts and sluggish oil prices. In 2016, GDP growth sharply decelerated to 1.4% from 4.1% in 2015. Economic sluggishness arising from prolonged oil price slump and oil production curbs started to spillover to many non-oil industries. The construction sector contracted by 3.3% in 2016, reversing from the growth of 4.1% in 2015. The wholesale and retail, restaurants and hotels sector also contracted by 1.6% in the same period, following a growth of 2.8% in the previous year. The IMF expects Saudi Arabia's economy to be stagnant with a marginal growth rate of 0.4% given a pessimistic outlook of the oil market in 2017.
Oil and Gas Export
Saudi Arabia is the largest oil producer within the Organisation of Petroleum Exporting Countries (OPEC) and the world's second-largest oil producer after Russia. Saudi oil output fell from the record high of 11.7 MBD in 2015 to 10.5 MBD in 2016 after OPEC and non-OPEC producers agreed to output cuts. With a sustained oil price slump, OPEC announced to extend output cut until March 2018. While Saudi Arabia continues to be a leading oil exporter, it is also stepping up natural gas production. The country's natural gas production was 110.9 billion cubic metres (cu.m.) in 2016.
The Saudi government is keen to develop alternative energy sources such as nuclear energy and solar energy to reduce its oil use in future. It has planned to build 16 nuclear reactors over the next 20 years at a cost of more than US$ 80 billion, with the first reactor to be established by 2022. With rapid growth of electricity demand, Saudi Arabia plans to increase its generating capacity from 55 gigawatts (GW) to 120 GW by 2020. Apart from that, the Kingdom aims to generate one-third of its electricity with solar energy by 2032.
Economic Diversification
The Saudi Arabian government is keenly aware of the need to promote economic diversification for the oil-dependent economy. In April 2016 Prince Mohammed bin Salman launched the ambitious "Vision 2030" economic reform. Prince Mohammed bin Salman became the heir apparent to the throne, as he was appointed Crown Prince in June 2017, further strengthening his political clout to reform the Saudi economy.
The reform aims to balance the fiscal budget and end the country's oil dependence by 2020 through an initial public offering (IPO) of 5% of state-owned Aramco and channeling the receipt to the Public Investment Fund (PIF). The IPO is expected to generate US$2 trillion to create the largest sovereign wealth fund (SWF) in the world, which will be used to protect Saudi Arabia from global oil market turbulences. This much anticipated IPO is expected to take place in the second half of 2018. Besides, there will be measures to raise new taxes, increase female workforce participation, and develop the non-oil sectors.
The Gulf Cooperation Council (GCC) is to introduce value-added tax (VAT) at a flat rate of 5% for the first time in 2018, with Saudi Arabia alongside the UAE looking set to implement the VAT from January 2018.
Tourism, defense manufacturing and mining are sectors identified with huge potential under "Vision 2030". Consistent with this economic thrust, the Saudi government also encourages the development of industrial sectors such as production of chemicals, petrochemicals, aluminum and plastics. In March 2014, the government launched the Saudi Arabian Company for Industrial Investment to invest in the manufacturing industries, focusing on conversion of raw materials such as petrochemicals, plastics, fertilisers, steel and aluminum, into manufactured or semi-manufactured material. With a capital of two billion Saudi riyals (US$533 million), the establishment helps develop a broader downstream industrial base, taking advantage of the Kingdom's low energy costs and abundant raw materials.
The Saudi government ran into a budget deficit for the third consecutive year in 2016, which widened to 17.3% of the country's GDP from 15% in 2015. The deficit was financed by bond sales and drawing down reserves.
Similar to the UAE, Saudi Arabia has ambitious plans of infrastructure expansion. The main difference between the two countries of the six-member GCC (consisting of the UAE, Saudi Arabia, Kuwait, Qatar, Bahrain and Oman) is that the UAE puts more emphasis on commercial development, while Saudi Arabia focuses on a wider range of infrastructure and building projects: oil and gas facilities, water and electricity plants, residential and commercial buildings, and roads and railways. The country's mega projects include the construction of four economic cities in Medina, Hael, Jazan, and Rabigh, which are scheduled to open by 2025. Saudi General Investment Authority (SAGIA) expects these cities will contribute US$150 billion to the country's GDP and generate about 1.3 million jobs in total.
Most prominent of the four is the King Abdullah Economic City (KAEC) in Rabigh, located along the Red Sea coast, is expected to create 1 million employments for the country according to the SAGIA. The KAEC comprises six main areas, including the industrial zone, sea port, residential area, educational zone, resorts and financial island. The total investment cost of the KAEC is estimated at US$27 billion. The King Abdullah Port was opened in December 2013, with an annual capacity of 20 million twenty-foot equivalent units (TEU) upon completion of all phases. In addition, the KAEC industrial zone, expected to be completed by 2020, has attracted more than 90 local and multinational firms as at September 2015, providing investment of more than 10 billion riyals (US$2.7 billion).
As part of the government's "Saudisation" programme, a labour reform aimed at raising employment of Saudi nationals was introduced in 2011, along with a crackdown on illegal foreign workers in 2013. Over one million expatriates out of Saudi Arabia's nine million foreign workers left subsequently, hampering growth in sectors that relied on cheap foreign labour.
In the wake of the Arab Spring, King Abdullah decreed in September 2011 to allow women to vote and run in local elections in 2015. Since May 2012, Saudi women no longer require male consent to work, marking a big leap forward for the country. This notably encourages female employment with the number of Saudi women employed in the private sector increasing to 454,000 in 2013, quadrupling from 99,486 in 2011. In 2016, the Saudi government made an increase in female participation a policy. To develop Saudi Arabia's education sector and create a skilled workforce for future, a five-year plan worth 80 billion riyals (US$21 billion) was approved in May 2014, including establishment of educational centres, building of 1,500 nurseries and training for about 25,000 teachers.
Investment Policy
Attracting foreign direct investment (FDI) forms a vital part of Saudi Arabia's economic policy. With effect from 2000, Saudi investment law allows 100% ownership of projects by foreigners (except for activities ruled out by the negative list) and relaxes rules for sponsoring foreign employees. The law also permits foreign ownership of property, and lowers corporate taxes. In June 2013, Saudi Arabia switched its weekend from Thursday-Friday to Friday-Saturday, in line with other Gulf States countries, as a move to boost regional and international business relations. According to the World Bank's Doing Business 2017 Survey, Saudi Arabia ranked 94th out of 190 economies, falling behind other GCC peers like the UAE, Bahrain, Oman and Qatar. To gain easier access to the Saudi market, foreign investors invariably partner with Saudi companies.
The Saudi Arabian General Investment Authority (SAGIA) is the primary agency responsible for FDI promotion and has prioritised energy, transport and logistics, ICT, health, life sciences and human capital as key investment sectors. FDI projects must be licensed by the SAGIA; additional licenses from government authorities such as the Saudi Arabian Monetary Agency (SAMA) may be required for investment in specific sectors. More information on investment climate and regulations in Saudi Arabia can be found on the SAGIA website.
Foreign Investment
Saudi Arabia's cumulative inward FDI amounted US$231.5 billion in 2016, 31.3% above the 2010 levels. During the same period, China's FDI stock in the country jumped from US$760.6 million to US$2.4 billion based on statistics from China's Ministry of Commerce.
Trade Policy
In December 2005, Saudi Arabia became the 149th member of the WTO, with tariff commitments phased in six phases through 2015. In 1993, when Saudi Arabia first applied for membership of the General Agreement on Tariff and Trade (GATT), the predecessor of the WTO, 75% of Saudi's tariffs on imports were at 12%.
In April 2008, Saudi Arabia started to decrease or exempt voluntarily import duties over six years on 180 goods, which had attracted import duties ranging from 12% to 25%. In 2010, the number of tariff-free goods reached 763 and constituted 23% of import value in 2010. In 2013, Saudi Arabia's average MFN applied import tariff rate was 4.8%, with average rates of 6.0% for agricultural products and 4.6% for non-agricultural products respectively.
Saudi Arabia has not imposed tariff quotas, applied seasonal tariffs, and other duties and charges on imports. There are no VAT, excise duties or any other internal tax or charges on domestically produced or imported products as well. In September 2013, Saudi Arabia eliminated the only one export duty, to untanned hides and skins. The Kingdom maintains export bans on 12 categories of products, including breeding livestocks, wood and antiques and historical items.
Saudi Arabia's WTO commitments provide for foreign participation in its wholesale and retail trade. Upon accession, Saudi Arabia allowed foreign companies to hold up to 51% of the equity in a wholesale or retail business. The limit has been increased to 75% since January 2009.
However, some products remain restricted from entering Saudi Arabia for religious, health or security reasons. Prohibited items include alcoholic beverages, pork, non-medical drugs, non-Islamic religious materials, weapons and weapon-related electronic equipment. In addition, foreign companies that are deemed to support Israel in one way or another are blacklisted because of the Arab League boycott of Israel, to which Saudi Arabia is a participant. 98.6% of Saudi tariff lines are applied on an ad valorem basis.
The tie between Saudi Arabia and its fellow members of the GCC is strong. In November 1999, the GCC agreed to form a customs union, which took effect from January 2003. The accord establishes a single tariff of 5% on 1,500 imported items from non-member countries. It also provides a list of other essential items that can be imported duty-free. Under the accord, goods imported into the GCC area can be freely transported subsequently throughout the region without paying additional tariffs. Saudi Arabia is a member of the Pan-Arab Free Trade Area too, with almost all trade barriers among its members eliminated from January 2005. In January 2008, a GCC common market was formed between the members to eliminate cross country investment barriers and facilitate free movement of services.
There are health and sanitation regulations for all imported foods. Saudi Arabia has however agreed to take on the obligations of the WTO Agreement on Sanitary and Phytosanitory Measures. Under the agreement, Saudi Arabia has to apply science-based safety standards to all agricultural goods.
Saudi Arabia maintains regulations on product labelling and country of origin marking. In addition, there are safety regulations on toys, and product standards regulations for electrical and electronic goods.
Imports for exhibition purposes have to be accompanied by an invoice with the value of the goods endorsed by the local chamber of commerce, and a certificate of origin. The invoice should show clearly that the goods are imported for exhibition purposes, and will be re-exported. Saudi Customs requires a deposit, which is refundable, for these goods.
While the Saudi Riyal is pegged to the US dollar, Saudi Arabia is committed to the planned Gulf Monetary Union, along with three other members of the GCC, to work towards a single currency. Nonetheless, Oman withdrew from the monetary union in 2006, followed by the UAE in May 2009. Although a joint monetary council has been set up since December 2009 with a view to setting up a single GCC currency in the future, progress has been stalled over the past few years amid the economic and currency problems in the European Union.
Trade Agreements
Saudi Arabia is part of the Greater Arab Free Trade Area Agreement (GAFTA) which came into force on 1998, Under the GAFTA, the country enjoys free trade with Algeria, Bahrain, Egypt, Iraq, Kuwait, Lebanon, Libya, Morocco, Oman, Palestine, Qatar, Sudan, Syria, Tunisia , the UAE and Yemen.
As member of the GCC, Saudi Arabia also has free trade agreement (FTA) with Singapore, New Zealand and the European Free Trade Association (EFTA) comprising Switzerland, Norway, Iceland, and the Principality of Liechtenstein. Negotiations on the establishment of FTA with the EU, Japan, China, India, Pakistan, Turkey, Australia, Korea and the Group of Mercosur (Brazil, Argentina, Uruguay Paraguay, and Venezuela) are on-going.
Saudi Arabia has double taxation agreements (DTA) and Investment Promotion & Protection Agreement (IPPA) with the Chinese mainland and is negotiating on a DTA with Hong Kong.
Hong Kong's Trade with Saudi Arabia
Saudi Arabia is Hong Kong's third largest export market in the Middle East, trailing the UAE and Israel. In the first half of 2017, Hong Kong's exports to Saudi Arabia fell 8.7% YOY to US$497 million, following an expansion of 15.4% in 2016. Major export items in the period included telecom equipment and parts (US$272 million, 54.8% of total, +5.2% YOY), computers (US$45 million, 9.1% of total, -19.7% YOY), engines & motors, non-electric, & parts (US$35 million, 7.1% of total, -33.9% YOY), watches and clocks (US$18 million, 3.7% of total, -20.6%), and jewellery (US$16 million, 3.2% of total, +7.9%).
Hong Kong's imports from Saudi Arabia decreased by 22.1% to US$210 million in the first half of 2017. Major imports in that period were hydrocarbons and their halogenated, sulphonated, nitrated or nitrosated derivatives (US$72 million, 34% of total, -36.2%), polymers of ethylene in primary forms (US$62 million, 29.3% of total, -2.3%), other plastics, in primary forms (US$23 million, 11.1% of total, -8.4%), engines & motors, non-electric & parts (US$17 million, 8% of total, -51.8%), telecom equipment & parts (US$10 million, 4.6% of total, +45.6%).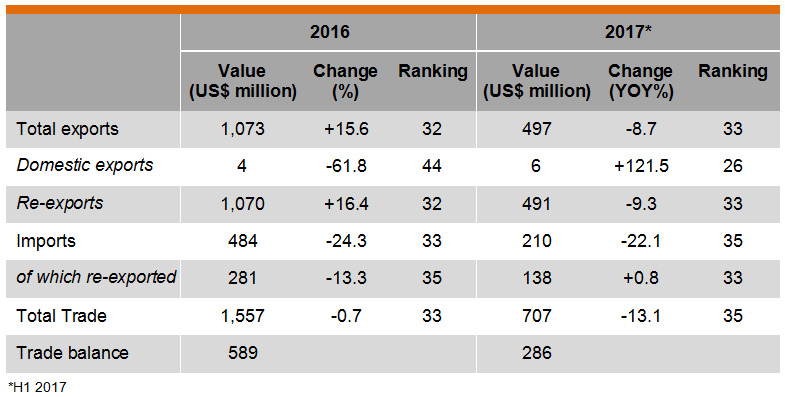 More Information
More information on the Belt and Road countries' economic and investment environment, tax and other subjects that are important in considering investment and doing business are available in The Belt and Road Initiative: Country Business Guides.
Saudi Arabia
Middle East