Saudi Arabia: Market Profile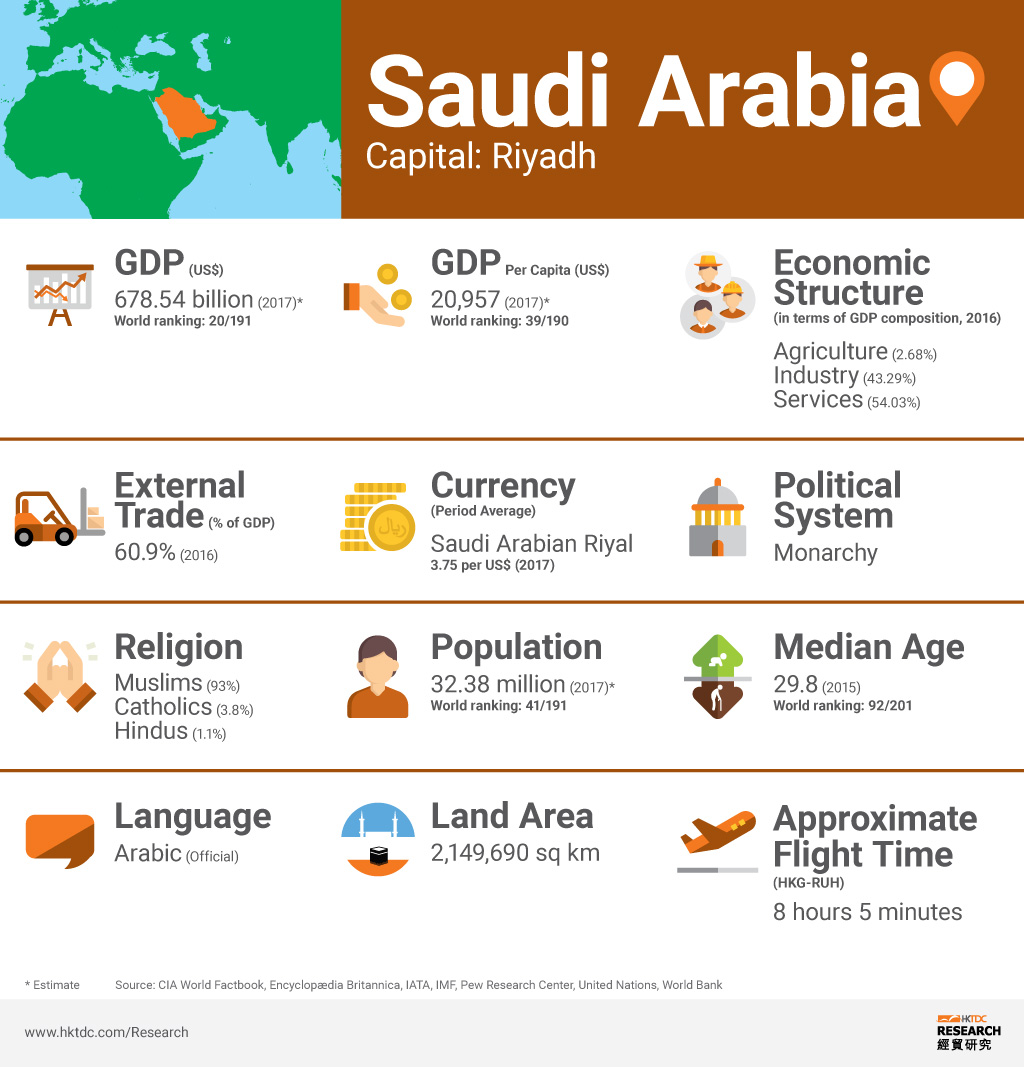 1. Overview
In 2017, the authorities showed commitment to the 2016 OPEC agreement by restricting oil production and introduced major reform initiatives. With unfolding fiscal consolidation efforts, improvements in medium fiscal outlook were achieved at the expense of growth, which closely relies on public spending.
Source: World Bank
2. Major Economic/Political Events and Upcoming Elections
January 2015
King Salman ascends to the throne after King Abdullah dies.
June 2017
Saudi Arabia sparks a diplomatic crisis by leading an air, land and sea blockade by Arab countries, in an attempt to get Qatar to cut its alleged connections with terrorism and distance itself from Iran.
June 2017
King Salman names his son Mohammed bin Salman first in line to the throne.
Sources: BBC country profile – Timeline, BMI Political Risk Analysis
3. Major Economic Indicators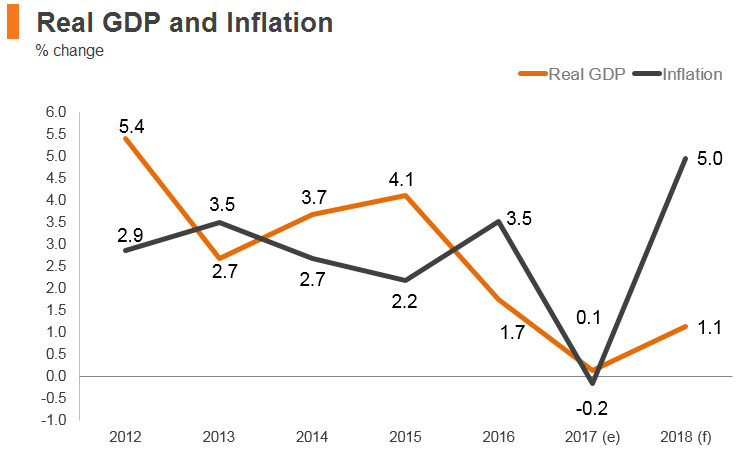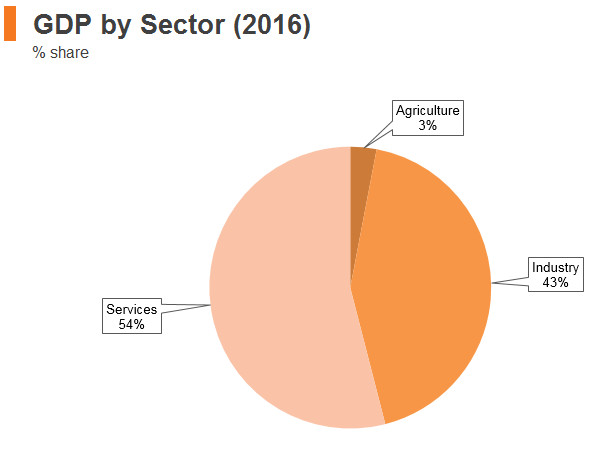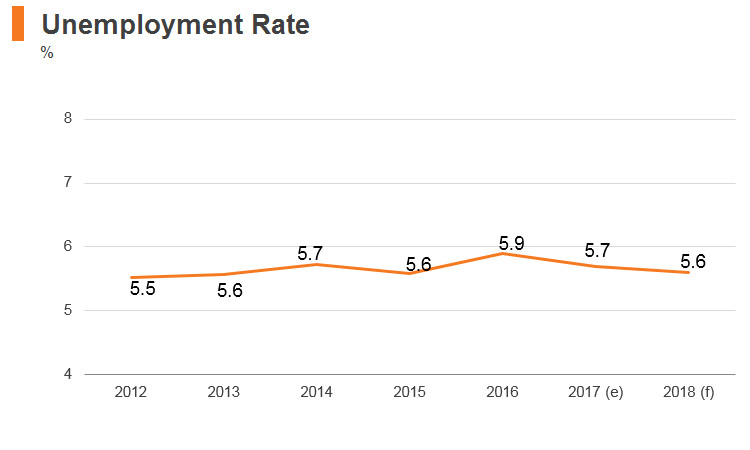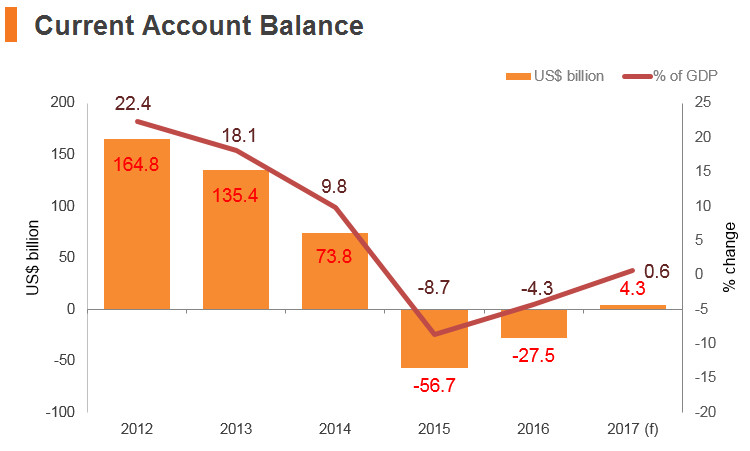 Note: (f) forecast
Sources: IMF, World Bank
4. External Trade
4.1 Merchandise Trade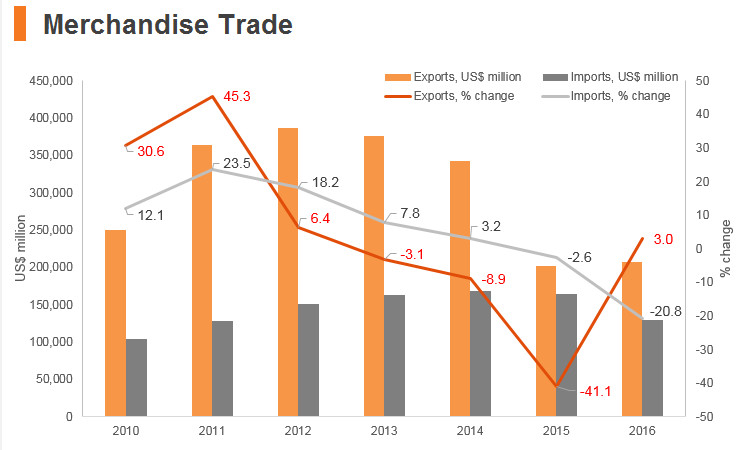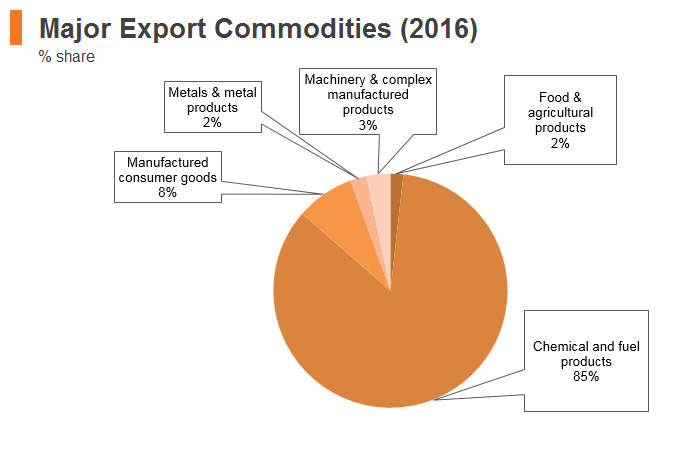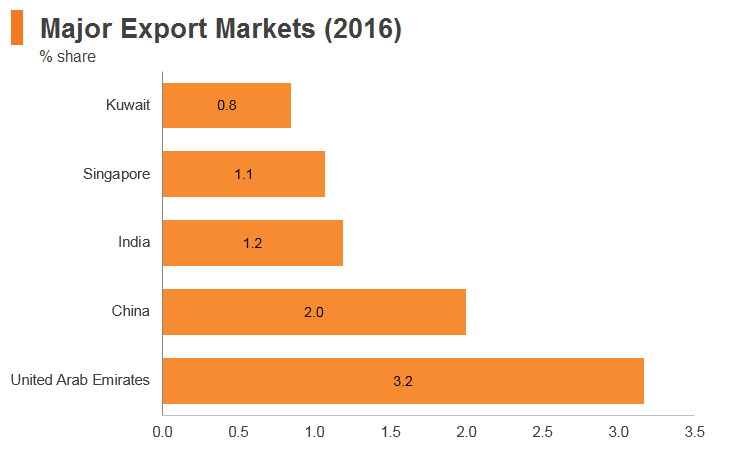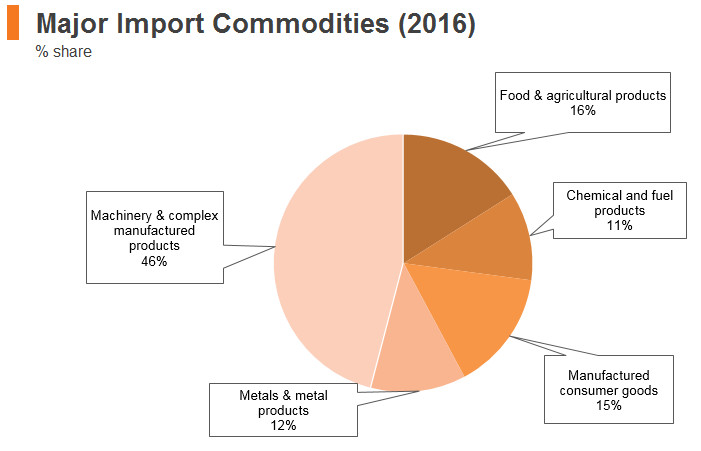 Sources: WTO, World Bank WITS database
4.2 Trade in Services
5. Trade Policies
Saudi Arabia has been a member of WTO since 11 December 2005.




The country's GCC membership means that it is part of a single market and customs union with a common external tariff. A tariff of only 5% is imposed on the majority of items imported to Saudi Arabia from non-GCC countries and there is a single point of entry where tariffs are collected once imports enter the GCC. Only imports on certain sensitive goods from GCC countries will face tariffs and there is freedom of movement between GCC countries without customs or non-customs restrictions.




Overall the average applied import tariff for goods entering Saudi Arabia is 3.4%. This is the second highest out of all six GCC states - tied with the Qatar and just behind the UAE which has an average applied tariff rate of 3.2%. While on average Saudi Arabia has some of the lowest import tariffs in the MENA region, there are significant non-tariff barriers to trade in the country.




For cultural and religious reasons, an import tariff of 200% is levied on cigarettes and tobacco products (GCC tariff).




VAT of 5% was introduced in January 2018.




Saudi Arabia has a domestic metal manufacturing industry which is protected by tariff measures.




For cultural and religious reasons, all imports of alcoholic beverages are banned.




Various import bans exist on sensitive goods such as high energy air-conditioners, cars older than five years, and equipment used in water desalination processes.




In order to import a wide variety of consumer goods (such as basic foodstuffs and packaged pharmaceutical products) to Saudi Arabia, special approval is required from the relevant government authority.
Source: WTO – Trade Policy Review
6. Trade Agreement
6.1 Trade Updates
In early 2017 the Saudi King commenced a month-long visit to the Asian region in order to strengthen trade, security and cultural ties.




Saudi Arabia has no major bilateral trade agreements and instead negotiates FTA's through its GCC membership.
6.2 Multinational Trade Agreements
Active
Saudi Arabia is a member of WTO (Effective date: 2005).




Greater Arab Free Trade Area (GAFTA) - (effective 2005) activates the Trade Facilitation and Development Agreement and eliminates most tariffs among the GAFTA members. The 17 members of GAFTA are: Algeria, Bahrain, Egypt, Iraq, Kuwait, Lebanon, Libya, Morocco, Oman, Palestine, Qatar, Saudi Arabia, Sudan, Syria, Tunisia, United Arab Emirates and Yemen. GAFTA was declared within the Social and Economic Council of the Arab League as an executive programme to activate the Trade Facilitation and Development Agreement and the elimination of most tariffs among the GAFTA members.

The GAFTA saw tariffs between 17 Arab states rapidly decline from an average 15% in 2002 to 6% in 2009.




Gulf Cooperation Council (GCC) (established in 1981) implemented a customs union that allows free movement of local goods among member states.

Saudi Arabia's trade with these countries is tariff-free. Members of GCC - other members are Bahrain, Oman, Qatar, Saudi Arabia, and the UAE. This agreement helps member states to leverage each others' industrial capacity and logistics networks.

The geographic proximity of these countries and their general adoption of free trade economic policies are factors that foster a competitive business environment.

In 2016, GCC exports amounted to over USD647.1 billion and Saudi led the group with USD298.7 billion, with the bulk consisting of oil and gas exports.

As member of the GCC, Saudi Arabia also has free trade agreement (FTA) with Singapore, New Zealand and the European Free Trade Association (EFTA).




GCC and European Free Trade Association (EFTA) - which comprises Iceland, Liechtenstein and Switzerland signed a FTA in 2010. The agreement covers the progressive elimination of tariffs in trade in services and manufactured goods as well as investment, and other trade-related issues such as protection of intellectual property, and is fully consistent with provisions of the World Trade Organisation.

In addition, bilateral arrangements on agricultural products between three individual EFTA States and the GCC form part of the instruments establishing the free trade area between both sides.




Singapore-GCC FTA (GSFTA) became effective in 2013. GSFTA eliminates most tariffs (99%) of Singapore's exports to the GCC. This is a comprehensive agreement covering trade in goods, rules of origin, customs procedures, trade in services and government procurement among others. Key sectors benefitting include telecommunication, electrical and electronic equipment, petrochemicals, jewellery, machinery and iron and steel-related industry. The recognition of the halal certification of Singapore's Majlis Ugama Islam Singapura (MUIS) will also pave the way for trade in halal-certified products to gain faster access to the GCC countries, such as Saudi Arabia.
Under Negotiation
Australia and the GCC share a significant economic relationship, encompassing trade and investment across a broad range of goods and services. The GCC is a key market for agricultural exports such a livestock, meat, dairy products, vegetables, sugar, wheat and other grains.

The agreement provides an opportunity to address a range of tariff and non-tariff barriers related to food exports that will benefit the food and drink sectors in Saudi Arabia.

With a large proportion of world petroleum resources and a rapidly growing population, the GCC's prospects for continued trade growth are strong.




In 2005, the US and Saudi Arabia signed into force the Trade and Investment Framework Agreement (TIFA), with the aim of regulating all commercial matters between member states. The bilateral agreement included sections on energy, transport, distribution, commerce, the environment, restaurants, post, agriculture and services.

The countries targeted to join MEFTA are: Algeria, Bahrain, Egypt, Iran, Iraq, and Israel (and through Israel, the Palestinian Authority), Jordan, Kuwait, Lebanon, Libya, Morocco, Oman, Qatar, Saudi Arabia, Syria, Tunisia and Yemen.

This includes a wide range of trade and investment issues such as market access, intellectual property rights, and labour and environmental issues.

MEFTA will help in growing commercial and investment opportunities by identifying and working to remove impediments to trade and investment flows between member states.

This expands the scope of markets for businesses in Saudi Arabia to export products to and will significantly reduce trade costs.




China and the GCC are also negotiating a trade agreement. Greater trade liberalisation will help develop the industrial and service sectors.

Saudi Arabia mainly exports commodities such as oil to China and imports electrical goods and machinery from China.
Source: WTO Regional Trade Agreements database
7. Investment Policy
7.1 Foreign Direct Investment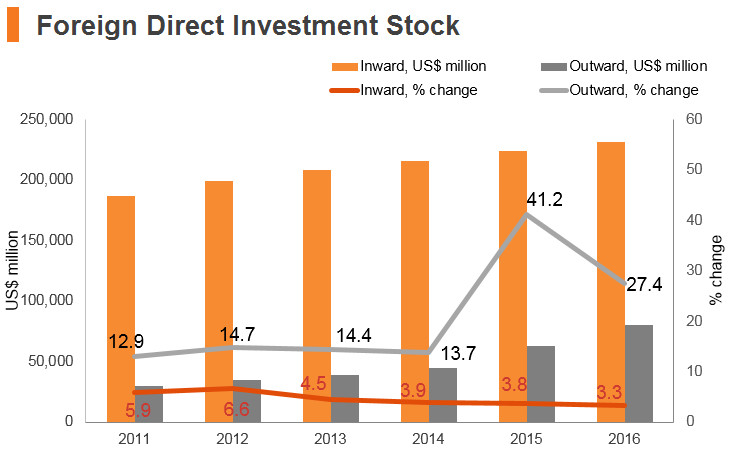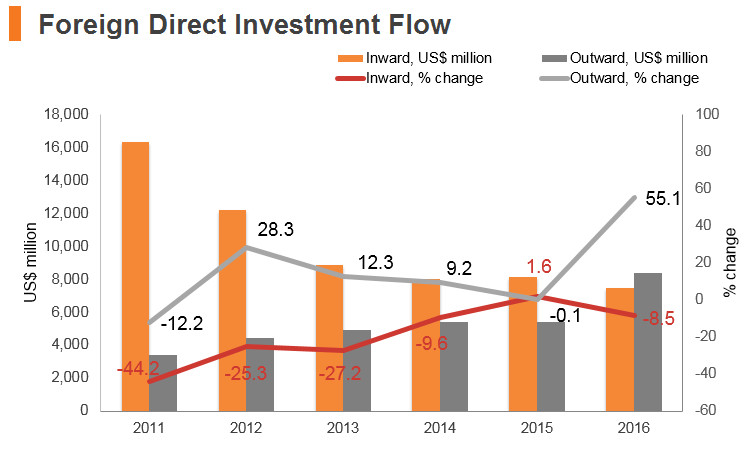 7.2 Foreign Direct Investment Policy
Government bodies that are responsible for FDI promotion, licencing and regulations - The Saudi Arabian General Investment Authority (SAGIA), established in 2000.




Related law and regulations on foreign investment are well established, however, some restrictions still remain for FDI such as limits on foreign ownership and business activity in core sectors of the Saudi Arabian such as upstream oil and gas production. Additional barriers include increasing localisation requirements, the dominance of state-owned entities in core sectors, and the various cultural and religious bans are in place.




Non-residents are permitted to own property without a Saudi partner or sponsor. Saudi investment law allows 100% ownership of projects by foreigners (except for activities ruled out by the negative list) and relaxes rules for sponsoring foreign employees.




Industries barred from foreign involvement are published in the country's negative investment list. This includes upstream oil production, manufacturing of military hardware, real estate in Mecca and Medina, recruitment and employment services, some printing and publishing activities, media services and land transportation.

In addition, special licensing requirements are in place for a wider range of industries, including pharmaceuticals, air and maritime transport, hydrocarbon exploration, ports, livestock farming, and advertising and media.




Local worker hiring requirements are also in place. Government efforts to encourage the employment of Saudi nationals over expatriates have been enshrined in a clear plan known as Nitaqat, by which every company is divided into a sector with a different quota for the employment of Saudi workers, depending on the size of the firm.

Those businesses meeting the criteria are classed as platinum or green, those failing are classed as yellow or red. Expatriate employees may move freely from the latter categories to the former (employers permission is usually required), while companies under the former categories gain advantages in terms of employing expatriate workers.




Though the law no longer requires that non-resident companies must find local partners, this method remains the most effective way of doing business in Saudi Arabia, as domestic entities will have a greater knowledge and experience of dealing with licensing, procurement and other bureaucratic procedures.




Saudi Arabia remains one of the most conservative Gulf States, especially in relation to admitting foreigners into the country and for women. The Kingdom still has no form of leisure tourism visa in place yet (though intends to introduce one in 2018), and all non-GCC foreigners wanting to enter the country still therefore need to have a local sponsor. Visas are currently only issued for business travel, for foreigners with Saudi Arabian relatives, for transit purposes and for religious pilgrimage purposes.




Privatisation schemes and the public listing of state-owned entities are aims outlined in Saudi Arabia's 'Vision 2030' document.
Sources: WTO – Trade Policy Review, The International Trade Administration (ITA), U.S. Department of Commerce
7.3 Free Trade Zones and Investment Incentives
Currently, there are four economic cities in Saudi Arabia:
Prince Abdulaziz Bin Mousaed Economic City (PABMEC)
PABMEC has an international airport, a supply chain centre and a multi-modal passenger station, dry ports with an annual capacity to handle over 1.5mn tons of cargo and an expanded railway system and road connections to the rest of the country as well as to Jordan and Iraq.This area will group a number of services through activities linked to stages of crop growing, harvesting and processing. There is also an agricultural research centre that aims at increasing output with the help of modern production plants.The education zone will be spread across 10sq km and is expected to serve nearly 40,000 students, including a knowledge centre featuring colleges, research centres, vocational and training centres, as well as public and private schools. There are also hotels, shopping centres and entertainment facilities as well as employment and living facilities, with 55,000 potential employment opportunities and up to 15,000 residential units.The area is expected to attract nearly 70,000 tourists annually, providing additional investment opportunities in hospitality and tourism-related industries.
Knowledge Economic City (KEC)
In the KEC, a central transportation station will connect the city with Prince Mohammed Bin Abdul Aziz International Airport and the city with Makkah, Yanbu, KAEC and Jeddah. There will also be advanced medical research facilities, residential and educational facilities.
King Abdullah Economic City (KAEC)
KAEC has a seaport covering an area of 14.0sq km with handling capacity of 20mn twenty-foot equivalent units (TEU), facilities to handle cargo and equipped to receive the world's largest vessels.There is also a multi-university campus designed to accommodate 18,000 students and residential zones.
Jazan Economic City (JEC)
In the JEC, the industrial port will provide an additional terminal on the Red Sea's coast, becoming one of the biggest ports in the region.
Main incentives avaliable:
100% foreign ownership of projects, including property required to support the business activities, in addition to owning private residences and employee accommodation.
No restrictions on sponsoring foreign employees.




Ability to carry forward losses indefinitely.




Indefinite exemption from all income taxes.




Minimum capital requirement and no restrictions on repatriation of capital.




Accelerated investment application, business registration and setup process, with a guaranteed decision for foreign investment applications within 30 days of submission to SAIGA.




No personal income tax and a minimal 20% corporate tax for foreign companies.




Moderate utilities rates.




No export duties within the 17 countries of the Greater Arab Free Trade Area.




Few restrictions on currency conversion, exchanges and transfers.




Duty drawback, a customs refund for raw material imports that are processed and exported as finished goods.




Preferential treatment for national products in Saudi Government procurement.




Export credit, financing, guarantees and insurance through the Saudi Export Programme.




Financial support for the training and employment of Saudis from the Human Resources Development Fund.




Low-cost loans from the Saudi Industrial Development Fund and Public Investment Fund.




Customs duties exemption on imported machinery, equipment, raw materials and spare parts, if they are for industrial use.




Low land rental and utilities rates - net leasing rate/annum: SAR700/sq m; service charge: SAR120/sq m (total service charge: SAR820/sqm, to be paid annually in advance on a quarterly basis).




Exemption from import fees for selected raw materials imported for manufacturing products.
Contract term - minimum two years; no escalation during the first two years; year three onward: 5% per annum.




Modern infrastructure and education facilities.
8. Taxation – 2017

Value added tax: 5%
Corporate income tax: 20%
Source: PwC Taxes at a Glance 2017
8.1 Important Updates to Taxation Information
Saudi Arabia has double taxation agreements (DTA) and Investment Promotion & Protection Agreement (IPPA) with the China (mainland) and concluded the DTA with Hong Kong in August 2017.




The GCC states signed the GCC unified VAT and Excise Treaties on February 1 2017. Under this, the GCC states have until January 1 2019 to implement VAT. From January 1 2018, a VAT rate of 5% has been applicable to the sale of most goods and services in Saudi Arabia with some exceptions of medical treatment, financial services and public transport services.
8.2 Business Taxes
| | |
| --- | --- |
| Type of Tax | Tax Rate and Base |
| Corporate Income Tax | 20% (standard rate); 30%-85% (natural gas sector); 85% (oil sector). |
| Dividends | 5% on net earnings (except distribution by companies in oil and gas sector). |
| Real Property Gains Tax | Treated as taxable income; gains on depreciable assets and on certain securities are exempt. |
| Dividends | 5% on vast majority of goods and services (with the exception of medical treatment, financial services and public transport) from January 1 2018. |
| Zakat (Religious levy, imposed on the shareholders in Saudi Arabian companies that are Saudi or GCC nationals) | 2.5% on Zakat base. |
| Social security contributions - payable by employer | 9% for insurance relating to old age, disability and death; 1% for unemployment (applicable to Saudi employees only). |

9. Foreign Worker Requirements
9.1 Localisation Requirements
The Saudi Arabian government has launched a local workforce hiring localisation policy called 'Saudisation', which is intended to boost the employment of Saudi nationals and reduce reliance on foreign labour. In line with Saudi Arabia's economic diversification strategy 'Vision 2030', the Saudi Arabian government has ramped up the enforcement of its 'Saudisation' policies in order to try and achieve its aim of 50% of all employment in the country's private sector to be occupied by Saudi Nationals. Employers must consider Saudi nationals for any positions before they hire a foreign worker. Before a company can apply for a work permit for a foreign national they want to employ, they must advertise the job opening for two weeks on a government jobs portal.
Certain positions are reserved strictly for Saudi nationals and businesses must pay certain charges for every foreign national they hire. There are also specific 'Saudisation' targets set for specific firms or sectors, and if these are not complied with there is strong potential for businesses not to get the work permits of their foreign workers renewed or to be denied work permits for new foreign employees.
9.2 Obtaining Foreign Worker Permits for Skilled Workers
Applicants must have an offer of employment by an employer willing to sponsor their application and from there the applicant must provide proof of education qualifications and various medical records.
9.3 Visa/Travel Restrictions
The Saudi Arabian government has a strict policy towards non-GCC citizens and all citizens of non-GCC states must apply for a visa before entering the country. In order to be granted a visa to enter Saudi Arabia (only for business, medical or religious purposes) the applicant must be sponsored by a Saudi national. Saudi Arabia still has no form of leisure tourism visa in place yet (though intends to introduce one in 2018), and all non-GCC foreigners wanting to enter the country still therefore need to have a local sponsor.
9.4 Kafala Sponsorship System
This system mainly affects sectors such as construction and manufacturing which require access to significant amounts of semi-low skilled labour. Under this system workers require their employer's permission to leave the country and in most cases if they want to change employers.
10. Risks
10.1 Sovereign Credit Ratings
| | | |
| --- | --- | --- |
| | Rating (Outlook) | Rating Date |
| Moody's | A1 (Stable) | 29/09/2017 |
| Standard & Poor's | A-/A-2 (Stable) | 17/02/2016 |
| Fitch | A+ (Stable) | 22/03/2017 |
Sources: Moody's, Standard & Poor's, Fitch Ratings
10.2 Competitiveness and Efficiency Indicators


World Ranking

2016
2017
2018
Ease of Doing Business Index

94/189

92/190

92/190

Ease of Paying Taxes Index

3/189

69/190
76/190
Logistics Performance Index

52/160

N/A
N/A
Corruption Perception Index

62/176

57/180
N/A
IMD World Competitiveness
36/63
36/63
N/A
Sources: World Bank, IMD, Transparency International
10.3 BMI Risk Indices


World ranking
2016
2017
2018
Economic Risk Index Rank
42/202
Short-Term Economic Risk Score
51.5
58.8
64.4
Long-Term Economic Risk Score
66.3
65.7
66.5
Political Risk Index Rank
118/202
Short-Term Political Risk Score
70.8
72.5
72.5
Long-Term Political Risk Score
58.1
56.7
58.7
Operational Risk Index Rank




52/201
Operational Risk Score
61
61.7
61.5
Source: BMI Research
10.4 BMI Risk Summary
ECONOMIC RISK
Saudi Arabia's economic fortunes are heavily tied to global hydrocarbon prices. While Brent prices have started to recover since 2016, any renewed slump in prices would have a negative impact on the government's financial commitments towards infrastructure and social services. Meanwhile, failure by the government to deliver on economic reforms - for instance the lack of progress for the listing of 5% of national oil company Saudi Aramco - could lead to a deterioration in investor sentiment.
OPERATIONAL RISK
Saudi Arabia is as an attractive proposition for foreign investors on account of its status as the region's largest economy, its minimal tax burden and strong information and communications technology performance. Overall, Saudi Arabia offers comparatively low risks to investors with regards to the good quality of its transport network and utilities costs, the comparatively limited bureaucracy surrounding trade flows (reducing the risk of delays and high costs), low crime rates and limited employment costs owing to the lack of an official minimum wage. However, incoming businesses face significant labour market risks due to a small domestic labour force with basic numeracy and literacy skills, a lack of female workers and rising government focus on the Saudisation of the workforce, which restricts the number of skilled foreign labourers. Investors also face significant risks of interstate conflict and terrorism due to ongoing regional and religious tensions.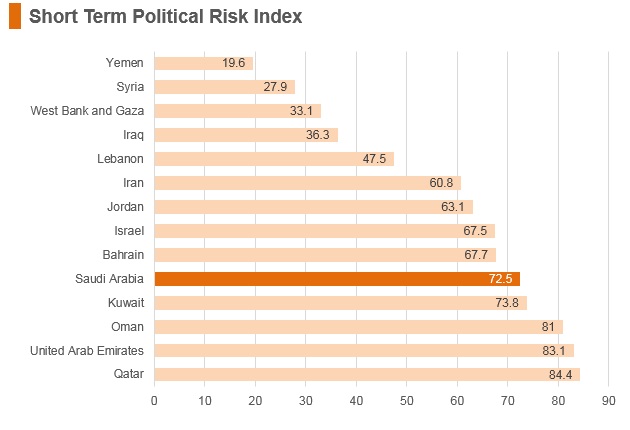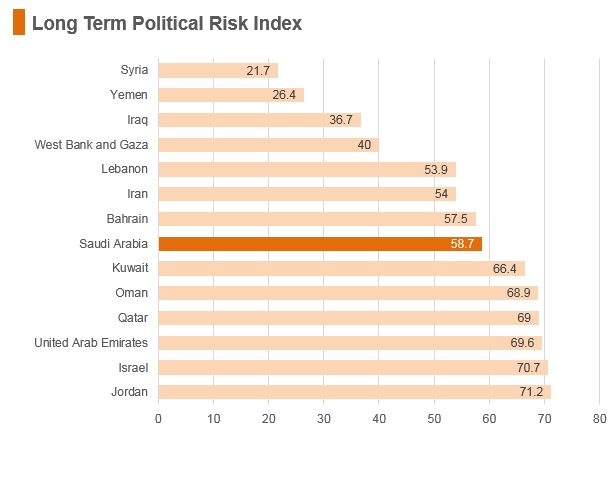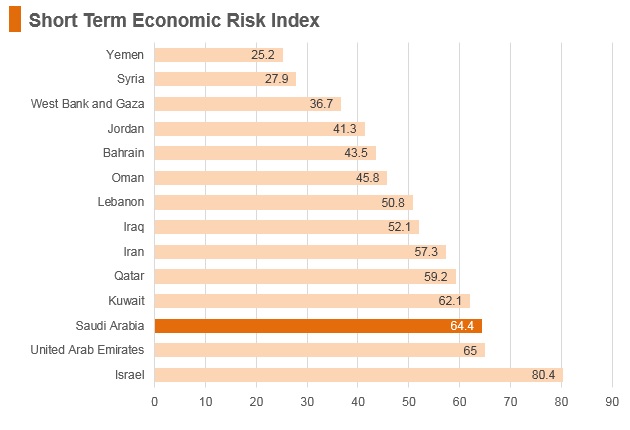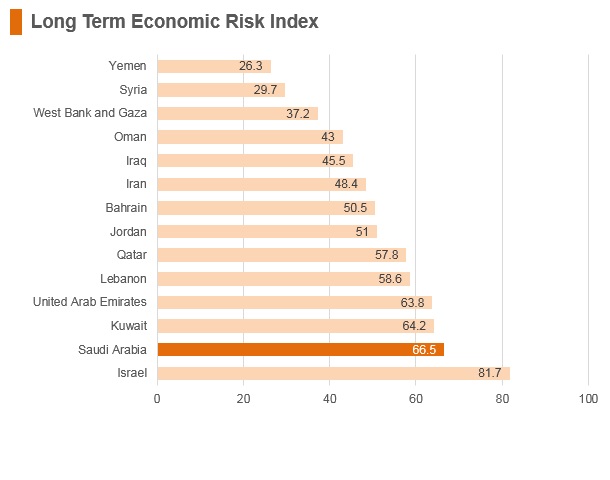 10.5 BMI Operational Risk Index
| | | | | | |
| --- | --- | --- | --- | --- | --- |
| | Operational Risk | Labour Market Risk | Logistics Risk | Trade and Investment Risk | Crime and Security Risk |
| Saudi Arabia Score | 61.8 | 63 | 63.2 | 61.8 | 59.2 |
| MENA Average | 47.4 | 49.3 | 48.4 | 48.1 | 43.9 |
| MENA Position (out of 18) | 5 | 3 | 5 | 5 | 5 |
| MENA Average | 47.4 | 49.3 | 48.4 | 48.1 | 43.9 |
| MENA Position (out of 18) | 5 | 3 | 5 | 5 | 5 |
| Global Average | 49.8 | 49.8 | 49.3 | 50 | 49.9 |
| Global Position (out of 201) | 52 | 24 | 46 | 54 | 66 |
100 = Lowest risk, 0 = Highest risk
Source: BMI Operational Risk Index

| | | | | | |
| --- | --- | --- | --- | --- | --- |
| Country | Operational Risk | Labour Market Risk | Logistics Risk | Trade and Investment Risk | Crime and Secruity Risk |
| United Arab Emirates | 73.8 | 67.8 | 72.5 | 79.6 | 75.1 |
| Qatar | 66.3 | 63.9 | 67.8 | 63.1 | 70.5 |
| Saudi Arabia | 61.8 | 63 | 63.2 | 61.8 | 59.2 |
| Kuwait | 55.3 | 52.3 | 51.1 | 51.7 | 66.2 |
| Bahrain | 64.1 | 58.4 | 71.1 | 68.5 | 58.5 |
| Jordan | 58.0 | 54.9 | 59.7 | 59.1 | 58.3 |
| Iran | 42.9 | 48.7 | 51.2 | 38.3 | 33.3 |
| Lebanon | 43.0 | 47.9 | 40.6 | 50 | 33.6 |
| Oman | 63.2 | 51.0 | 66.4 | 59.8 | 75.4 |
| Iraq | 27.3 | 43.7 | 28.8 | 25.2 | 11.5 |
| West Bank and Gaza | 33.7 | 46.4 | 30.2 | 36.8 | 21.5 |
| Syria | 28.1 | 42.9 | 26.4 | 30 | 12.9 |
| Yemen | 21.6 | 30.6 | 17.3 | 23 | 15.6 |
| Morocco | 53.6 | 39.8 | 55.2 | 62.0 | 57.2 |
| Tunisia | 47.1 | 42.3 | 46.9 | 52.4 | 46.7 |
| Egypt | 45.8 | 46.0 | 53.5 | 46.4 | 37.4 |
| Algeria | 39.9 | 44.0 | 39.8 | 31.7 | 44.2 |
| Libya | 28.3 | 44.4 | 29.3 | 26.0 | 13.5 |
| Regional Averages | 47.4 | 49.3 | 48.4 | 48.1 | 43.9 |
| Emerging MarketsAverages | 50.4 | 53.7 | 51.1 | 50.7 | 46.4 |
| Global Markets Averages | 47 | 48.5 | 45.8 | 47.5 | 46.1 |
Note: Higher score = Lower risk
Source: BMI Operational Risk Index
11. Hong Kong Connection
11.1 Hong Kong's Trade with Saudi Arabia
| | | |
| --- | --- | --- |
| | 2015 | Growth rate(%) |
| Number of Saudi residents visiting Hong Kong | 18,685 | -0.9 |
| Number of Saudi residents in Hong Kong | N/A | N/A |
Sources: Hong Kong Tourism Board, Hong Kong Immigration Department
| | | |
| --- | --- | --- |
| | 2017 | Growth rate(%) |
| Number of GCC residents visiting Hong Kong | 38,629 | -22.7 |
| Number of Saudi residents in Hong Kong | N/A | N/A |
11.2 Commercial Presence in Hong Kong


2016

Growth rate(%)

Number of Saudi Arabian companies in Hong Kong
N/A

N/A
- Regional headquarters
- Regional offices
- Local offices
Source: Hong Kong Census & Statistics Department
11.3 Treaties and agreements between Hong Kong and Saudi Arabia
Double Taxation Avoidance Agreements (DTAs)
Investment Promotion and Protection Agreements/Investment Agreements (IPPAs)
Source: Hong Kong Department of Justice
11.4 Chamber of Commerce (or Related Organisations) in Hong Kong
The Arab Chamber of Commerce & Industry
The Arab Chamber of Commerce & Industry (ARABCCI) was established in Hong Kong 2006 as a leading organization at promoting commercial ties between Hong Kong/Greater China and the Arab World. From a base of 8 founding member companies, ARABCCI has now evolved to include an ever-growing number of members. The Chamber is run by business experts for business professionals, dedicated to opening enormous trade opportunities by providing extensive information and professional services to our members.
Address: 20/F, Central Tower, 28 Queens Road, Central, Hong Kong SAR
Website: www.arabcci.org/home.htm
Email: info@arabcci.org, secretariat@arabcci.org
Tel: (852) 2159 9170
Sources: Directory of Hong Kong Trade and Industrial Organisations, Hong Kong Trade and Industry Department
Saudi Consulate in Hong Kong
Address: Suite 6401, Central Plaza, 18 Harbour Rd, Wan Chai, Hong Kong
Website: http://embassies.mofa.gov.sa/sites/China/EN/HongKong/Pages/default.aspx
Email: info@saudiconsulate.org.hk
Hours of Business: Monday to Friday, 9:00 a.m.-5:00 p.m.
Honorary Consul: Mr. Omar bin Bakheet bin Nasser Al-Bunayan
Tel: (852) 2520 3200
Fax: (852) 2520 3266
Source: Hong Kong Protocol Division of Government Secretariat
11.5 Visa Requirements for Hong Kong Residents
Visa application must be completed prior to travel. Visas are currently only issued for business travel, for foreigners with Saudi Arabian relatives, for transit purposes and for religious pilgrimage purposes.
Source: Visa on Demand
Saudi Arabia
Middle East