Indonesia: Market Profile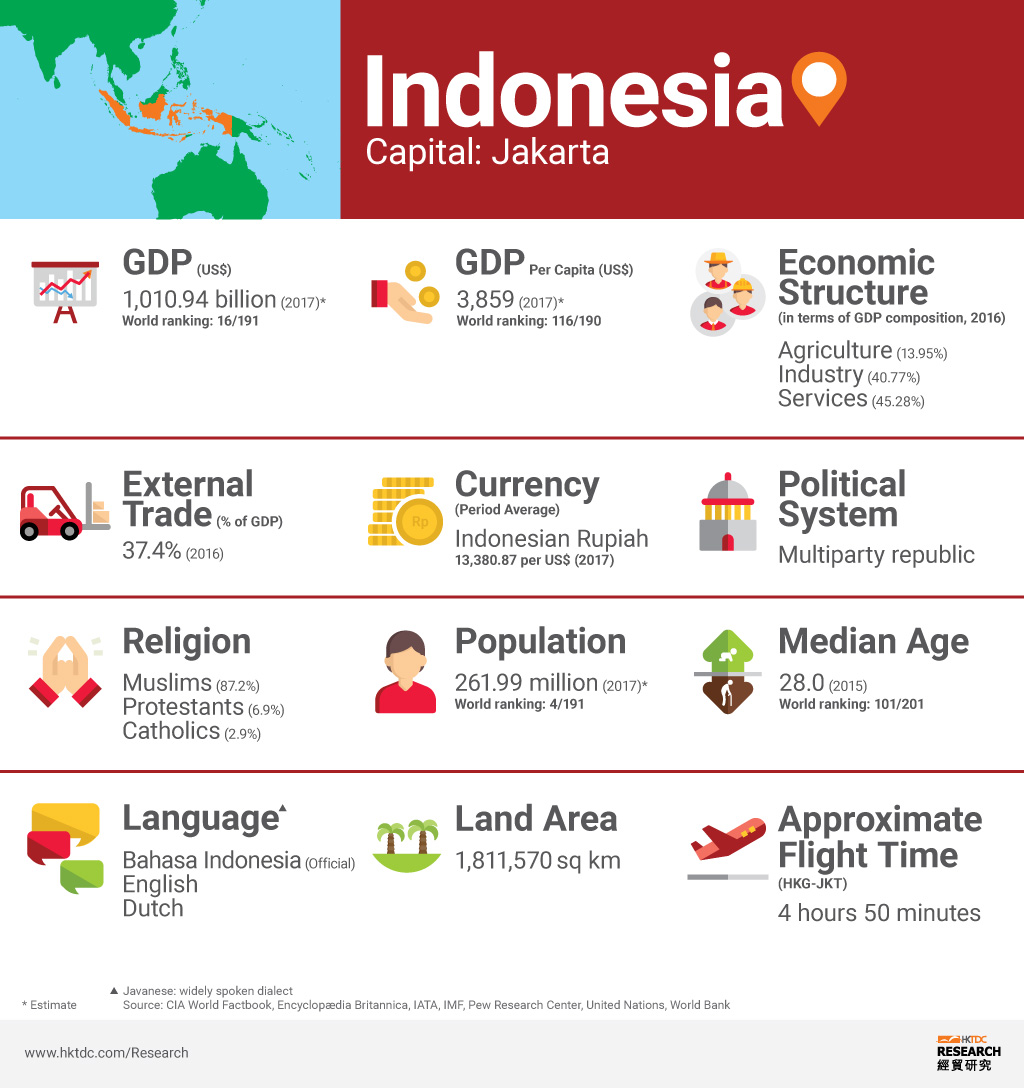 1. Overview
Indonesia is the world's fourth most populous nation. The country's economic planning follows a 20-year development plan, spanning from 2005 to 2025. It is segmented into 5-year medium-term plans, called the RPJMN (Rencana Pembangunan Jangka Menengah Nasional) each with different development priorities. The current medium-term development plan – the third phase of the long-term plan – runs from 2015 to 2020. It focuses on, among others, infrastructure development and social assistance programs related to education and healthcare. To strengthen the country's investment climate and economic growth, the government continues to announce policy reforms intended to cut red-tape.
2. Major Economic/Political Events and Upcoming Elections
June 2018
Regional and local elections to be held to elect 17 governors, 39 mayors and 115 regents across the country. There will be elections for Indonesia's four most populous provinces: West Java, East Java, Central Java and North Sumatra.
Source: BBC country profile – Timeline, BMI Political Risk Analysis
3. Major Economic Indicators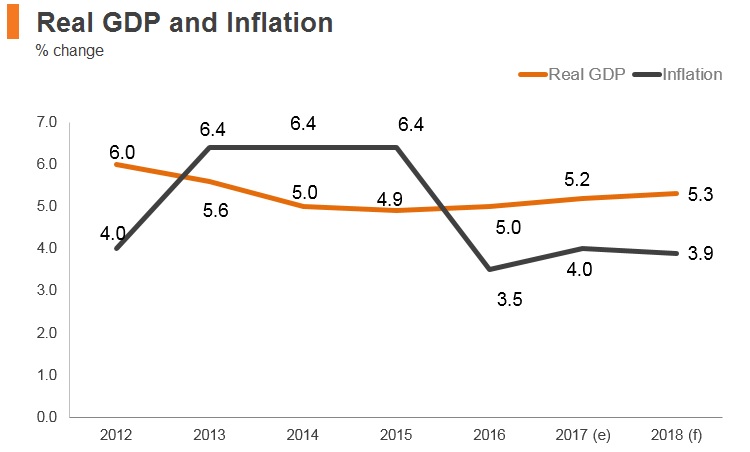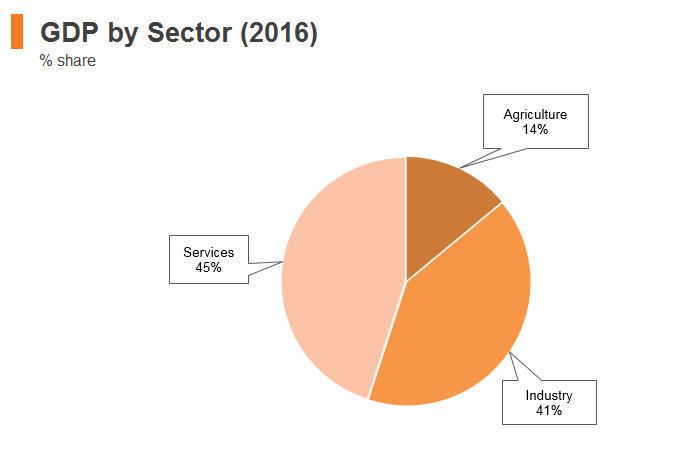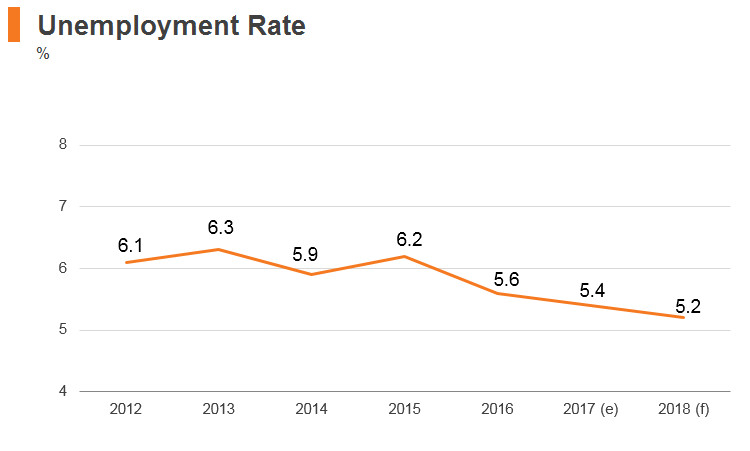 Note: (f) forecast
Source: IMF, World Bank
4. External Trade
4.1 Merchandise Trade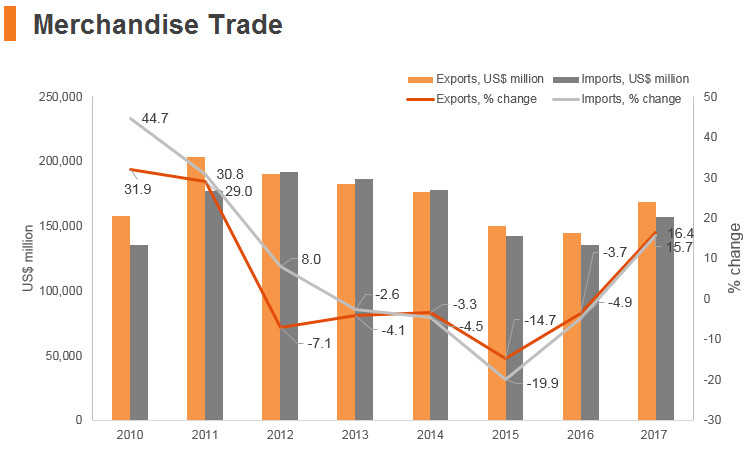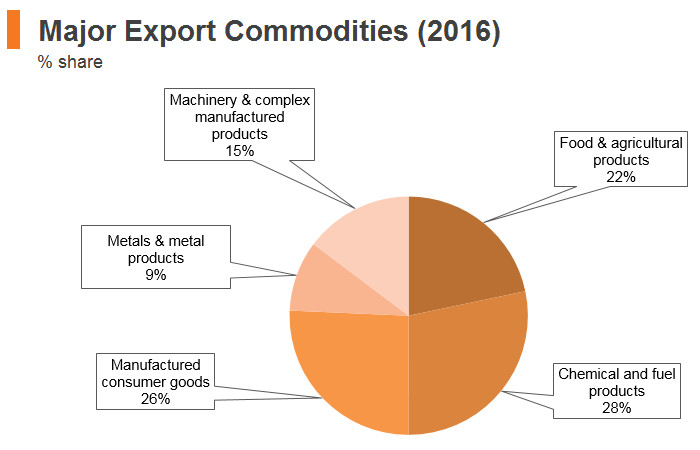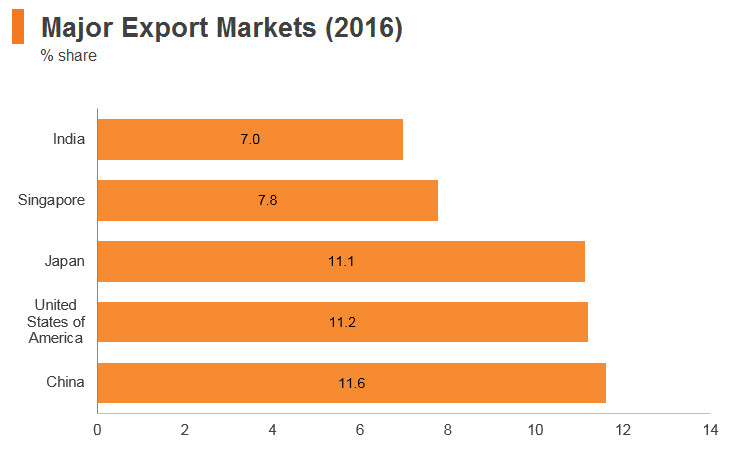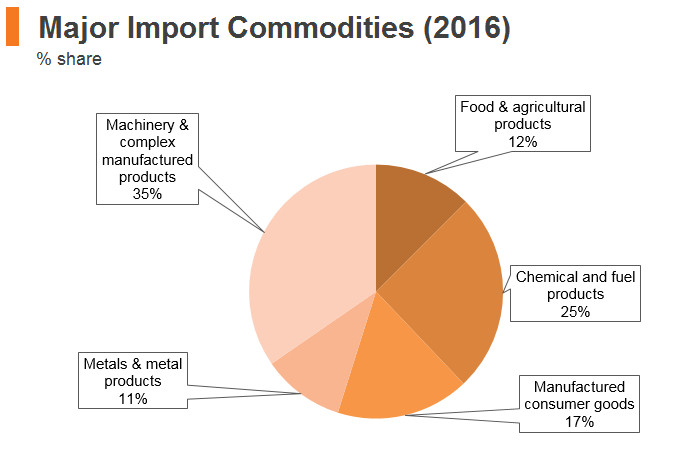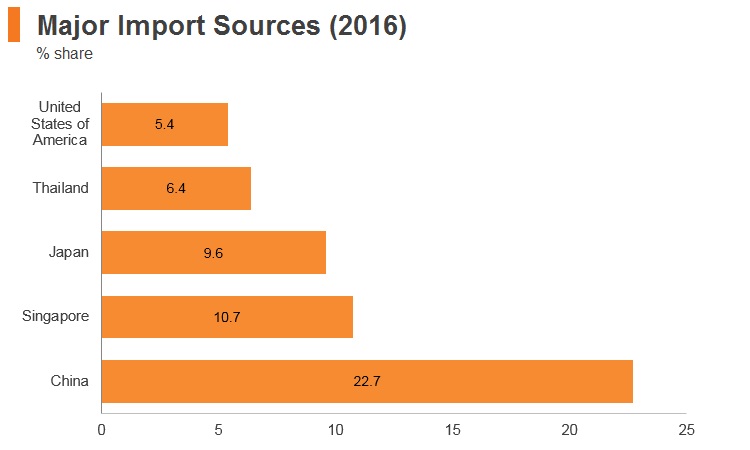 Source: WTO, World Bank WITS database
4.2 Trade in Services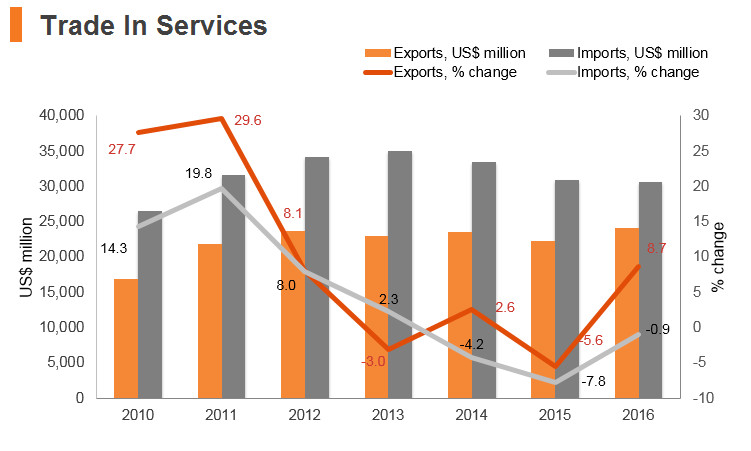 5. Trade Policies
Indonesia has been a member of WTO since 1 January 1995.




Indonesia is a member of the Association of South East Asian Nations (ASEAN) and a signatory to the ASEAN Free Trade Agreement, which aims to reduce tariff and non-tariff barriers to trade between member states. ASEAN has also negotiated free trade agreements with Australia, New Zealand, China, India, South Korea and Japan. The latter has a separate bilateral free trade agreement with Indonesia.




While Indonesia's membership in numerous regional and economic bloc and FTA arrangements has resulted in the country having a very low applied average tariff rate of 2.3% (which is the lowest out of 14 East and South East Asian countries after Hong Kong and Singapore), there are numerous other barriers to trading with the country. There is significant trade bureaucracy (time and costs) involved for supply chains both when exporting out of and importing in to Indonesia.




Import tariffs are mostly imposed on an ad valorem basis in Indonesia. The import duty ranges between 0-20% for most items, except for certain items such as alcohol, tobacco and cars, which face duties up to 150%.




VAT is applicable on deliveries (sales) of goods and services within Indonesia at a rate of 10%. VAT on export of goods is zero-rated while the import of goods is subject to VAT at a rate of 10%.




The average applied MFN tariff is 7.8% for non-agricultural products and 8.4% for agricultural imports. More than 85% of tariff rates are currently in the range of zero to 10%. In line with long-standing sectoral support, the highest tariffs apply mainly to motor vehicles.




In January 2017, Indonesia relaxed the ban on unprocessed mineral exports in an attempt to boost the economy and ease budgetary pressures. The ban was implemented in 2014 to promote the domestic mineral processing industry and encourage exports of higher value-added mineral products.
Source: WTO – Trade Policy Review
6. Trade Agreement
6.1 Trade Updates
In April 2018, the African Export-Import Bank (Afreximbank) and the Indonesia Eximbank entered into an agreement to commit up to USD100mn to support businesses and trade activities between Indonesia and African countries.




In July 2017, it was reported that Australia and Indonesia are seeking to fast-track the commencement of a Free Trade Agreement (FTA) between them which has been stalling for a number of years.
6.2 Multinational Trade Agreements
Active
Indonesia is a member of WTO. (Effective date: January 1995)

ASEAN Free Trade Agreement (Effective date: January 1993) reduces tariff and non-tariff barriers between member states; in particular, Indonesia's trade with Malaysia and Singapore are significantly boosted. The 10 members of the ASEAN Free Trade Agreement are: Brunei, Indonesia, Malaysia, Philippines, Singapore, Vietnam, Laos, Myanmar, Indonesia and Cambodia.

ASEAN-China (Effective date: January 2005 for goods and July 2007 for services) is a comprehensive economic cooperation between ASEAN member states and China. The goal of the agreement is not just eleminating tariffs, but it also seeks to address behind-the-border barriers that impede the flow of goods and services.

Japan-Indonesia Economic Partnership Agreement (Effective date: July 2008) is aimed at facilitating, promoting and liberalising trade in goods and services between the parties. Japan is Indonesia's third largest export and third largest import partner; this FTA provides a strong boost to trade ties and helps the country balance its reliance on China.

ASEAN-6 FTA (Effective date: 2010) An economic partnership of the members of the Association of Southeast Asian Nations plus Australia, China, India, Japan, New Zealand, and South Korea. It has largely established a free trade area, having eliminated import duties on 99% of products on the ASEAN Inclusion List. For Cambodia, Laos, Myanmar, and Vietnam, collectively referred to as CLMV, 49.27% of the Tariff Lines in the Inclusion List are already at 0%.

Pakistan-Indonesia Free Trade Agreement (Effective date: September 2013) allows Indonesia to offer market access to Pakistan for 216 products at preferential rates, including fresh fruits, cotton yarn, cotton fabrics, ready-made garments, sports items and leather goods. Pakistan's offer list to Indonesia includes a total of 287 tariff lines at preferential tariffs, and it also agreed to give the same treatment to Indonesian palm oil products as provided to Malaysia under the Pakistan-Malaysia Free Trade Agreement. In addition, Indonesia will cancel its tariffs on imports from Pakistan of the regionally-important citrus fruit, kinnow (a type of mandarin), creating a level-playing field in the Indonesian market for this product, which is produced in both Pakistan and India.

ASEAN-Republic of Korea Comprehensive Economic Cooperation Agreement (Effective date: July 2007) allows 90% of the products being traded between ASEAN and South Korea to enjoy duty-free treatment.

Preferential Tariff Arrangement-Group of Eight Developing Countries (Effective date: August 2011) involves countries that are members of the D-8 Organisation for Economic Cooperation, namely Indonesia, Malaysia, Bangladesh, Pakistan, Iran, Egypt, Turkey and Nigeria. Objective of the member countries is to reach a preferential Trade Agreement to enhance intra-trade and to reach an agreement on administrative assistance in customs matters to support the preferential Trade Agreement.

ASEAN-India Comprehensive Economic Cooperation Agreement (Effective date: January 2010) involves the liberalisation of tariffs on over 90% of products traded between the two regions, including the so-called "special products," such as palm oil (crude and refined), coffee, black tea and pepper.

ASEAN-Australia and New Zealand Free Trade Agreement (Effective date: January 2010) aims to eliminate tariffs on 99% of exports to key ASEAN markets by 2020.

ASEAN member states and Hong Kong signed a free trade agreement in November 2017 (expected to enter into force on 1 January 2019 the earliest). The deal aims to cover all aspects of trade in goods, such as tariffs; rules of origin; non-tariff measures; customs procedures and trade facilitation; trade remedies; technical barriers to trade; and sanitary and phytosanitary measures.
Under Negotiation
India-Indonesia Comprehensive Economic Cooperation Arrangement seeks to expand and develop bilateral relations and cooperation in the fields of trade, industry, investment and other economic fields.

Indonesia-Australia Comprehensive Economic Partnership Agreement presents potential for increased trade in services with Indonesia. Given the nature of the two economies, services trade is likely to comprise a larger proportion of Australia's total exports than with other countries.

Indonesia-European Free Trade Association Free Trade will help Indonesia penetrate the European market and increase investment flows from EFTA member states Iceland, Norway, Switzerland and Liechtenstein into the Southeast Asia country.

Indonesia-Turkey FTA will seek remove factors that hinder trade with Turkey, including import and export duties of some commodities.

Regional Comprehensive Economic Partnership (RCEP) is a proposed free trade agreement (FTA) between the 10 member states of the Association of Southeast Asian Nations (ASEAN) (Brunei, Cambodia, Indonesia, Laos, Malaysia, Myanmar, the Philippines, Singapore, Thailand, Vietnam) and the six states with which ASEAN has existing free trade agreements (Australia, China, India, Japan, South Korea and New Zealand). RCEP will cover trade in goods, trade in services, investment, economic and technical co-operation, intellectual property, competition, dispute settlement and other issues.

Indonesia-Chile Free Trade Agreement will lead to the gradual removal by the Indonesian government of tariffs on 9,308 products with a further 590 products seeing tariffs reduced by either 25% or 50% on the current rate. At the same time, Chile will remove tariffs on 7,660 items, 78% of them immediately after the trade deal enters into force, 2.1% at the beginning of its fourth year and 9.2% in the sixth year.
Source: WTO Regional Trade Agreements database
7. Investment Policy
7.1 Foreign Direct Investment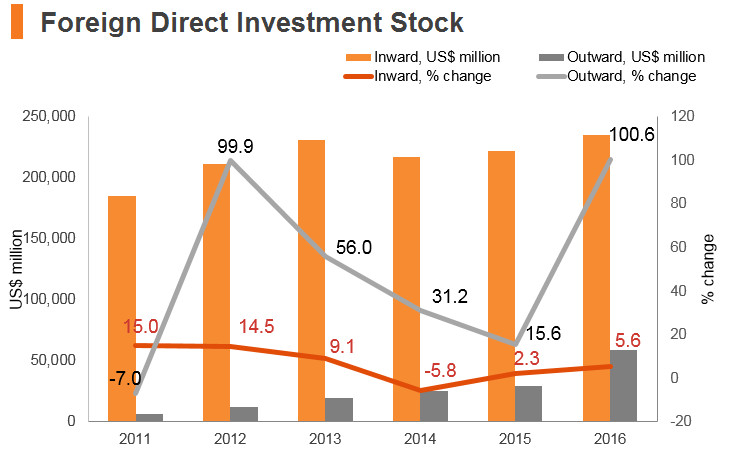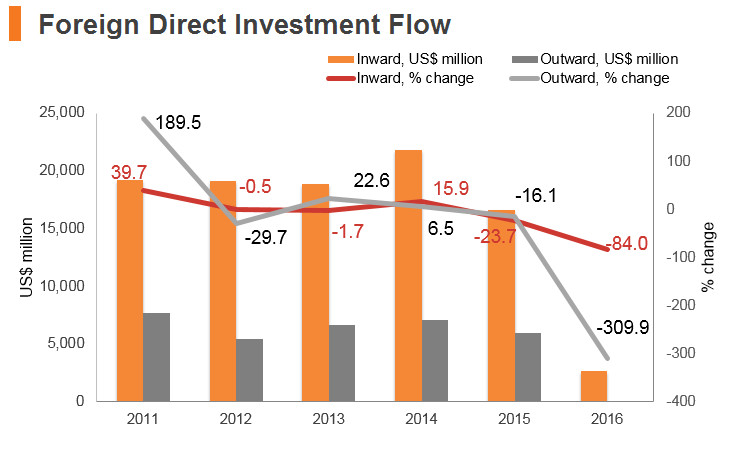 7.2 Foreign Direct Investment Policy
Government body that is responsible for FDI promotion, licencing and regulations - The Investment Coordination Board, or BKPM, serves as an investment promotion agency, a regulatory body, and the agency in charge of approving planned investments in Indonesia.

Indonesia restricts foreign investment in some sectors through a Negative Investment List.The Negative Investment List aims to consolidate FDI restrictions from numerous decrees and regulations, in order to create greater certainty for foreign and domestic investors. There are a few business operations in which foreigners are explicitly barred from participating. These include production of alcoholic beverages, and the ownership of public museums, historical sites and casinos. In addition, FDI to other sectors faces a variety of restrictions, most of which include requirements for special licenses and/or caps on foreign ownership. Some of these more restricted industries include forestry, tourism, telecommunications, energy, mining and finance.

Foreigners cannot effectively own land in Indonesia in both urban and rural settings. They can obtain formal rights to use the land for a certain period for purposes such as mineral expropriation, agriculture, building and commercial purposes by forming a legal entity (company) incorporated according to Indonesian law and domiciled in Indonesia. Businesses can purchase apartments and office space in Indonesia valid for a period of time, if various stringent stipulations are complied with. It still remains a difficult and time onerous process.

In order to conduct business in Indonesia, foreign investors must be incorporated as a foreign-owned limited liability company in Indonesia (PMA). Investors are also required to participate in the Workers Social Security Program or BPJS.

Foreign investors are generally prohibited from investing in micro, small and medium enterprises (MSMEs) in Indonesia, although the 2016 Negative Investment List opened some opportunities for partnerships in farming, catalog and online retail.

The Indonesian government is attempting to ensure that it maintains a stake in the exploitation of the country's national resources, by starting to maintain that foreign-owned mining companies must gradually divest over ten years 51% of shares to Indonesian interests, with the price of divested shares determined based on fair market value and not taking into account existing reserves. Under new proposed oil and gas laws, the state's national oil company will have right of first refusal over any new oil and gas contract in Indonesia.

The Indonesian government expects foreign investors to contribute to the training and development of Indonesian nationals, allowing the transfer of skills and technology required for their effective participation in the management of foreign companies. As a general rule, a company can hire foreigners only for positions that the government has deemed open to non-Indonesians. Employers must have training programs aimed at replacing foreign workers with Indonesians.
Sources: WTO – Trade Policy Review, The International Trade Administration (ITA), U.S. Department of Commerce
7.3 Free Trade Zones and Investment Incentives
Free Trade Zone/Incentive Programme
Main Incentives Available
Batam Island Free Trade Zone (FTZ)
• Largest FTZ located just south of Singapore (bonded zone).
• Investors are not required to apply for additional implementation licenses (location, construction, and nuisance act permits and land titles).
• Foreign companies allowed 100% ownership.
• Import duty, income tax, VAT and sales tax exemption on imported capital goods.

8. Taxation – 2017

Value added tax: 10%
Corporate income tax: 25%
Source: PwC Pocket Tax Book 2017
8.1 Important Updates to Taxation Information
Effective from March 5 2018, all companies, foundations, limited partnerships and other types of corporations in Indonesia must disclose at least one person as their beneficial owner upon registering for business.




In January 2018, Indonesian government announced plans to introduce a 57% excise tax on e-cigarettes effective from 1 July 2018.




In 2017, Indonesian President Joko Widodo signed a new regulation giving tax authorities access to information on accounts held at financial institutions, including banks.
8.2 Business Taxes
| | |
| --- | --- |
| Type of Tax | Tax Rate and Base |
| Corporate Income Tax | Corporate tax is imposed at a flat rate of 25%. This rate applies to Indonesian companies and foreign companies operating in Indonesia through a permanent establishment. |
| Capital Gains Tax | Capital gains derived by residents are included in taxable income and are subject to tax at a rate of 25% on profits. Capital gains derived by non-residents are subject to tax at a rate of 20%. |
| Withholding Tax (Dividends) | Dividends paid domestically to Indonesian resident corporate taxpayers are subject to withholding tax at a rate of 15%. Dividends received by Indonesian resident individuals are subject to a final tax of 10%. Dividends remitted to overseas shareholders are subject to a final 20% withholding tax, unless an applicable tax treaty provides a lower rate. |
| Withholding Tax (Interest, Royalities) | Residents are subject to a creditable withholding tax of 15% with any balance being payable or refundable, while non-residents are subject to a final withholding tax of 20%. |
| Withholding Tax (Branch Profits Tax) | The net after-tax profits of a permanent establishment are subject to branch profit tax at a rate of 20%. This rate may be reduced under a double tax treaty. Branch profit tax applies regardless of whether the income is remitted to the head office. |
| Withholding Tax (Payments to Non-residents) | Any payment (other than for the purchases of goods) to a non-resident recipient is subject to withholding tax of 20%. |
| Value Added Tax | VAT is applicable on deliveries (sales) of goods and services within Indonesia at a rate of 10%. VAT on export of goods is zero-rated while the import of goods is subject to VAT at a rate of 10%. |
| Transfer duty on land and buildings | The land and building transfer duty is levied at a flat rate of 5%, and is charged to the seller. |

9. Foreign Worker Requirements
9.1 Localisation Requirements
A company can hire foreigners only for positions that the government has deemed open to non-Indonesians. Employers must have training programs aimed at replacing foreign workers with Indonesians. The foreign worker must meet education, work experience, and Indonesian language requirements and commit to transfer knowledge to an Indonesian counterpart.
9.2 Obtaining Foreign Worker Permits for Skilled Workers
Staying in Indonesia for work purposes for a long period (or anything over five weeks) requires the approval of the Immigration Office in Indonesia, and foreign workers must have the necessary visa, work and stay permits, which can be applied for by the sponsor/counterpart in Indonesia at the Immigration Office in Indonesia. Foreigners can only be issued with limited/temporary resident visas for a maximum period of 12 months with the possibility of extension, though this is again subject to approval from the Immigration Office. The process of obtaining a visa and work permits for foreigners in Indonesia is lengthy, taking on average three months. It is also a bureaucratically complex process. Indeed, the temporary resident visa can only be obtained if the applicant has a sponsor/counterpart in Indonesia to help them obtain the visa by applying to the Immigration Office.
9.3 Visa/Travel Restrictions
Given that Indonesia has a significant tourism industry, there are many countries (such as the EU) and APEC (Asia-Pacific Economic Cooperation) nations whose citizens can obtain visas on arrival in order to enter Indonesia for periods of up to 30 to 60 days. This means that Indonesia is an easy country to enter for business trip purposes. However, staying in Indonesia for work purposes for a long period (or anything over five weeks) requires the approval of the Immigration Office in Indonesia, and foreign workers must have the necessary visa, work and stay permits, which can be applied for by the sponsor/counterpart in Indonesia at the Immigration Office in Indonesia.
9.4 Religious/Cultural Barriers
While Indonesia remains a secular state, over 80% of the population is Muslim, which means that significant cultural and religious barriers to female workforce participation still exist. The country has some of the lowest female workforce participation rates in the East and Southeast Asian region, and this therefore is a significant barrier to the hiring of foreign female workers in Indonesia.
10. Risks
10.1 Sovereign Credit Ratings
| | | |
| --- | --- | --- |
| | Rating (Outlook) | Rating Date |
| Moody's | Ba3 (Stable) | 13/04/2018 |
| Standard & Poor's | BBB- (Stable) | 19/05/2017 |
| Fitch | BBB (Stable) | 20/12/2017 |
Source: Moody's, Standard & Poor's, Fitch Ratings
10.2 Competitiveness and Efficiency Indicators


World Ranking

2016
2017
2018
Ease of Doing Business Index

109 /189

91 /190

72 /190

Ease of Paying Taxes Index

115 /189

104 /190
114 /190
Logistics Performance Index

63 /160

N/A
N/A
Corruption Perception Index

90 /176

96 /180
N/A
IMD World Competitiveness
48 /61
42 /63
N/A
Source: World Bank, IMD, Transparency International
10.3 BMI Risk Indices


World ranking
2016
2017
2018
Economic Risk Index Rank
37/202
Short-Term Economic Risk Score
68.1

68.1

70.6

Long-Term Economic Risk Score
67.9

68.5

69

Political Risk Index Rank
95/202
Short-Term Political Risk Score
72.9

72.9

71.5

Long-Term Political Risk Score
67.9

68.5

69

Operational Risk Index Rank
84/201
Operational Risk Score
52.2

52.2

52.7

Source: BMI Research
10.4 BMI Political and Economic Risk Indices
BMI Risk Summary - Q2 2018
POLITICAL RISK
Indonesia's long-term political outlook is hampered by weak government spending limiting, high levels of poverty and a heterogeneous society.
ECONOMIC RISK
Indonesia's short-term economic risk is constrained by an inefficient tax system and reliance on resource revenue.
OPERATIONAL RISK
Persistent underinvestment in infrastructure and pervasive corruption remain crucial obstacles to improving the operational risk outlook, and these issues must be addressed if Indonesia is to succeed in attracting much-needed foreign investment. Indonesia's labour market is beset by challenges including strict regulations as well as poor educational attainment impact.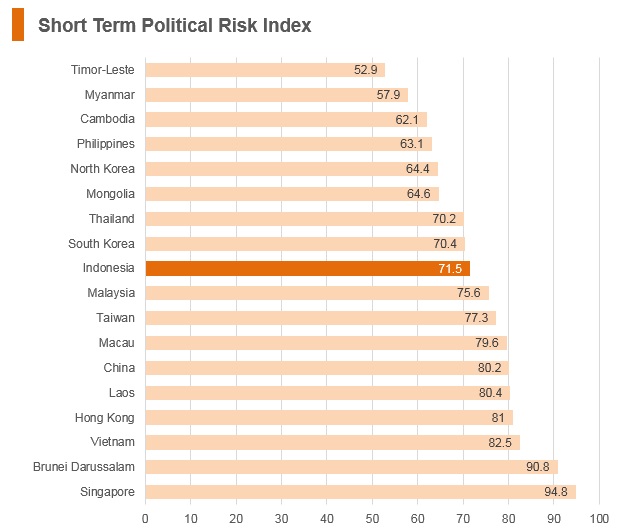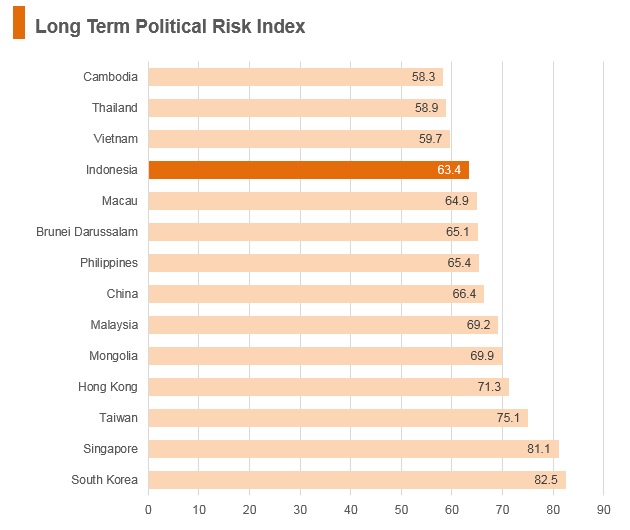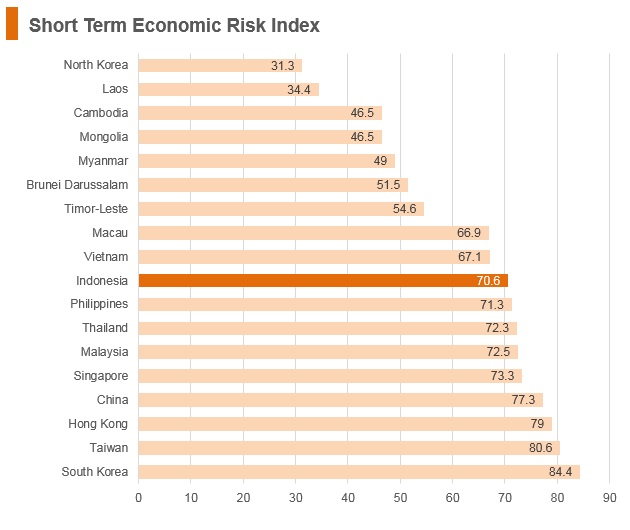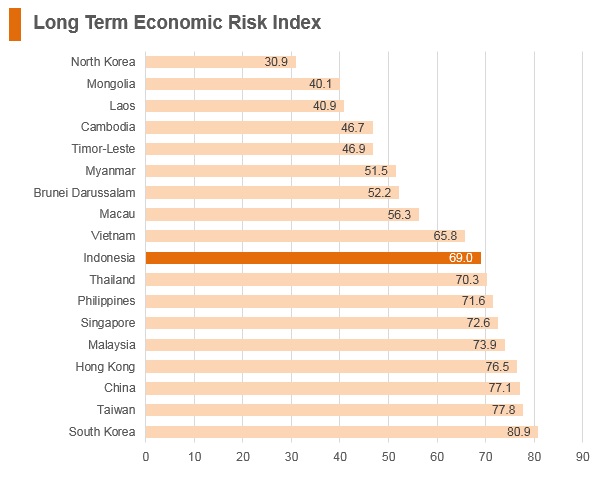 10.5 BMI Operational Risk Index
| | | | | | |
| --- | --- | --- | --- | --- | --- |
| | Operational Risk | Labour Market Risk | Trade and Investment Risk | Logistics Risk | Crime and Security Risk |
| Indonesia Score | 52.7 | 51.5 | 53.9 | 57.6 | 47.8 |
| East and Southeast Asia Average | 55.3 | 56.5 | 55.7 | 54.4 | 54.7 |
| East and Southeast Asia Position (out of 18) | 11 | 12 | 10 | 8 | 11 |
| Asia Average | 48.9 | 50.6 | 47.7 | 47.1 | 50.0 |
| Asia Position (out of 35) | 11 | 14 | 10 | 10 | 19 |
| Global Average | 49.8 | 49.8 | 50.0 | 49.3 | 49.9 |
| Global Position (out of 201) | 84 | 90 | 84 | 62 | 102 |
Note: 100 = Lowest risk; 0 = highest risk
Source: BMI Operational Risk Index

| | | | | | |
| --- | --- | --- | --- | --- | --- |
| Country | Operational Risk Index | Labour Market Risk Index | Logistics Risk Index | Trade and Investment Risk Index | Crime and Secruity Risk Index |
| Singapore | 82.9 | 77.8 | 74.7 | 89.9 | 89.3 |
| Hong Kong | 81.2 | 71.2 | 75.9 | 88.5 | 89 |
| Taiwan | 74.8 | 66.4 | 77.9 | 74.3 | 80.7 |
| South Korea | 70.3 | 63.5 | 78.1 | 67.5 | 72 |
| Malaysia | 68.3 | 61.6 | 75.4 | 73.5 | 62.5 |
| Macau | 62.2 | 64.2 | 50.5 | 66.9 | 67.3 |
| Brunei Darussalam | 60.2 | 62.8 | 53 | 57.2 | 67.7 |
| Thailand | 59.1 | 56.7 | 68.2 | 65.2 | 46.2 |
| China | 56.6 | 53.9 | 65.8 | 52.2 | 54.3 |
| Vietnam | 53.7 | 52.6 | 54.5 | 55.5 | 52.1 |
| Indonesia | 52.7 | 51.5 | 57.6 | 53.9 | 47.8 |
| Mongolia | 51.5 | 57.8 | 41.9 | 52.4 | 53.7 |
| Philippines | 44.1 | 51.3 | 44.6 | 47.3 | 33.4 |
| Cambodia | 42.6 | 46.7 | 37.9 | 46 | 40 |
| Laos | 39.2 | 44.2 | 36 | 38 | 38.3 |
| North Korea | 32.7 | 49.6 | 29.6 | 20.3 | 31.2 |
| Timor-Leste | 32.2 | 40.5 | 28 | 26.6 | 33.8 |
| Myanmar | 32.1 | 45.5 | 29.5 | 28.2 | 25.4 |
| Regional Averages | 55.3 | 56.5 | 54.4 | 55.7 | 54.7 |
| Emerging Markets Averages | 46.8 | 48 | 45.8 | 45.5 | 46.1 |
| Global Markets Averages | 49.8 | 49.8 | 49.3 | 50 | 49.9 |
Note: Higher Score = Lower Risk
Source: BMI Operational Risk Index
11. Hong Kong Connection
11.1 Hong Kong's Trade with Indonesia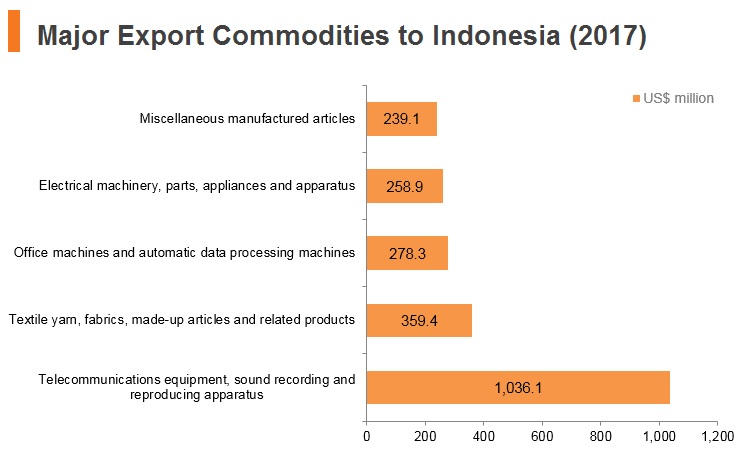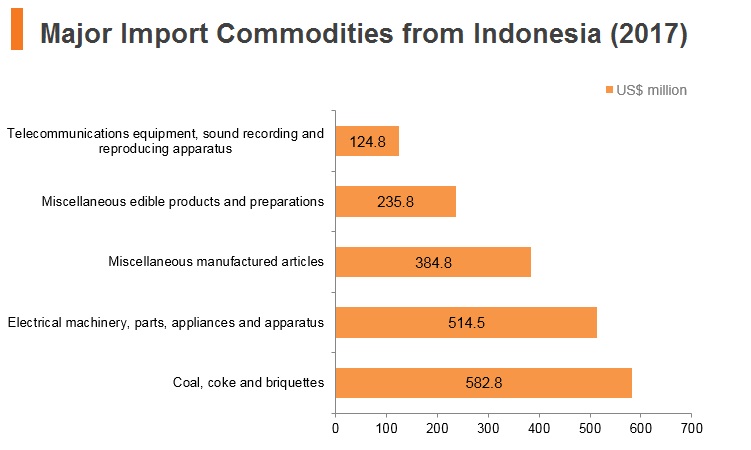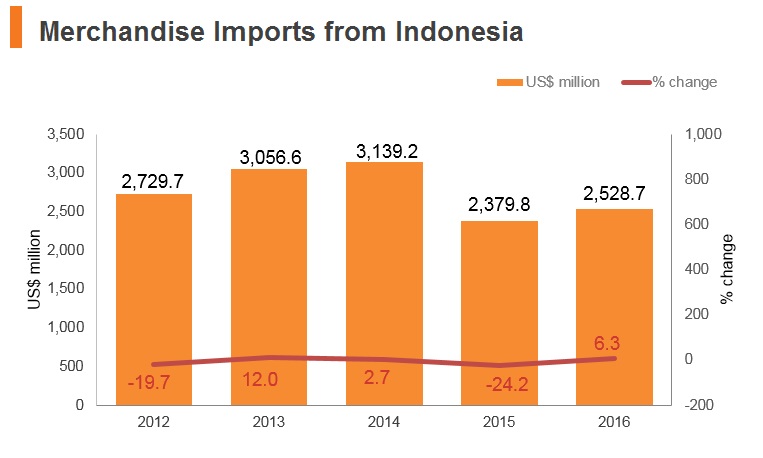 | | | |
| --- | --- | --- |
| | 2017 | Growth rate(%) |
| Number of Indonesia residents visiting Hong Kong | 482,022 | 3.8 |
| Number of Indonesians residing in Hong Kong | 171,928 | N/A |
Source: Hong Kong Tourism Board, Hong Kong Immigration Department
| | | |
| --- | --- | --- |
| | 2017 | Growth rate(%) |
| Number of East Asia and South Asia residents visiting Hong Kong | N/A | N/A |
| Number of East Asia and South Asians residents in Hong Kong | 2,784,870 | N/A |

11.2 Commercial Presence in Hong Kong


2016

Growth rate(%)

Number of Indonesian companies in Hong Kong
N/A
N/A
- Regional headquarters
- Regional offices
- Local offices
Source: Hong Kong Census & Statistics Department
11.3 Treaties and agreements between Hong Kong and Indonesia
Double Taxation Avoidance Agreements (DTAs)
Air Services Agreements and Air Services Transit Agreements
Mutual Legal Assistance Agreements
Surrender of Fugitive Offenders Agreements
Source: Hong Kong Department of Justice
11.4 Chamber of Commerce (or Related Organisations) in Hong Kong
The Indonesia-Hong Kong Business Association
The Indonesia-Hong Kong Business Association (IDHKBA) is based in Indonesia
Address: World Trade Centre 2, 19th Floor, Jalan Jenderal Sudirman Kav 29-31, Jakarta Selatan, 12920, Indonesia
Source: Directory of Hong Kong Trade and Industrial Organisations, Hong Kong Trade and Industry Department
Indonesia Consulate in Hong Kong
Address: 127 - 129 Leighton Road, 6-8 , Keswick Street, Causeway Bay, Hong Kong
Email: info@cgrihk.com
Hours of Business: Monday to Friday, 9:30 a.m. - 4:30 p.m.
Consul General: Mr. Teguh Wardoyo
Tel: (852) 3651 0200
Fax: (852) 2895 0139
URL: www.kemlu.go.id/hongkong/en/default.aspx
Source: Hong Kong Protocol Division of Government Secretariat
11.5 Visa Requirements for Hong Kong Residents
Visa upon arrival valid for 30 days
Source: Visa on Demand
Indonesia
Southeast Asia